Director's Corner
Director's Corner
Good things behind us, great things ahead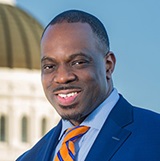 Greetings, Team Caltrans. I hope you and your loved ones are enjoying a wonderful holiday season.
Though the relentless pandemic continues to affect us in ways that have been difficult to endure, we are still fortunate to have many reasons to celebrate. Let us pause to consider how much we have accomplished in 2021.
We finished several major projects on time, if not ahead of schedule. One such project, completed nearly two months earlier than planned, was the restoration of State Route 1, where a debris slide washed it down to the sea near Big Sur. We also did our usual banner job of plowing Sierra Nevada roadways and opening seasonally closed mountain passes from their winter slumbers; worked closely with the CHP, CalFire and regional and local agencies in coping with collisions, wildfires and other challenges; and hired hundreds of people in support of the Governor's $1.1 billion Clean California Program, which strives to engage communities and increase public pride as we remove the tons of trash that taint our transportation corridors and degrade the environment. (As of early December, 4,200 tons of trash has been collected statewide.)
Although Caltrans is the state's second-largest department, we are nimble. Time after time, Caltrans unflinchingly confronts pressing problems and moves quickly and efficiently to solve them. One recent example addressed global supply chain disruptions: We temporarily increased truck weight limits for international commerce on the State Highway System. As I said at the time and reiterate now, Caltrans stands ready to support the ongoing federal, state and local efforts to keep goods moving as efficiently as possible to Californians and the rest of the nation.
Earlier this month, the governors of California and Nevada jointly announced that Caltrans will ease border bottlenecks by repurposing the shoulder during peak traffic to become a third lane on a five-mile stretch of Interstate 15. The $12 million project is slated to be completed by next summer – and will help to alleviate chronic traffic slowdowns that tourists, truckers and other motorists have experienced going from Las Vegas toward Southern California.
Looking ahead, the exciting prospect of receiving large sums of federal dollars from President Biden's Infrastructure Investment and Jobs Act is in our sights. Our application of that much-needed influx of funds is sure to have many positive impacts on our state's globally vital transportation network. We also look to lengthen the strides we have made regarding equity, embrace helpful new technologies and strategies, unblinkingly deal with whatever emergencies confront us, and continue to encourage and enable pedestrian, bicycle and public transportation. In addition to our Equity Statement from 2020, we in the closing months of 2021 have also adopted a new Safe Systems Approach policy and new Complete Streets policy, to further our commitments to the department's foundational principles. Above all, we will continue to do all we can to pursue the safety of not only the people who use our transportation network but also your safety and security as our employees.
We have a lot to do in 2022. I am hoping for an amazing year for all of us. Let's roll up our sleeves and get to it.