All-in-one version
All-in-one verion
CT News 2021, Issue 4
Director's Corner
Good things behind us, great things ahead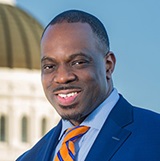 Greetings, Team Caltrans. I hope you and your loved ones are enjoying a wonderful holiday season.
Though the relentless pandemic continues to affect us in ways that have been difficult to endure, we are still fortunate to have many reasons to celebrate. Let us pause to consider how much we have accomplished in 2021.
We finished several major projects on time, if not ahead of schedule. One such project, completed nearly two months earlier than planned, was the restoration of State Route 1, where a debris slide washed it down to the sea near Big Sur. We also did our usual banner job of plowing Sierra Nevada roadways and opening seasonally closed mountain passes from their winter slumbers; worked closely with the CHP, CalFire and regional and local agencies in coping with collisions, wildfires and other challenges; and hired hundreds of people in support of the Governor's $1.1 billion Clean California Program, which strives to engage communities and increase public pride as we remove the tons of trash that taint our transportation corridors and degrade the environment. (As of early December, 4,200 tons of trash has been collected statewide.)
Although Caltrans is the state's second-largest department, we are nimble. Time after time, Caltrans unflinchingly confronts pressing problems and moves quickly and efficiently to solve them. One recent example addressed global supply chain disruptions: We temporarily increased truck weight limits for international commerce on the State Highway System. As I said at the time and reiterate now, Caltrans stands ready to support the ongoing federal, state and local efforts to keep goods moving as efficiently as possible to Californians and the rest of the nation.
Earlier this month, the governors of California and Nevada jointly announced that Caltrans will ease border bottlenecks by repurposing the shoulder during peak traffic to become a third lane on a five-mile stretch of Interstate 15. The $12 million project is slated to be completed by next summer – and will help to alleviate chronic traffic slowdowns that tourists, truckers and other motorists have experienced going from Las Vegas toward Southern California.
Looking ahead, the exciting prospect of receiving large sums of federal dollars from President Biden's Infrastructure Investment and Jobs Act is in our sights. Our application of that much-needed influx of funds is sure to have many positive impacts on our state's globally vital transportation network. We also look to lengthen the strides we have made regarding equity, embrace helpful new technologies and strategies, unblinkingly deal with whatever emergencies confront us, and continue to encourage and enable pedestrian, bicycle and public transportation. In addition to our Equity Statement from 2020, we in the closing months of 2021 have also adopted a new Safe Systems Approach policy and new Complete Streets policy, to further our commitments to the department's foundational principles. Above all, we will continue to do all we can to pursue the safety of not only the people who use our transportation network but also your safety and security as our employees.
We have a lot to do in 2022. I am hoping for an amazing year for all of us. Let's roll up our sleeves and get to it.
News
District 2's fire season was a doozy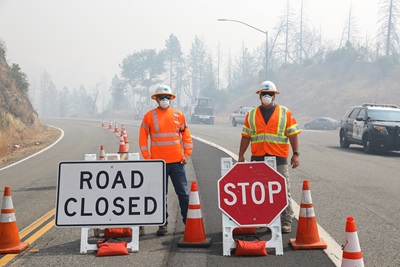 By Haleigh Pike
District 2 information officer
We're no strangers to wildfires here in District 2, but 2021 was exceptionally difficult. With more than 1.9 million acres burned, our district worked alongside firefighters with road closures, emergency repairs, evacuations and helping to keep the public safe.
Our crews worked tirelessly on several fires this past fire season. At one time, District 2 had more than 300 miles of highway closed due to the Dixie, McFarland and Monument fires. And with rapidly changing fire behavior and over $90 million in damage to Caltrans infrastructure, there seemed to be no end in sight.
In early September, District 2 had nine active fires, five of which were impacting our highways, and with the Dixie Fire being the largest single blaze in California history, our entire district was feeling the impacts of the fire season.
But all our hard work does not go unnoticed.
Social media allowed us to connect with our communities in a way that was not possible during past fire seasons. In just a 28-day timeframe, we reached more than 1.4 million people through our Facebook page. That's 1.4 million people who were turning to us for information and thanking us for our commitment to our communities.
Messages like, "Thank you Caltrans for all your hard work through these disasters. You are appreciated." And, "Thank you for your service, support, and protection." And, "Thank you for your commitment and efforts to help our community."
District 2 tree crew puts safety above all else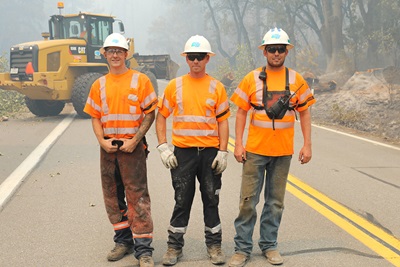 By Haleigh Pike
District 2 information officer
When it comes to wildfires and repairing the damage caused by them, many steps are taken by Caltrans to ensure the safety of the traveling public. One of those steps is evaluating the damage to trees along our roadways.
The Caltrans District 2 tree crew does not take the decision to cut down a tree lightly. But in evaluating trees following a fire, it is clear which trees have become a danger. From trees that have been extensively burned to trees that have been damaged in other ways, our tree crew evaluates each tree to make sure it's not still viable and is considered dangerous to the travelling public and our crews.
When not working on fires during the summer, the tree works to remove dead trees and damaged limbs to eliminate as many threats as possible before winter weather arrives. The crew also works to keep roadways and sidewalks clear of overgrown trees or bushes to ensure drivers and pedestrians have a clear path.
Thank you to the tree crew and all our Maintenance forces for working to recover the roadways after these fires!
Latest WASHTO Award winners announced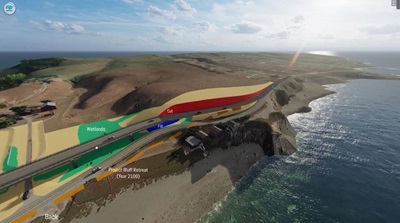 By Pauline Valenzuela
Statewide Innovation Coordinator
Division of Research, Innovation and System Information
Caltrans is taking action to move the needle on our culture of innovation to support and empower our workforce to be innovative and take intelligent risks. Significant efforts are being made by the Division of Research, Innovation and System Information (DRISI) Innovation Team (iTeam) to create an innovation hub for tracking, sharingand promoting innovations throughout Caltrans.
Innovation is a critical component that allows us to keep up with the needs of our customers, present and future, and enables us to do more with less. Caltrans has built a culture of innovation that gives every employee the opportunity to make thoughtful changes that improve our processes and services to the public. Our goal is to break information silos and encourage the sharing and implementation of proven technologies, improvements, and practices.
As a part of our efforts to support Caltrans' innovative culture, the iTeam manages an incentive program that utilizes Western Association of State Highway Transportation Officials (WASHTO) funding to award innovative projects and leaders. For 2021, Caltrans selected three projects to receive the WASHTO Awards. We received 32 submissions overall.
The Western Association of State Highway Transportation Officials (WASHTO) provides each member state $3,000 annually to incentivize staff who are involved in quality or innovation improvements. Caltrans developed a program to utilize the annual WASHTO funding and recognize staff through a call for innovation and quality improvement submissions.
Submission criteria required that each effort must address at least one of Caltrans Strategic Goals and the effort must be current (underway or completed) during the 2020-2021 fiscal year.
DRISI's iTeam performed initial screening of the submissions and the Innovation Technical Advisory Committee (ITAC), which is a diverse team comprised from programs, districts and functional areas from across the state, scored the top ten submissions. Below is a list this year's award recipients along with a description of the innovative projects.
First Place - $1,500 (team submission)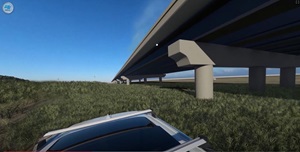 District 4 – Project Development East Team lead: Joaquin Pedrin
Team members: Wesley Bexton, Jeanne Gorham, and Adrienne St. John.
"360 TOURS: Interactive Project Simulations"
District 4 – Project Development East has created an interactive, web-based interface, so stakeholders can explore the existing corridor in 360 degrees. Simulations can be turned on, illustrating such impacts as sea-level rise and see the inundation of the existing roadway, as well as fly through design alternatives that illustrate the design proposal.
This innovation can inform stakeholders of a project's potential impacts early in the design process. Being web-based, it is more accessible to a larger audience and increases stakeholder participation. This innovation gathers meaningful input in the development of our design alternatives mitigating costly redesign in later stages.
Second Place - $1,250.00 (team submission)
District 6 – Asset Management
Team lead: Yinleng Vang
Team members: Robert E. Polyack (D6 - Program Project Management), Affer Mays (D6 - Maintenance), Linda Garcia-Bianchi (D6 - Construction), Anthony Ng (D7 - Design), Kenneth Sutterfield (D3 - NR Construction) Austin Serpa (D6 – Project Development), and Joesetth Gallegos.
D6 Asset Management is currently developing an ADA mobile data collector, review dashboard and an inventory GIS webmap. This is being done in-order-to address several challenges surrounding the ADA inspection, inventory accuracy and inventory mapping.
Asset Management has designed and is continuing to improve on a scalable solution utilizing a suite of ArcGIS Enterprise applications to satisfy the business needs of construction, design, and the ADA Transition Plan. The solution has four primarily components and objectives: (1) convert inspection from being paper-centric to a digital-centric workflow; (2) digitize the ADA review and certification workflow in real-time; (3) reconcile ADA data into a single relational database addressing the needs of all divisions; and lastly (4), allow ADA data to be spatially available, accessible, and transparent.
Based upon current evaluation of ADA inventory, Asset Management estimates a one-time cost savings of $1.6 million in District 6 alone. The costs savings are anticipated to be approximately 50-75% per element compliance inspection in perpetuity.
Third Place - $250.00 (single recipient)
District 3 – Construction (Submitter: Mrudang Shah)
"Trimble SiteVision – A high accuracy augmented reality system"
Trimble SiteVision is a high accuracy augmented reality system that provides real-world context to designs helping users to comprehend complicated plans and drawings in the field. Trimble's hardware allows the user to use 3D BIM models to visualize a roadway, structure or underground utility in augmented reality to the correct scale in the field.
The previous state would have been to install survey stakes to see the alignment and use two-dimensional plans to try to visualize what the new roadway or structure would look like.
Now, one can visualize and measure position using Global navigation satellite system (GNSS), Electronic Distance measurement and augmented reality technology as one explores the project site.
The augmented reality tool can be used to identify potential conflicts in the field with existing facilities/structures, to show stakeholders how the project will look in the field, show field fit issues that often do not show on 2D drawings, and it can be used for quality control to compare a 3D model of the plans to what is actually built.
It's not too late to take the employee survey
Note: The following was email to Caltrans employees earlier this month by Director Toks Omishakin.
Thank you to the thousands of employees who have taken the opportunity to participate in this year's Caltrans Employee Survey. Your participation in this survey makes a difference – helping us change Caltrans for the better.
As a reminder, this year's survey was developed by Caltrans, for Caltrans. The survey is just 17 questions and will take approximately 10 minutes to complete. All results will be confidential. You can complete the survey anytime from now through Dec. 31 by using this link.
The annual survey is a source of critical information in support of the Cultivate Excellence Goal of our Strategic Plan. Your participation in the survey will help guide our decisions for how we do business now and into the future.
Your opinion is crucial to helping the department better serve its employees and the people of California. Recent survey results have inspired several improvements in areas such as communication, employee development, and organizational culture.
If you have any questions or need any assistance with the survey, please contact Strategic.Planning@dot.ca.gov.
Thank you in advance for your participation.
Hats Off
District 8 workers work to fill a void (i.e., potholes)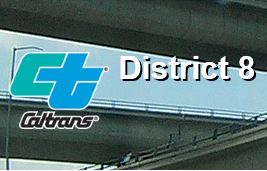 Note: The following letter was sent to District 8 Public Affairs Chief Terri Kasinga, who supervises Patrick Munar.
My name is Mrs. Esperanza Griffiths and I reside in a senior citizen mobile home park, Panorama Cove, in Hemet.
This is regarding the recently completed Center Median Barrier Project on State Highway 74 in the Hemet/Homeland area. After over a year-plus of work being done on the highway, the project seemed to be completed but I noticed that three holes were left in the pavement in front of our mobile home park (32600 State Highway 74.)
I waited for several weeks after the completion of the project and the holes were never patched up. The holes were such that our tires would fall into the one considerable hole and were a driving hazard, causing possible tire and alignment damage.
I called Caltrans offices in Sacramento and left a message and within a few days Patrick Munar of District 8 called me personally. I explained my concerns to him, and he stated that it was the responsibility of Caltrans to remedy the problem.
He was so helpful, kind and courteous and understood my worries of the dangers of the holes in the pavement. I explained to him that besides the pavement hazard, many of the drivers on Highway 74 are traveling 70 to 80-plus mph, which was adding to our risk of just getting in and out of our park. (We really need a signal light here, but that is another matter.) He sent a message to the local Caltrans office (specifically to supervisor Manny) who promptly called me at 10 a.m.
I explained the situation to Manny, and he said he would send out a crew to inspect the site and said they would bring materials to patch up the pavement. Sometime in mid-afternoon I walked up to the entrance of the park and found that the holes were finally patched up.
I cannot express to everyone concerned what a swift, prompt job they did to make sure our little community did not have to navigate the holes any longer making it safe for everyone. We appreciate everyone at Caltrans who made this happen.
---
Lost and found. Found, that is, by Caltrans ...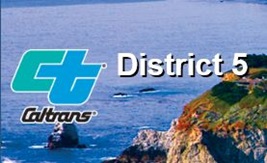 Note: The following letter was sent on Nov. 22 to District 5 construction engineer Rodger Johnson by Bruce Vogel, whose briefcase was found by Johnson on State Route 1, south of Carmel.
Finding and returning a briefcase may not be one of the world's most momentous events, but it certainly is one of the most satisfying to the recipient when fears of identity theft and more are so prevalent.
Equally, it is very gratifying to know that there are still thoughtful, honest, and conscientious people out there in the world.
It makes a lot of sense that you work for Caltrans whose entire mission is service to the public. You work to make our lives better.
Again, thanks very much.
Health and Safety
Tips on caring for an aging loved one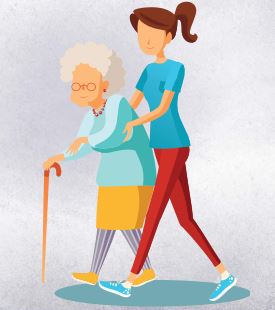 From the Employee Assistance Program (EAP)
Looking after an elderly parent, spouse, partner or close friend can be a rewarding experience, but it also presents challenges that can leave caregivers anxious, overwhelmed and/or intimidated by their duties. EAP provides free, confidential benefits and resources to help caregivers with a variety of issues.
What can EAP help with?
Identify
the issues you need help with such as grief, stress, relationship issues, difficulty sleeping, setting boundaries, work-life balance, etc.
Find senior care providers in your area as well as articles and guides on topics such as long-distance caregiving, how to avoid caregiver burnout, and more.
Access discounts on everything from prescription medications to home care services, grocery and meal delivery, and more.
Guidance with financial issues, budgeting, and planning for the future.
Help with elder law issues such as wills, trusts, elder rights, and end of life planning.
Learn how to combat compassion fatigue, sleep better, manage stress, and improve your emotional health.
For more information, go to eap.calhr.ca.gov or call 1-866-327-4762.
---
Stay safe from the cold and COVID this winter
From the Office of Employee Health and Safety
Generally, it is easier to practice social distancing outdoors, however, the cold weather may make it difficult to hold essential meetings outside. If you do have to be around others in an indoor environment, remember there are ways to maximize your safety:
Wear a mask. Remember that all unvaccinated or non-disclosed employees are required to wear a mask indoors. For individuals who are vaccinated, some counties still require wearing a mask. Be sure to monitor your county's guidance for the latest updates. OEHS keeps track of counties who mandate mask wearing here.
Stay at least six feet away from others. Space out chairs in common areas as spatial reminders.
Open a small window, if weather permits.
Clean and disinfect shared items and spaces.
Monitor your health daily for symptoms. Remember: the cold, flu and COVID all have similar symptoms. To ensure the safety of yourself and others, if you feel ill, contact your medical provider for guidance and stay home.
Who's New
Will Arnold, media relations manager at Headquarters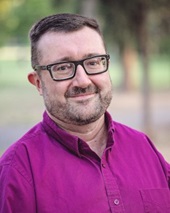 Will Arnold is the new media relations manager at Caltrans Headquarters. Will has served Caltrans as a public information officer since March 2020.
Will is an experienced leader with more than a decade of professional communication and management experience. Since joining Caltrans, Will has been instrumental in developing strategies to communicate the department's statewide messages, priorities and activities to media, stakeholders and the public. He has played an important role in advising his colleagues, executive management, CalSTA and the administration on matters of public and media interest.
He has also worked extensively with our districts and divisions on high-priority and sensitive media inquiries and press materials, and is part of the team that manages Caltrans HQ social media.
Will came to Caltrans from the world of political campaign management and service to the state Legislature, and he currently serves as an elected city councilmember for Davis.
In that role, Will crafts policy for the city, and plays a critical role in communicating with the media and the public regarding city goals, priorities and activities, which often includes crisis communications.
Prior to his election, Will served as a district representative in the California State Senate. In that capacity, he communicated on behalf of the senator with constituents, lawmakers, advocates, district media, at public events and on social media. He has also managed several political campaigns, for which he was responsible for all aspects of campaign, including communication strategy, rapid-response, crisis communication, media relations, creation of printed material, speechwriting, talking points, debate preparation, event promotion and social media.
Will has brought to Caltrans a breadth of knowledge of transportation issues, as well as subject areas including water policy, public safety, civil rights and homelessness. Will is an effective spokesperson for Caltrans, and the direction the department is moving.
Will and his wife, Nichole, live in Davis with their three children, Mauricio, Sonya and Dougie.
Obituaries
Michael "Sumo" Sanchez, right of way agent
Note: The following obituary appeared in the Marysville Appeal-Democrat on Sept. 28.
Michael "Sumo" Sanchez, of Sutter, passed away on Sept. 22. He was 54 years old and the 11th child born to Juan and Ofelia Sanchez of Sacramento.
Mike worked at Caltrans as a right of way agent and for the state for 21 years. Born and raised in Sacramento, he relocated to Yuba City in 1999, and spent the last 20 years in Sutter.
Mike was a devoted husband and father, and recently celebrated 23 years of marriage to Judy. Together they have two beautiful daughters whom he adored, Kirrin and Robyn.
Mike is survived by his wife, Judy; daughters, Kirrin and Robyn; his brothers, Victor (Toni), John (Elizabeth) of Sacramento, Albert (Aleta) of Redding, Robert (Jerry) of San Francisco; sisters, Esther (Keith) of Seattle, Lupe, Rosa (Charlie), Theresa, Estella of Sacramento, Irene (Dennis) of Nevada City; and 58 nieces and nephews.
He is preceded in death by his sister, Mary; and parents, Juan and Ofelia Sanchez of Sacramento.
Mike attended Christian Brothers High School in Sacramento, where he earned his nickname Sumo. He loved to go to the gym, lift weights and attend those crazy spin classes. Mike's favorite sport was playing and watching soccer. He was a huge Raiders fan and was looking forward to going to Las Vegas to watch them play.
Mike enjoyed volunteering his time with 4-H, coaching soccer, helping with school events, especially basketball, volleyball, swimming and rifle. Throughout the years he helped with many of the Summer and Christmas Strolls. He was always willing to lend a hand and be involved.
Mike always had a smile on his face and was a very gentle person. He loved music, dancing, camping, the ocean, socializing and spending time with his family. He loved to BBQ and post videos on social media sharing what he was grilling while enjoying an ice-cold beer. Mike made friends wherever he went and always made you feel welcomed.