101 Cordilleras Creek Bridge Replacement Project
101 Cordilleras Creek Bridge Replacement Project
View this webpage in English | Vea esta página web en español | Tingnan ang webpage na ito sa Tagalog | 以繁體中文檢閱此網頁 | 以简体中文检阅此网页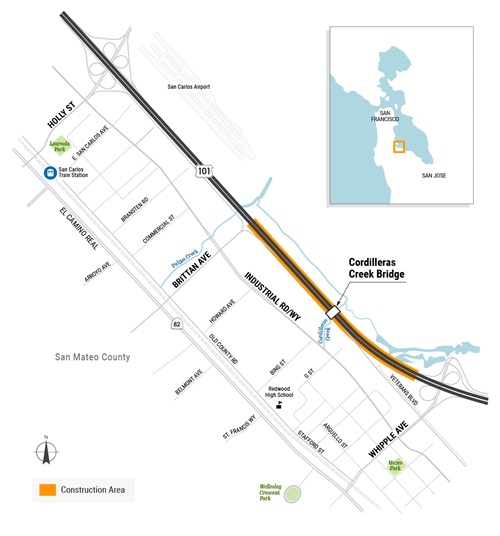 Location and Planned Work
Along U.S. 101 in Redwood City, San Mateo County, between the Whipple Avenue and Brittan Avenue exits (postmile 6.7 - 7.6), spans the Cordilleras Creek Bridge. This bridge is at the end of its service life and needs to be replaced. The goal of this project is to replace the existing triple box culvert with a single span bridge, while maintaining connectivity and safety for the public traveling along this stretch of U.S. 101. In order to accomplish the required work, Caltrans plans to close each side of U.S. 101 (northbound and southbound) for two 55-hour long weekends, a total of four weekend closures.
Where We are in the Process
Environmental clearance has been obtained for this effort and Caltrans is now planning the construction phase. Caltrans has coordinated with state and federal wildlife agencies on a design that will widen Cordilleras Creek to improve hydrology, tidal function, and fish passage in an important wetland area. Much of the construction work required to complete this project will occur within the channel of the creek. To maintain a safe creek habitat, this channel work must be contained to a specific season: June through October.
Construction Considerations
Due to the volume of traffic expected along this area of U.S. 101 and the limited seasonal construction window, Caltrans plans to implement an Accelerated Bridge Construction (ABC) process and "cut and cover" method. This approach allows Caltrans to construct the bridge in one season instead of over three years, reducing the effects on traffic, increasing safety of travelers and construction workers, and minimizing environmental impacts.
Using the cut and cover method will require two 55-hour long weekend closures for each side of the highway (northbound and southbound). Traffic management strategies will be implemented to keep traffic away from the area and to reroute travelers between the Holly Street and Whipple Avenue exits onto Industrial Way in Redwood City.
Southbound Estimated Closure Dates
June 23-26, 2023
July 14-17, 2023

Northbound Estimated Closure Dates
August 25-28, 2023
September 15-18, 2023
For more information about this project, contact the Caltrans Public Information Officer: Alejandro Lopez at Alejandro.Lopez@dot.ca.gov or (510) 385-6856.
Cordilleras Creek Bridge Photo Gallery