Business on State ROW
Temporary Permits for Businesses to Operate on State Highway Right of Way (ROW)
Cities and counties only - businesses must contact their city or county
City and County Permit Application
In response to the COVID-19 State of Emergency, Governor Gavin Newsom signed an Executive Order (N-83-20) on October 28, 2020, directing the California Department of Transportation (Caltrans) to create a process for issuing temporary encroachment permits enabling commercial activities on the state highway right of way (ROW), allowing businesses located along state highways to expand their outdoor dining options onto sidewalks and parking areas, where safety permits. The order suspends statutory restrictions associated with vending on the State Highway System for a period of 120 days. In conjunction with the Executive Order, Caltrans has established a process by which cities and counties may apply for and obtain a permit to use the state highway ROW for outdoor dining and other commercial activities while the order is in effect.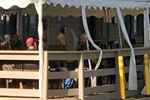 Restaurants, retailers and other businesses are eligible to temporarily operate on the state highway ROW under permits available today from the California Department of Transportation (Caltrans)...
Signed October 28, 2020; in effect for 120 days (until February 25, 2021).
Temporarily suspends laws that prohibit vending on Caltrans' state highway ROW.
Interested cities and counties apply to Caltrans for a permit.
If approved, cities and counties work directly with businesses in their jurisdiction and provide guidelines.
Encroachment Permits
Manuals and Publications:
Other:
---
Contact Information: