Planning and Modal Program Recruitment
Planning and Modal Program Recruitment

About Us
Planning and Modal Programs (PMP) shapes the future of multimodal transportation across California by envisioning, articulating, and implementing desired outcomes. Within PMP, are the Divisions of Aeronautics, Local Assistance, Rail and Mass Transportation, Research, Innovation, & System Information, Transportation Planning, as well as the Office of Enterprise Data and Geospatial Governance, Director's Office of Equity, Sustainability, & Tribal Affairs, and the Caltrans Integrated Travel Program.
The Planning and Modal Program Management (PM2) Recruitment Branch is under the Office of Workforce Development and Recruitment, in the PM2 Division.
PM2 Recruitment strives to provide recruiting services and strategic outreach, to help attract qualified and diverse candidates for hiring managers and supervisors, within the six Divisions of PMP. We provide recruitment support and resources within the PMP Division offices and District programs. We also coordinate outreach efforts (i.e., career and job fairs, virtual college fairs, conferences, etc.) throughout the state to help fill division vacancies with some of the best professionals in the transportation industry.
Hiring Events
PM2 Recruitment hosts both virtual and in-person hiring events. We are excited to announce a Transportation Planner In-Person Hiring Event located in Sacramento, CA! This is a 2-day, in-person hiring event on October 23 – 24, 2023 from 9:00 AM – 3:00 PM.
During this event, applicants will have an opportunity to participate in interviews for positions located in Sacramento, Yuba, and San Joaquin Counties. We are currently looking to hire Transportation Planners and/or Associate Transportation Planners.
To attend this in-person event an application must be submitted, please follow these steps below:
Step 1 : Register for the event using the link here.
Step 2 : Create/Log-in your CalCareers Account
Step 3 : Submit an application using this link: JC-392190.
Step 4 : Take an Exam
We will review your application package, and if you meet the eligibility requirements to be interviewed, you will be provided the location and in-person hiring event details.
To participate in the hiring event, an application must be submitted to JC-392190 by the final filing date of October 6th.
For any questions, not addressed in our FAQs, please reach out to us at: PM2Recruitment@dot.ca.gov. We look forward to seeing you!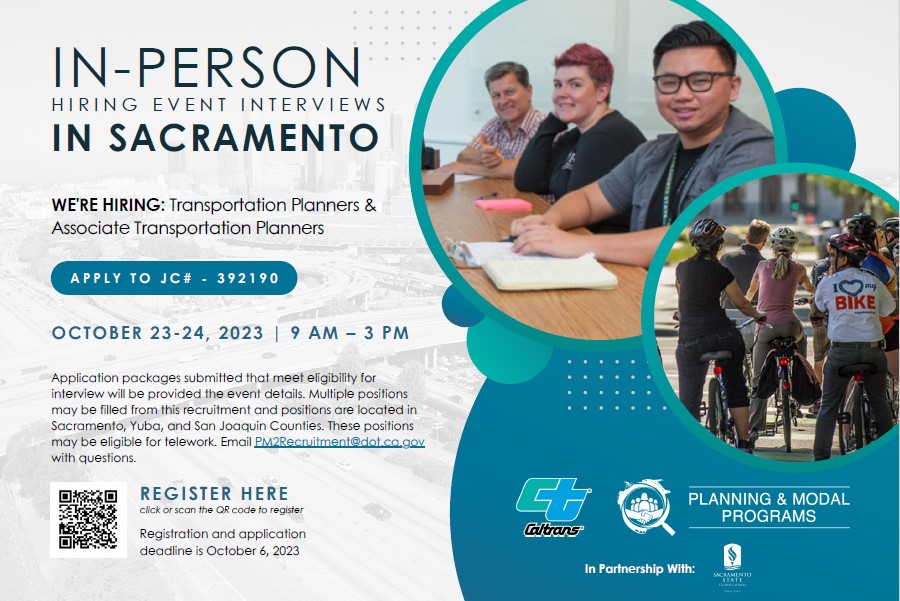 Explore a Career with Us
Apply Today
Ready to start your career with Caltrans?
Establish an account at CalCareers and follow the steps below.
You can also learn more about jump starting your career with us, by watching the following video on the State hiring process.
Step 1: Take an exam and get on a hiring list.
In order to apply for a job at Caltrans, you must pass a competitive Civil Service examination and be placed on an eligible list. The Civil Service examinations are organized by classification type. Be sure to read the examination bulletin carefully as it will provide an overview of the assessment process. The examination is given online, and results are given instantly.
Step 2: Search for job vacancies.
You can search for open positions using your examination classification or classification type on the CalCareers website. Once you have landed on this page, you can narrow down your search for open positions within the "Department of Transportation." You can also search job postings by location.
Step 3: Apply.
All applications must be prepared using the STD. 678 form. Only applications using this format will be accepted. The STD. 678 can be submitted to a job posting using your CalCareers account. You can watch the following video, explaining how to electronically apply for jobs with the State.
Step 4: Interview.
Additional Resources:
Check out NxtGov's Resource Center with helpful information on how to pursue a job with the State of California!