Division of Equipment Employment Vacancies and Job Information
Division of Equipment Employment Vacancies and Job Information
The Caltrans Division of Equipment (DOE) is recruiting dedicated, driven, result-oriented individuals for great career opportunities. We have a variety of exciting positions available, with some shops starting at the top scale, and offering additional retention and compensation. Our employees enjoy twelve paid holidays, a retirement plan, and other benefits. Additionally, we provide Heavy Equipment Mechanics with tools and their own roll-around toolbox. If you're looking for work-life balance and the chance to work with a wide range of vehicles and equipment, apply now using the links provided or check out our informative YouTube video below. You can also call our Recruitment Specialist at (916) 917-9302 and email us at askEquipment@dot.ca.gov.
Current Openings
The Division of Equipment hires a wide array of positions (e.g., clerical, analytical, managerial, engineering, and mechanical). For a list of all current openings at the Division of Equipment visit calcareers.ca.gov.
Please click on the links below to learn more about some of the Division's technical positions for which we commonly hire.
Apprentices receive a pay raise every 6 months after passing an exam and are provided all tools and a lockable box. After graduation, the Apprentice receives a Certificate of Completion from the State of California, Department of Industrial Relations, Apprenticeship Council, and a Certificate from Caltrans, Division of Equipment. To receive the certificate, the Apprentice must meet these requirements:

Work in a Caltrans, Division of Equipment Shop full-time for 3 years (This is on-the-job training (OJT - 5300 hours))
Study one chapter a month for 36 months consisting of automotive and mechanical principles (This is the supplemental course that is part of the 3-year program)
Shop Locations
Click on your district to find out more about current projects and other information.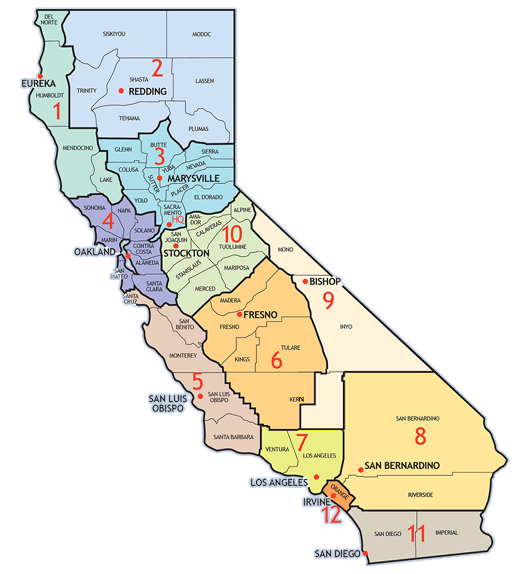 How to Apply for a Caltrans Equipment Job