Erosion Control Toolbox: Rolled Erosion Control Product (Jute Mesh)
Erosion Control Toolbox: Rolled Erosion Control Product (Jute Mesh)
Introduction
Jute mesh is a lightweight, biodegradable, open weave textile (OWT).
When to Use This Treatment
Cut and fill slopes between 4:1 and 2:1 (H:V). Use Rolled Erosion Control Product (Netting) on steeper slopes
To use in a stream or channel below the 100-year base flood elevation (as determined by the Engineer) contact the Civil (Hydraulics) Engineer in responsible charge of the stream/channel
Benefits
Provides immediate protection from surface erosion
Helps retain soil moisture, which improves seed germination and vegetation establishment
Limitations
Rocks and debris may lift blankets above the soil surface, allowing erosion to occur between the blanket and the soil surface
Surface treatment only - unlikely to improve compacted, nutrient depleted, or poorly draining soils as necessary to ensure vigorous long term vegetative cover
Technical Product Information
The table below provides a summary of technical information for jute mesh:
Product
Functional
Longevity
Max Slope
(H:V)
ECTC
Category (1)
Jute Mesh
12 Months
2:1
3B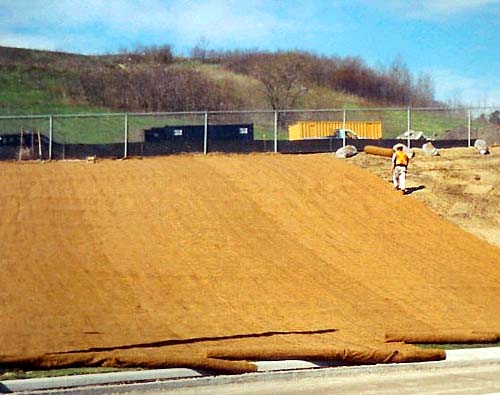 The photo above shows erosion control jute mesh being installed adjacent to a roadside. The open area of this product is high, so seed may be applied before or after the jute mesh is placed.
Refer to Standard Specifications - Section 21 Erosion Control
Consider Using With
To effectively treat sites with compacted, nutrient depleted, or poorly draining soils, consider combining this treatment with:
Estimate Information
Use BEES code 210260 Rolled Erosion Control Product (Jute Mesh), paid by SQFT
References
Updated: February 8, 2019