Erosion Control Toolbox: Preserve Existing Topsoil
Erosion Control Toolbox: Preserve Existing Topsoil
Introduction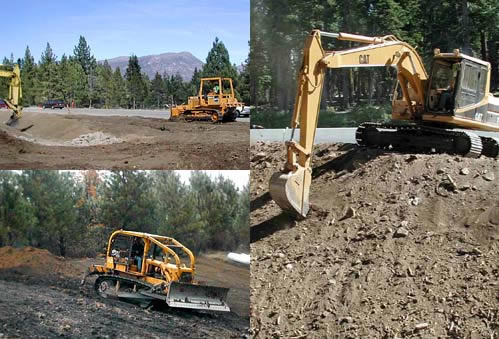 Preserving existing topsoil is an effective method to establish vegetation because it typically contains ideal physical, chemical and biological properties to do so. The existing topsoil is obtained within the project limits and includes excavating, stockpiling and placing topsoil on areas disturbed by construction activities.
When to Use This Treatment
Typically applied on slopes 1.5:1 (H:V) and flatter. The following application rates are suggested:
Slopes 1.5:1 (H:V) - 2" maximum thickness
Slopes 2:1 (H:V) - 3" maximum thickness
Slopes 3:1 (H:V) - 4" maximum thickness
Slopes ≤ 4:1 (H:V) - 6" maximum thickness
Caltrans Highway Design Manual Topics 110.2(2) and 110.2(4) (PDF) recommend considering the use of existing topsoil to treat disturbed soil areas for improved stormwater runoff quality.
Benefits
Reduced stormwater runoff volume and velocity
Improved infiltration rate
Improved soil water holding capacity
Improved soil structure, porosity and texture
Improved soil chemical properties - providing proper pH, carbon, nitrogen, potassium and phosphorus levels
Improved soil biology - activity by bacteria, mycorrhizal fungi, nematodes, protozoa, microarthropod and earthworms
Improved soil nutrient levels and nutrient cycling
Improved potential for vigorous long term vegetation coverage
Limitations
More costly and effective than surficial treatments such as Erosion Control (Hydroseed)
Requires temporary storage space within the project limits to stockpile materials
Requires site accessibility by earthwork equipment
Read Standard Specifications Section 19-2.03D Selected Material, which defines Selected Material in Section 19-2.01B Definitions. Note that all the requirements in Section 19-2.03 Selected Material apply to Preserve Existing Topsoil.
Because Preserve Existing Topsoil is specified as "Selected Material," it is paid for as Roadway Excavation (Topsoil). Include bid item Roadway Excavation (Topsoil) in the Bid Item List.
Show the areas to be excavated, stockpile locations and areas for topsoil reapplication on the layout or grading plans.
Include Standard Special Provision 19-2.03D(2) Topsoil in the SSPs for the project.
Consider Using
To provide protection for the soil surface, consider combining this treatment with:
Compost with seed applied simultaneously
Estimate Information
Preserve Existing Topsoil should be specified as Selected Material
Per Caltrans Standard Specifications Section 19-2, Selected Material is paid for as Roadway Excavation. Use Bid Item 190123 Roadway Excavation (Topsoil)
Guidance
References
David Steinfield, Scott Riley, Kim Wilkinson, Thomas D. Landis, Lee Riley, et al. 2017. "Roadside Revegetation, An Integrated Approach to Establishing Native Plants and Pollinator Habitat"
Updated: February 25, 2019