Erosion Control Toolbox: Drill Seed
Erosion Control Toolbox: Drill Seed
Introduction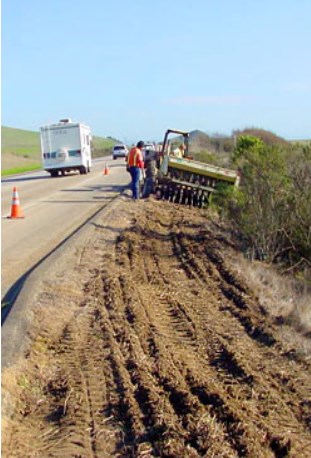 Drill Seed is the sowing of seed in the soil using a drill seeding device as seen in the above photos.
When to Use This Treatment
Typically used in disturbed soil areas 3:1 (H:V) and flatter that are readily accessible by large equipment.
Benefits
Sowing the seed directly in the soil leads to better germination and vegetative cover than hydroseed.
Limitations
Not effective in applying fluffy seed (e.g., rabbit brush) due to static electricity.
Consider Using With
To prevent surface erosion after drilling seed, consider following this treatment with:
Estimate Information
Use 210222 Drill Seed (SQYD) for payment by the square yard.
Use 210223 Drill Seed (ACRE) for payment by the acre.
References
Updated: February 14, 2019