Erosion Control Toolbox: Dry Seed
Erosion Control Toolbox: Dry Seed
Introduction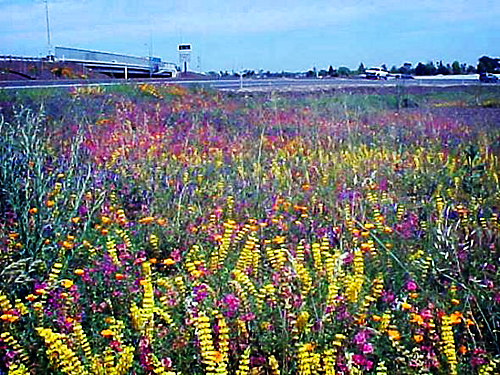 This treatment involves applying seed by hand or via belly grinder to vegetate small disturbed soil areas.
When to Use This Treatment
Use for disturbed areas less than 0.5 acres.
Benefits
Low initial cost
Efficient method for seed application in small areas (less than 0.5 acres)
Vegetation provided by seed provides long-term erosion control
Can be applied to areas with limited vehicular access
Limitations
Not an effective treatment for areas larger than 0.5 acres
Protection from erosion provided only after seed has germinated and plant growth has begun
Surface treatment only - does not improve underlying soil structure, soil microbiology or restore soil nutrient reserves
Applications to compacted, poorly draining soils may not provide conditions necessary for successful vegetative cover
Consider Using With
Use BEES code 210212, Dry Seed (SQFT)
Use BEES code 210213, Dry Seed (ACRE)
References
"Roadside Revegetation, An Integrated Approach to Establishing Native Plants"

3.6.1 Vegetation Field Assessment
5.3 Obtaining Plant Material
5.4 Installing Plant Materials
5.4.1 Seeding

H. Dana Bowers, et al. 1947. Erosion Control on California State Highways (PDF).
California Department of Transportation,"Roadside Erosion Control and Management Studies", May 2008.
California Department of Transportation, "Effective Planting Techniques to Minimize Erosion", January 2004.
Updated: January 14, 2019