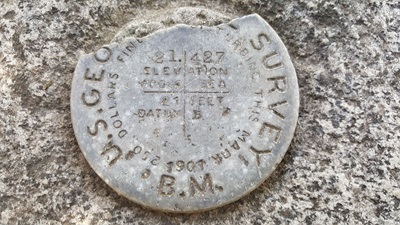 Note: The following story was submitted by Caltans' Division of Project Delivery.
The Caltrans Survey program recently completed a survey project to perpetuate the position of an historical survey monument in the grounds of the State Capitol in downtown Sacramento that will be removed to accommodate the Capitol Annex project.
The granite stone was set in 1888 by the United States Coast and Geodetic Survey (USC&GS). The Caltrans survey project was accepted by the National Geodetic Survey and given the highest vertical survey accuracy possible.
As a result of the Caltrans' efforts to educate the staff from DGS and the Annex project team on the significance of this monument, it has now been included in the Annex project to be prominently relocated in a public area with an information plaque.