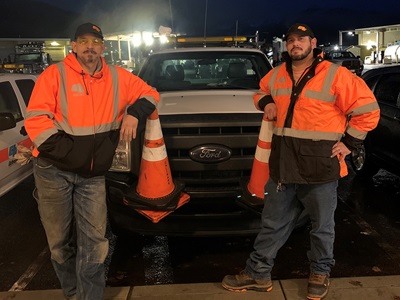 By Haleigh Pike
District 2 public information officer
Two crash victims are singing the praises of two Caltrans Maintenance employees who went above and beyond to save their lives.
On Sunday, December 19, Heather Akkerman says she and her friend Christopher were traveling on State Route 263 in Siskiyou County when their truck left the roadway and rolled numerous times before coming to a stop at the bottom of an embankment. Heather says she was thrown from the truck, landing about 30 feet from where the truck finally rested.
After making her way back to the truck for shelter, Heather and Christopher were at a loss of what to do. Having both suffered major injuries, they were unable to crawl back up the embankment for help. Heather said she had flares in her truck but could not light them because the truck was leaking fuel.
About two hours later, Jason Lofton and Brian Rubalcava, were on a routine rock patrol along SR-263 when they noticed gravel and snow in the road and what appeared to be tire tracks leading off the roadway, down a steep embankment. Knowing this was not normal, the two men found a safe place to stop and began checking the area.
This is when Heather realized help was finally coming.
"I will never forget the sound of the airbrakes on the Caltrans truck. I heard those brakes hit and I had the biggest sigh of relief. I knew at that point that someone in a Caltrans truck had seen us," said Heather.
Lofton says he saw a light down the embankment and heard someone calling for help. The two men immediately jumped into action, Rubalcava calling for help and Lofton making his way down the embankment.
When Lofton got down the embankment, he found Heather and Christopher who appeared to be suffering from major injuries and exposure due to the sub-freezing temperatures. Lofton says he provided his jacket to Heather and worked to keep them both calm until help arrived. Rubalcava then came down the embankment with extra clothing for the victims.
Heather says details of the night remain foggy but one thing she knows for sure is that had it not been for these two men, she might not be here today.
"They're heroes. Truly, they're amazing. Every day that I see them, for the rest of my life, I will stop and take time out of my day to thank them for saving us that night. We're lucky. We shouldn't have been alive in the first place and the fact that a tiny bit of gravel caught their eye, they were doing their job and they did it good."
After posting this story on social media, many community members and even state Sen. Brian Dahle took to the comments to express their gratitude for what these two men did that night.
One comment left was from Christopher's Mom, Sandra Dickinson. "My son Christopher was one of the two people they saved. I am eternally grateful! I still have my boy because of these two heroes! I look forward to meeting you in person and giving you both big fat squeezy hugs!! God bless you both!"
We are so incredibly proud to have Jason and Brian as part of the District 2 family and thank them for going the extra mile that night. All of our employees here at Caltrans go above and beyond each and every day to keep the traveling public safe but occasionally they come across situations like this one and we are so thankful that they step up each and every time.