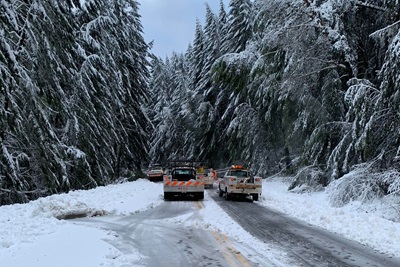 By Manny Machado
District 1 public information officer
Just as people were enjoying their holidays, on the day after Christmas, a large winter storm brought rain to the coast and snow in the mountains, resulting in the closures of State Routes 36, 96 and 299 due to downed trees and utility lines.
Facing the task of getting the roadways back open in Humboldt County, Caltrans District 1 crews quickly went into action.
"Our response, like many responses to these types of severe storms, was significant," said District 1 Maintenance Manager Dan Ramirez. "Staff from several different areas converged on highways that had been impacted the most, working around the clock. For some, that meant close to 24 hours on the job in some very challenging conditions trying to ensure the highway was partially cleared for emergency vehicles.
"Without the hard work of our staff clearing hazards from the highways, people from our local communities we serve wouldn't have been able to get needed supplies such as propane or groceries that they rely on.
Up in Del Norte County, Caltrans workers made sure State Route 199 remained open for emergency vehicles and the traveling public. There were not as many trees on the roadway, but approximately 30 inches of snow fell over a two-day period.
Caltrans District 1 Maintenance Area Superintendent Johnnie James said, "The crews on all highways need to be commended for their efforts. This was a collaboration between Highway Maintenance and other Caltrans crews (bridge crew, guard rail crew, tree crews, signs and stripes crews and electricians). Route 299 was probably impacted the most by the storm, but the efforts of everyone involved all over the North part of the district were greatly appreciated."
District 1 staff from the southern half of the district also worked countless hours keeping U.S. Highway 101 and several other routes in Lake, Mendocino and Humboldt counties open and safe for the public plowing snow and clearing debris. Over the holiday weekend, a slide threatened to close State Route 1, but staff were able to keep the roadway open to motorists by frequently clearing the slide and by cleaning blocked culverts which were plugged by the slide.
Of course, field staff are not able to do their job safely without support. This support comes from our dispatchers that worked continuously for days through the holiday weekend. Our dispatchers truly are the lifeline for our staff by keeping them safe. They keep track of where our staff is and ensure they are safe after clearing a hazard. In these remote areas, our radios are the only form of communication that works since cell reception in District 1 is spotty in many locations.
The Major Damage, Local Emergency Management staff and Construction helped implement and establish two emergency director's orders to respond to the weather-related damage for District 1. On SR-299, Caltrans workers with plow trucks and chainsaws were able to clear the highway of hundreds of trees, so local communities could get essential supplies. Because of the storm, Caltrans was also able to render mutual aid, clearing residential areas of snow so emergency and utility vehicles could respond to calls.
Along with Caltrans, the coordinated efforts included CHP, CalFire, PG&E, local fire departments and other agencies. The unprecedented storm showed what the emergency response agencies are capable of doing to protect the people and communities they serve. And all of this was just days after another response by Caltrans when a 6.2 earthquake struck the North Coast, as crews inspected District 1 bridges for safety.