Hats Off
Hats Off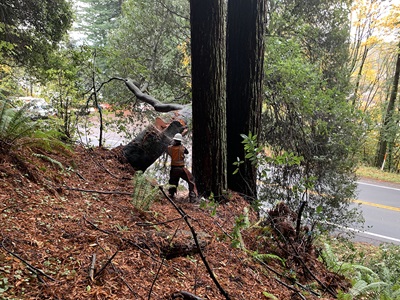 Note: The following letter was sent Dec. 16 to Matthew K. Brady, director of Caltrans District 1.
We're writing to acknowledge Caltrans team's outstanding contribution to proactively manage and mitigate the first detection of sudden oak death in Del Norte County. Thanks to the help of a collaborative team from Caltrans, CAL FIRE, the County of Del Norte, and numerous private landowners, the trees that were infected and hazardous to State Route 197 were expediently removed.
Not only was the first detection of this tree disease for Del Norte County, we also learned that the pathogen was from the European strain, a strain that has not been previously detected in trees in California. The European strain is known to be more damaging to both conifers and hardwoods, than the strain that has impacted other parts of California. For these reasons, fast action was warranted to attempt to limit its spread and mitigate damage.
The swift management response could not have occurred without the cooperation and active participation of a large Caltrans team based in Humboldt and Del Norte Counties. This team assisted in every stage of project planning and execution, from issuing encroachment permits to enable the private landowner to treat tanoaks in the highway right-of-way, to disseminating public information and coordinating road closure, to providing personnel and equipment for cutting and disposal of hazard tanoaks after treatment.
The team was highly cooperative and collegial both among themselves and with external collaborators. In particular, we would like to express our appreciation to Tom Fitzgerald, Johnnie James, Dan Ramirez, Jim Cook, Jason Hayes, and Darin Sullivan, who demonstrated a great deal of leadership and organization to facilitate the work. In addition to their crews, we also appreciate the planning and implementation work of John Hackett, Sheri Rodriguez, Heidi Quintrell, Cori Reed, Myles Cochrane, Andrew Goetz, Sara Thomas, Brad Mettam, Darrell Cardiff, Paul Johnson, and many others.
We sincerely appreciate the contributions and ready response of each of these people and the team members they supervise, and we wanted to make sure you were aware of their essential contribution to the economic and ecological well-being of Del Norte County. Thanks to your entire agency for fostering the kind of environment that encourages this style of collaboration and can-do attitude.
[Signed by:] Yana Valachovic, forest adviser, UC Cooperative Extension, Del Norte; Chris Lee, pest specialist, CAL FIRE; Justin Riggs, Agriculture Commissioner, Del Norte County; Kurt McCray, unit chief, Humboldt and Del Norte, CAL FIRE; Chris Howard, county supervisor, County of Del Norte.
---
Note: The following letter to the editor appeared Oct. 4 in the Tahoe Daily Tribune.
I was driving back to South Lake Tahoe on Sunday afternoon and I was surprised the Johnson Road bypass was open — five days ahead of schedule. Well done, Caltrans.
And more kudos … to Steve Nelson, the public information officer at Caltrans, for living up to his title and truly continually updating us.
To someone at Caltrans for having the connection with all freeway signs and with Waze and Google Maps, for updating those information devices the moment U.S. Highway 50 reopened. And a huge thank you to those unknown heroes, who worked around the clock and did the dirty work during hot daytime hours and cold nights. That includes all those flaggers and pilot car drivers over the Johnson Pass. Perhaps our city council would be justified to offer a commendation to our transportation partner for their impressive work.
As a side note, while driving back on Sunday, the line of cars coming down from Lake Tahoe on U.S. 50 was unbelievable. Hundreds upon hundreds of cars traveling back to their Bay Area (or wherever) backyards. All those cars did not expect the highway to be reopened, and they were (almost all) prepared for an extra hour or two of detour. That tells me that the Bay Area (mainly) visitors will go to any length to come and play here.
So, what would happen if we have a huge parking area in or around Placerville and bus everyone here, have a transit center in SLT with 5,000 golf carts and slow things down a bit for visitors that way.
Of course parking, bus and golf carts paid for with appropriate fees by the visitors.
Thanks again, Caltrans, for an exemplary job.
Peter P. Evenhuis
South Lake Tahoe
---
Note: The following email was sent to Caltrans Director Toks Omishakin on Nov. 17 by Michelle Tonner.
It says on your LinkedIn profile "our staff of nearly 22,000 is working every day to be the best!" I wanted to provide an example of excellence with Caltrans (and CHP) that I experienced on Nov. 16 on the Bay Bridge.
I was crossing the Bay Bridge heading eastbound just after 10 a.m. when one of the tires on my car blew out. I had just exited the Yerba Buena tunnel and pulled over to the right hand shoulder. My first instinct was to call AAA and they contacted Caltrans on my behalf. As I waited cars and trucks flew by at full speed. Pretty terrifying, even though I was parked on the shoulder.
A Caltrans representative arrived shortly and took a look at my car. He was joined by another Caltrans colleague and a CHP officer who helped slow traffic down behind us. After taking a look at my tire, the Caltrans team asked that I slowly drive off the bridge with them and CHP following and helping to block traffic. They requested I pull into a bigger shoulder right off the bridge so they could replace the tire there. Caltrans and CHP did all of this in a professional and safe manner, not only managing traffic and dealing with my car but also following COVID protocols.
I just wanted to share this very positive experience and let you know the assistance Caltrans (and CHP) provided to me this week is truly appreciated by me and my family.
---
Note: The following email was sent to District 5 in mid-October by Paul Lewis Zeoli of Carpinteria.
I have lived on Ogan Road for a little more than 30 years and we have been waiting for the U.S. Highway 101 Linden-Casitas Project in Carpinteria (Santa Barbara County) for some time now.
When the project started I was told to contact Caltrans Transportation Engineering Technician Joe Person if I needed information regarding the project.
I wanted to express my feelings on how pleased I am with meeting and talking to Joe about my concerns. He at no time left me feeling out of the loop and always returned my phone calls.
What a fine man this guy is and a gentleman, too.
To this day we have spoken about the final stretch of work and some of the things I had concerns about and Joe addressed all of them. I am also a general contractor, so I appreciate the hard work and conditions Caltrans has gone through to make this project look great.
Consider this a personal thank you. Well done!
---
Note: The following email was sent to District 5 in early November by William Lee Abernathy Jr. of Pismo Heights.
I drove U.S. Highway 101 north from Pismo Beach to the Avila Beach exit a few times in San Luis Obispo County within the last few days. I was quite delighted to see your Caltrans maintenance team doing a lot of weed abatement, trimming mostly on the east side of Highway 101 between the freeway and the neighboring communities.
I know this will help GREATLY in mitigating the fire danger for the Pismo Preserve, Pismo Heights and Pismo Beach itself.
I personally thank you so very much and I want to thank you for the Pismo Beach citizens.
Please let these highway workers know what this means to us.
---
Note: The following email was sent to District 1 on Dec. 14 by Lee Cunningham, chief executive officer of BT Metals in Eureka.
I would like to take this opportunity to commend John Saldana for his prompt and professional response to a question I raised with (District 1 Director Matthew K.) Brady. It is this type of courteous and professional response to a community member that speaks highly of Caltrans.
As a member of the Small Business Committee I have been known to raise many issues, but I also want to share gold star efforts on the part of Caltrans staff. Your jobs are not easy and many times the community does not say thank you, so here is one community member saying thank you.
I would not be doing my job if I also did not highlight another District 1 employee: the man we most work with, Eugene (Ross). He is always helpful and most professional. Another gold star for Caltrans.
I happen to be meeting with OCR in 45 min and I certainly will convey my pleasure regarding today's actions.