All-in-one version
All-in-one version
CT News 2021, Issue 1
Director's Corner
With 2020 behind us, let's thrive in 2021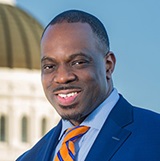 Greetings, Team Caltrans. First off, major congratulations are in order. Together, we made it through one of the most challenging years imaginable. The COVID-19 pandemic has had a profound impact on our department, but we adapted quickly with teleworking, accelerated construction and maintenance projects, flexible and creative thinking, and in countless other ways. Thank you, and bravo!
We also set things in motion that will help make the new year a tremendous success. I want to share with you a few examples.
Soon, we will release our California Transportation Plan 2050. In it, we are taking the lead to acknowledge that the impacts of climate change are very real and very concerning, not just for our transportation system but for all of California's communities as well. We will be addressing the climate crisis through all transportation decisions.
Late last year we released our first-ever Equity Statement. Through department-wide education and training, we will advance equity in our work and address the history of impacts from highway development on underserved communities in California. Our new Caltrans Office of Race & Equity (CORE) will lead our engagement with Native American communities and with other historically underserved communities statewide in our planning and project development efforts.
Our evolving Strategic Management Plan focuses, among other things, on equitable pricing strategies that would simultaneously incentivize Californians to embrace public transportation and/or reduce what we call VMT – vehicle miles traveled. We also are researching the merits of innovative revenue-generating strategies such as road charge and all-road tolling.
Of course, Caltrans' top priority is safety. As we continue to work toward our ultimate goal of zero deaths, we are developing a new culture of safety based on the Safe System principles in which we focus on reducing fatal and serious injuries for all users and leverages multiple strategies concurrently. We're focusing on these four pillars in our new Safety Program: Leading the traffic safety culture change statewide, integrating equity into safety, doubling down on what works by using nationally recognized countermeasures proactively, and accelerating the use of technologies. We're aligning the commitments stemming from the Strategic Highway Safety Plan partnership with our state efforts, focusing in the top risks associated with fatal and serious injuries, and setting up new techniques such as reducing speed-related crashes via engineering design, speed limit management, and accommodating bicyclists and pedestrians more proactively.
As we enter 2021, we at Caltrans have a lot to look back on with pride, and a lot to look forward to with excitement and determination. Let us make the new year one of our best years ever.
Happy New Year, everyone!
News
Caltrans District 8 honored by CAPIO and PRSA IE awards
By Kimberly Cherry
District 8 information officer
Caltrans is honored to have received two separate awards for community outreach: The California Association of Public Information Officials (CAPIO) "2020 EPIC Award of Distinction" in the category for Communications and Marketing Plan/Campaign – Consultant Supported, and the Public Relations Society of America Inland Empire Chapter (PRSA-IE) "Polaris Capella Award" for Campaign-Community Relations for the State Route 60 (SR 60) "Swarm" outreach campaign.
The 60 Swarm campaign was also one of five projects chosen to represent California at The American Association of State Highway and Transportation Officials (AASHTO) awards.
CAPIO is the leading statewide organization, with more than 700 members, dedicated to advancing public sector communicators across all levels of government in California. The professional organization educates, supports and provides resources for Public Information Officials. The CAPIO EPIC Award recognizes the "best of the best" in government communications throughout the state.
PRSA-IE is the local chapter of the national professional organization the Public Relations Society of America. The Polaris Capella awards recognize successful public relations efforts that represent the "highest standards of performance in the public relations and communications profession within the Inland Empire".
AASHTO's America's Transportation Awards are dedicated to recognizing the best in transportation, showcasing the transportation infrastructure and why proper funding is so vital.
Caltrans began working on the 60 Swarm outreach campaign in 2019 with the support of Green Com, Inc. and Connect & Company PR to develop a strategic plan to alert the traveling public of two impactful projects that were going to begin on State Route 60 (SR-60) between Chino and Riverside. The first project, a $134.5 million SB-1 funded pavement rehabilitation project, is currently repaving deteriorated pavement on SR-60 between Riverside and Ontario with an expected completion date of late 2021.
The second project, a $23 million SB-1(the Road Repair and Accountability Act of 2017) funded bridge replacement project, is also in construction on SR-60 replacing three bridges in order to meet more recent vertical clearance standards at Pipeline, Monte Vista and Benson Avenues in Chino and Ontario, and will be complete in late 2021.
Caltrans, aware that the long-term nighttime and daytime closures along with traffic reconfigurations, 55-hour closures and other future construction projects in the area would require a sizable outreach campaign, developed the award-winning comprehensive outreach plan. The roadwork was dubbed the 60 Swarm due to multiple projects taking place at the same time.
The campaign was launched to the media, stakeholders, partner agencies, emergency responders and the traveling public in mid-2019. The success of the outreach resulted in traffic diverting around full closures on SR-60 between Riverside and Ontario for more than 18 weekends. The 60 Swarm became high-profile with the media and caught the public's attention as they advised motorists to avoid the roadwork and use alternate routes.
The project was well accepted by commuters, the trucking industry, local businesses and residents. They cited the smooth ride, among other benefits.
The project was well accepted by commuters, the trucking industry, local businesses and residents, They cited the smooth ride, among other benefits.
Caltrans District 8 acknowledges the partnership with Green Com, Inc. and Connect & Company PR for their professional leadership and involvement in launching the Swarm campaign and for submitting the award to CAPIO and PRSA-IE. We also acknowledge our local partners: the cities of Riverside, Jurupa Valley, Eastvale, Ontario, Chino, Chino Hills, and Riverside County Transportation Commission (RCTC) for their support and input to reduce impacts to their region during the projects.
We also express gratitude to the California Highway Patrol (CHP) for working with Caltrans and the contractor, J. Mc Loughlin Engineering, to provide safety for the work crews and the traveling public.
Congratulations to Caltrans District 8 staff in Public and Legislative Affairs, Construction, Traffic Operations, Project Management and Design for their innovative solutions to make two challenging projects a win-win for both the public and Caltrans.
Caltrans and UC: Partners on the road to durability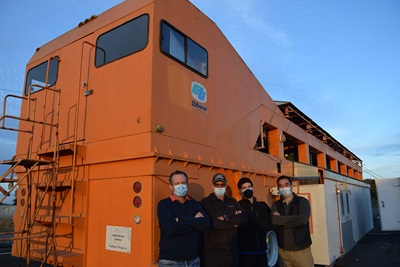 By Gilbert Mohtes-Chan
District 3 information officer
The highway of tomorrow starts with a vision and ends with construction.
It's taking an idea and turning it into a plan to rebuild a major urban interstate freeway to endure six decades of weather and wear and tear.
It's developing and testing a new formula for fast-setting concrete to allows motorists to drive on newly poured concrete pavement just 24 hours instead of 20 days after last pump truck departs.
Paving the way for these innovations over the years has been a collaboration between Caltrans engineers and University of California researchers. Their goal is to build longer lasting roadways cheaper, faster that are easier to maintain while lessening the inconvenience to motorists during construction and the impacts on the environment.
"The way we operate with Caltrans is unique in the United States," said John Harvey, a civil and environmental engineering professor and director of the University of California Pavement Research Center (UCRC) in Davis, one of the few advanced labs in the world conducting scientific research on road materials. "It is an integrated process. Caltrans has ideas what we should do. We look around and see what the needs are. Together we put together a series of topics and figure out a way to do that."
This fall, Caltrans approved a three-year $32 million interagency agreement to continue the work of the Partnered Pavement Research Center project.
"Caltrans and California are better in countless ways because of their dedication and expertise," said Tom Pyle, chief of Caltrans Office of Asphalt Pavement Program. "They have provided valuable contributions to greenhouse gas reduction, urban heat island, 100-year concrete and long-life asphalt."
Indeed, pavement is a hot topic for a state known for its love affair with the automobile. Each year, motorists log more than 192 billion miles a year on the 52,000-lane miles of Caltrans-maintained highways and freeways.
The roadways certainly take a beating – from chained-up big rigs climbing over an icy Donner Summit on Interstate 80 to RVs venturing on a sun-baked State Route 190 in Death Valley to the never-ending bumper to bumper commuter parade on Interstate 405 in Southern California.
"Nobody thinks about pavement until something goes wrong," said Harvey said.
Caltrans and UC have been working together to build a better road for decades.
It was 1948 when state lawmakers created the Institute for Transportation Studies at UC Berkeley. A pavement testing station was established in Richmond in 1994. Fourteen years later, Caltrans helped set up a second facility at UC Davis, which included materials testing labs, a test road area and two heavy vehicle simulators.
The Yolo County complex sits on the rural west end of the UC Davis campus. Stationed behind the buildings are two large Caltrans-owned orange heavy vehicle simulators built in South Africa in 1974. Operating around the clock, these machines roll airliner-type wheels back and forth on test pavement to simulate 20 years of highway wear in just a three to six months.
Inside the labs, graduate and undergraduate students assist researchers to evaluate the properties of different pavement mixtures – aggregate, or crushed rock, and glued together with a binder such as asphalt or cement. Researchers see how a mixture behaves, looking for conditions such as rutting or cracking.
Under the partnership, Caltrans and the center develop a three-year roadmap outlining research and development projects covering the Department's construction, environmental and maintenance programs. Topics range from updating design procedures for predicting pavement distresses to studying the effects of pavement roughness on the cost of freight movement.
Putting the research into practice is paramount.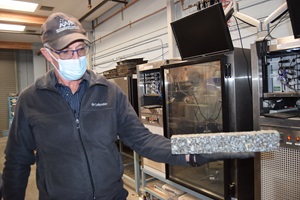 "The benefit of research is zero unless it is implemented," Harvey said. "Before it (research studies) sat on the shelf for a long time. There was no real drive to do it on the big scale. Now we're seeing a much faster turnaround."
On a $370 million pavement rehabilitation and managed lane project under construction on Interstate 5 in Sacramento, contractors must demonstrate on the job that they are meeting materials design and staging specifications aimed at extending the life of the roadway from 40 to 60 years.
The center and Caltrans are evaluating pilot projects.
One pilot is on rural stretch of State Route 113 near Woodland in Yolo County, where researchers are looking at a new way to place thinner concrete slabs on existing pavement to reduce costs and construction time. This faster-setting concrete allows motorists to drive on the new pavement within 24 hours – a significant reduction in the normal three-week curing period.
The center also is involved in a Caltrans pilot launched this summer on State Route 162 in Butte County in which the Department paved a stretch of roadway using 100 percent recycled materials. Recycled asphalt pavement and liquid plastic made with single-use, plastic bottles were used for the repaving work.
"As soon as we learn more about those plastic materials and we can run the numbers and see if they are really an improvement," Harvey said. "Sometimes, the things that sound great might not be as good environmentally."
Over the years, the center has worked on projects across the state from Ukiah to Palmdale. During the construction of the new eastern span of the San Francisco-Oakland Bay Bridge, the center tested area at the Port of Oakland to evaluate the pavement for the new deck.
Pyle recalls working with the center on a major project to determine the thickness of each layer of pavement on the state's vast highway network. The center helped select an international company experienced with evaluating underground oil and gas reserves with ground-penetrating radar.
"It was a two- to four-month process to get the data for each route back to us, and the entire project took over two years. Nevertheless, the engineers at the center quality control checked the data, and then went even further by developing an online data base that we still use. They took the theory and turned it into a reality that exceeded our expectations," Pyle said.
Looking in the future, research is likely to focus on using more recycled materials, how the pavement affects energy use of electric vehicles and the impact of autonomous vehicles on roadway design and the reduction of greenhouse gas emissions.
"There is more happening in the last 5 years than in previous 25 years," Harvey said.
What's shaking in Cholame? Seismic research!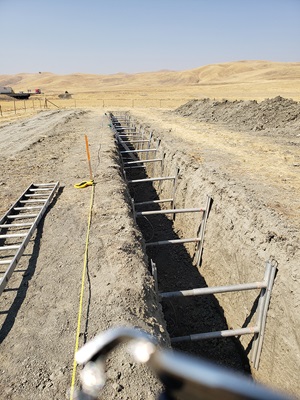 By Jim Shivers
District 5 public information officer
It has been said that you need to dig deep to get to the bottom of what you are looking for. This is exactly what Caltrans District 5 geologists and engineers, with the cooperation of the California Geological Survey and academic researchers, have done near a section of State Route 46 East in Cholame in northern San Luis Obispo County.
This effort to investigate the paleoseismology of the Parkfield/Cholame San Andreas Fault area, referred to during this study as the James Dean Paleoseismic Site (Dean died in a traffic collision nearby in September 1955) included excavating two trenches across the fault zone that are located within an abandoned floodplain.
Historically there have been six recorded earthquakes along the Cholame/Parkfield segment of the San Andres Fault that have measured about magnitude 6.0, with the most recent earthquake in 2004. The most recent surface rupture at the site in 1966 produced about 4 inches of offset in the pavement of State Route 46, with the potential of up to 11 feet of surface offset from a larger earthquake in this area.
This investigative work took place where a new bridge will be built, as part of the next phases of widening State Route 46 East from a two-lane highway to a four-lane expressway from the Shandon Roadside Rest Area to the Kern County line. Construction on this $55 million project is expected to begin in early 2021.
The information gathered during this trenching effort was to determine if the new bridge could be sited without crossing the active fault splays and will be shared with Caltrans design engineers who will strive to create a structure that can withstand both strong shaking and ground ruptures from future earthquakes similar to those that have hit the region over the course of time. In order to gather this data, a pair of 300-foot-long trenches were excavated, approximately 8 feet deep. These trenches show evidence of numerous earthquakes and the near surface presence of groundwater in this area which was once a marshy wetlands area thousands of years before drainage channels could capture and re-direct the water coming from the north.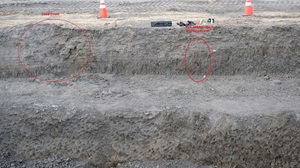 A closer look at the layers of soil deep within the trench shows evidence of the surface rupture during the 1857 Fort Tejon earthquake, perhaps the largest historical quake in California, a massive event estimated at magnitude 7.9 with an epicenter, approximately near the Cholame area, rupturing some 20 miles northwest and 160 miles to the southeast with up to 30 feet of surface offset. The impacts from this earthquake in this region were strong and are easily visible to the team of geologists performing this investigation.
Recognizing evidence today from the 1966 earthquake has more challenging with the topographic surface slightly raised with visible evidence of fault cracking limited to the pavement of State Route 46. This investigation also showed evidence of flooding in this region during the Great Flood of 1861, which followed weeks of heavy rain and snow in California.
Caltrans District 5 Geologist Douglas Cook and his colleagues from the California Geological Survey, Arizona State University and San Diego State University are already sharing their findings with the academic community. The next step of this research will focus on determining the ages of the earthquakes recognized in the trenches with samples taken for laboratory testing.
"This process of looking back into time will help ensure the traveling public will encounter a reliable infrastructure as Caltrans looks ahead to the future," said Cook as he completed his detailed tour of this soon to be construction site.
On the road(s) with Daniel Faigin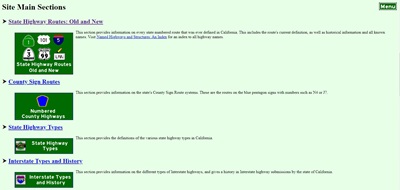 Have you ever assembled a photo album or scrapbook, or through research and letters compiled a family history? Perhaps you have written short stories, or maybe even a book. If you've done any of those things or something similarly extensive and focused, you surely felt proud of your accomplishment.
To keep that self-glow going, however, you probably should not compare your project with what Daniel Faigin has done with his website, California Highways (www.cahighways.org).
How to describe the site? "Everything You Ever Wanted To Know About Numbered Highways in California, But Were Afraid To Ask" is how the masthead puts it. That's accurate. Spend a few minutes clicking around California Highways and your jaw is bound to keep dropping as you encounter all the information it contains.
Faigin, who turns 61 in January, has been actively developing and updating the website since he created it 25 years ago. He also has a full-time job, blogs ("Observations Along the Road"), maintains a California Highways Facebook page, and (in non-pandemic times) writes theater reviews.
A friend of Caltrans if ever there was one, Faigin recently had a virtual chat with CT News.
CT News: On your site you describe yourself as a "roadgeek." Were family car trips a part of your growing up? (And where did you grow up?)
Daniel Faigin: I don't recall a lot of road trips. My site grew more out of a love of maps, and love of history.
I still remember collecting maps from the Union 76 around the corner and from other gas stations. You combine that with an interest in Los Angeles and California history, and you get my site.
That's also why my site is different than most other sites: they focus on pictures and images from travels on the roads, whereas I focus on routing, the history, and plans for the future.
I'm a Southern California native. I grew up near the Los Angeles airport and in the West Los Angeles / Brentwood area, and now live in the San Fernando Valley. I did both my B.S. and M.S. degrees at UCLA.
CTN: Your website is remarkably detailed and thorough. How much time do you spend on it, and what do you see as its main purpose?
DF: I work on the site in bursts every two to three months. Monthly, I collect headlines related to California Highways from a variety of sources, and post them to my blog, Facebook, and Twitter.
Every two to three months, I go through those headlines, as well as the actions of the California State Legislature related to highway code changes and naming resolutions and the minutes of the California Transportation Commission, to update the pages I have on each individual highway. I focus on the long-term changes: additional of lanes, curve widening and straightening, replacement of bridges, and of course, historical information, as opposed to smaller (but still significant) actions such as resurfacing or landscaping.
I view my site as a resource: a resource on history, a resource on routing, a resource on statistics. I also try to preserve information about the people about whom highways are named, building upon the naming resolutions.
I'm looking for pictures of many of the individuals or of the naming signs – look at my site, and if I'm missing something, send them along. If we take the trouble to name a segment of a road after someone, it should be more than just a name on a sign.
CTN: How often do you go for drives along California's highways? Do you have travel companions? Did you take any/some/most of the contemporary photos that appear on your site?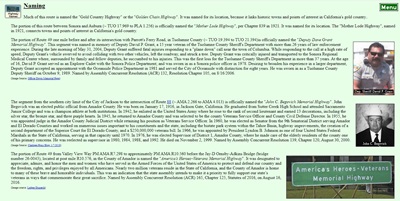 DF: I don't drive as much as I would like to do, for various reasons including a full-time job. When I travel, normally my wife travels with me. I'm not a big photographer.
CTN: What are your favorite California highways?
That's hard. Back in the days when I was actually commuting to the office, I was driving the 405 daily between the San Fernando Valley and LAX. I'm not sure I could call that a favorite. But I think more of memorable highways. The beauty of routes like Route 27, or U.S. 395 along Eastern Mono County, or Route 154 through Santa Barbara County, or Route 150 between Santa Paula and Ojai are remarkable.
But let's not forget some of the great county routes, such as Los Angeles County N2 (approximate Route 138 proposed), or N9 (Kanan-Dume).
CTN: Are there any Caltrans workers in particular who have helped you gather information and who you would like to mention for department's e-newsletter?
DF: Most of the folks I worked with have retired. Certainly, Shirleigh Brannon (retired Caltrans librarian), and her successors, including folks like Karen Kasuba. Also Joe Rouse, who has supported the site for years. Mel Aros helped a lot with the county route sign program. Of course, I'm open for more information from any current employee.
CTN: Anything else to add?
DF: If folks wonder what I do for a living and whether it is related to roads, the answer is no. Professionally, I've been working in the field of cybersecurity for over 35 years, working in the area of security criteria and product evaluations. You'll find me listed as part of the Joint Task Force that helped develop NIST Special Publications 800-53 and 800-37.
But the two interconnect. I love to tell the story of a Caltrans safety seminar when SAFETEA came out about the Towards Zero Deaths program. There was a presentation on a program from MN-DOT about "The Four E"s, where they realized they can't just engineer away deaths. The Four Es are: Enforcement (of laws and policies), Education (of people on how to be safe), Engineering (building safer roads), and Emergency Response (so people don't die, when the accidents happen)
That happens to work perfectly for Cybersecurity: not only do you have to build secure systems, but you have to educate users, enforce your policies, and make your systems resilient. If there's one takeaway, it's that your work can influence your hobbies, and your hobbies can teach you for your work.
Fund aids Caltrans workers affected by disasters
By the California Transportation Foundation
A fund has recently been established to assist transportation employees in their time of need to help with losses from fire, flood, earthquakes and whatever else the fates throw California's way: the Transportation Emergency Response Fund.
Recipients of the fund so far are Anthony Patricia, Headquarters; Robert Carpenter and John McKnight, District 9; Vin Clay and Doug Hunt. Each has received $1,500, plus some have received additional donations from coworkers.
From all of us here at the Foundation, we wish you a happy, safe and most importantly healthy holiday season.
Hats Off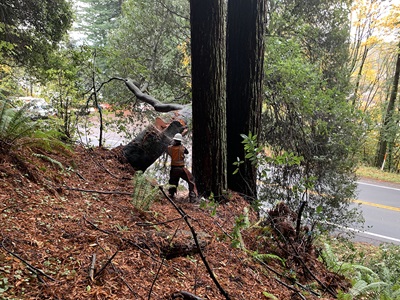 Note: The following letter was sent Dec. 16 to Matthew K. Brady, director of Caltrans District 1.
We're writing to acknowledge Caltrans team's outstanding contribution to proactively manage and mitigate the first detection of sudden oak death in Del Norte County. Thanks to the help of a collaborative team from Caltrans, CAL FIRE, the County of Del Norte, and numerous private landowners, the trees that were infected and hazardous to State Route 197 were expediently removed.
Not only was the first detection of this tree disease for Del Norte County, we also learned that the pathogen was from the European strain, a strain that has not been previously detected in trees in California. The European strain is known to be more damaging to both conifers and hardwoods, than the strain that has impacted other parts of California. For these reasons, fast action was warranted to attempt to limit its spread and mitigate damage.
The swift management response could not have occurred without the cooperation and active participation of a large Caltrans team based in Humboldt and Del Norte Counties. This team assisted in every stage of project planning and execution, from issuing encroachment permits to enable the private landowner to treat tanoaks in the highway right-of-way, to disseminating public information and coordinating road closure, to providing personnel and equipment for cutting and disposal of hazard tanoaks after treatment.
The team was highly cooperative and collegial both among themselves and with external collaborators. In particular, we would like to express our appreciation to Tom Fitzgerald, Johnnie James, Dan Ramirez, Jim Cook, Jason Hayes, and Darin Sullivan, who demonstrated a great deal of leadership and organization to facilitate the work. In addition to their crews, we also appreciate the planning and implementation work of John Hackett, Sheri Rodriguez, Heidi Quintrell, Cori Reed, Myles Cochrane, Andrew Goetz, Sara Thomas, Brad Mettam, Darrell Cardiff, Paul Johnson, and many others.
We sincerely appreciate the contributions and ready response of each of these people and the team members they supervise, and we wanted to make sure you were aware of their essential contribution to the economic and ecological well-being of Del Norte County. Thanks to your entire agency for fostering the kind of environment that encourages this style of collaboration and can-do attitude.
[Signed by:] Yana Valachovic, forest adviser, UC Cooperative Extension, Del Norte; Chris Lee, pest specialist, CAL FIRE; Justin Riggs, Agriculture Commissioner, Del Norte County; Kurt McCray, unit chief, Humboldt and Del Norte, CAL FIRE; Chris Howard, county supervisor, County of Del Norte.
---
Note: The following letter to the editor appeared Oct. 4 in the Tahoe Daily Tribune.
I was driving back to South Lake Tahoe on Sunday afternoon and I was surprised the Johnson Road bypass was open — five days ahead of schedule. Well done, Caltrans.
And more kudos … to Steve Nelson, the public information officer at Caltrans, for living up to his title and truly continually updating us.
To someone at Caltrans for having the connection with all freeway signs and with Waze and Google Maps, for updating those information devices the moment U.S. Highway 50 reopened. And a huge thank you to those unknown heroes, who worked around the clock and did the dirty work during hot daytime hours and cold nights. That includes all those flaggers and pilot car drivers over the Johnson Pass. Perhaps our city council would be justified to offer a commendation to our transportation partner for their impressive work.
As a side note, while driving back on Sunday, the line of cars coming down from Lake Tahoe on U.S. 50 was unbelievable. Hundreds upon hundreds of cars traveling back to their Bay Area (or wherever) backyards. All those cars did not expect the highway to be reopened, and they were (almost all) prepared for an extra hour or two of detour. That tells me that the Bay Area (mainly) visitors will go to any length to come and play here.
So, what would happen if we have a huge parking area in or around Placerville and bus everyone here, have a transit center in SLT with 5,000 golf carts and slow things down a bit for visitors that way.
Of course parking, bus and golf carts paid for with appropriate fees by the visitors.
Thanks again, Caltrans, for an exemplary job.
Peter P. Evenhuis
South Lake Tahoe
---
Note: The following email was sent to Caltrans Director Toks Omishakin on Nov. 17 by Michelle Tonner.
It says on your LinkedIn profile "our staff of nearly 22,000 is working every day to be the best!" I wanted to provide an example of excellence with Caltrans (and CHP) that I experienced on Nov. 16 on the Bay Bridge.
I was crossing the Bay Bridge heading eastbound just after 10 a.m. when one of the tires on my car blew out. I had just exited the Yerba Buena tunnel and pulled over to the right hand shoulder. My first instinct was to call AAA and they contacted Caltrans on my behalf. As I waited cars and trucks flew by at full speed. Pretty terrifying, even though I was parked on the shoulder.
A Caltrans representative arrived shortly and took a look at my car. He was joined by another Caltrans colleague and a CHP officer who helped slow traffic down behind us. After taking a look at my tire, the Caltrans team asked that I slowly drive off the bridge with them and CHP following and helping to block traffic. They requested I pull into a bigger shoulder right off the bridge so they could replace the tire there. Caltrans and CHP did all of this in a professional and safe manner, not only managing traffic and dealing with my car but also following COVID protocols.
I just wanted to share this very positive experience and let you know the assistance Caltrans (and CHP) provided to me this week is truly appreciated by me and my family.
---
Note: The following email was sent to District 5 in mid-October by Paul Lewis Zeoli of Carpinteria.
I have lived on Ogan Road for a little more than 30 years and we have been waiting for the U.S. Highway 101 Linden-Casitas Project in Carpinteria (Santa Barbara County) for some time now.
When the project started I was told to contact Caltrans Transportation Engineering Technician Joe Person if I needed information regarding the project.
I wanted to express my feelings on how pleased I am with meeting and talking to Joe about my concerns. He at no time left me feeling out of the loop and always returned my phone calls.
What a fine man this guy is and a gentleman, too.
To this day we have spoken about the final stretch of work and some of the things I had concerns about and Joe addressed all of them. I am also a general contractor, so I appreciate the hard work and conditions Caltrans has gone through to make this project look great.
Consider this a personal thank you. Well done!
---
Note: The following email was sent to District 5 in early November by William Lee Abernathy Jr. of Pismo Heights.
I drove U.S. Highway 101 north from Pismo Beach to the Avila Beach exit a few times in San Luis Obispo County within the last few days. I was quite delighted to see your Caltrans maintenance team doing a lot of weed abatement, trimming mostly on the east side of Highway 101 between the freeway and the neighboring communities.
I know this will help GREATLY in mitigating the fire danger for the Pismo Preserve, Pismo Heights and Pismo Beach itself.
I personally thank you so very much and I want to thank you for the Pismo Beach citizens.
Please let these highway workers know what this means to us.
---
Note: The following email was sent to District 1 on Dec. 14 by Lee Cunningham, chief executive officer of BT Metals in Eureka.
I would like to take this opportunity to commend John Saldana for his prompt and professional response to a question I raised with (District 1 Director Matthew K.) Brady. It is this type of courteous and professional response to a community member that speaks highly of Caltrans.
As a member of the Small Business Committee I have been known to raise many issues, but I also want to share gold star efforts on the part of Caltrans staff. Your jobs are not easy and many times the community does not say thank you, so here is one community member saying thank you.
I would not be doing my job if I also did not highlight another District 1 employee: the man we most work with, Eugene (Ross). He is always helpful and most professional. Another gold star for Caltrans.
I happen to be meeting with OCR in 45 min and I certainly will convey my pleasure regarding today's actions.
Health and Safety
Setting the stage for 2021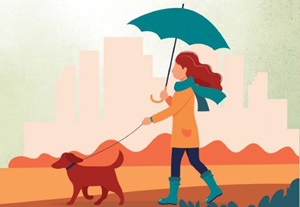 Note: The following story was submitted by the Office of Employee Health and Safety.
Real change takes time, effort, and patience.
The start of a new year often prompts people to take stock of where they are in their lives and where they want to be.
For some people, the transition from one year to the next is a time to look with fresh eyes at how they can improve their health or relationships. Is there a habit you'd like to change or a specific goal you want to achieve?
Positive change is possible, but setting too many expectations all at once and creating unrealistic goals is a recipe for failure. Real change takes time, effort, and patience. Replacing a bad habit with a healthy one or mastering something new often takes weeks or months before it becomes routine.
To start, try focusing on just one or two goals that will create the most change in your life. For example, if your goal is to make healthier choices regarding food and exercise, write down three things you will commit to do over the month of January. Examples are:
Plan at least one healthy meal or snack each day. Replace unhealthy foods with fruits or vegetables, and substitute water for soda or juice.
Schedule a physical activity that you enjoy in your day, even if it's just a short walk after work. Use technology to help you track your progress, such as fitness monitors and apps.
Go to bed 30 minutes earlier. Studies show that chronic sleep deprivation can lead to weight gain and other physical and emotional problems.
Small changes are not only easier to start and maintain, but can be very motivating when you start to see positive results. Every few weeks, evaluate your progress and raise the bar a bit higher, making adjustments to your goals as needed. If possible, share your goals with people who will support and encourage you and hold you accountable.
Most importantly, don't give up if you have a setback. Pick up where you left off and keep going.
Who's New
Dennis T. Agar, District 10 director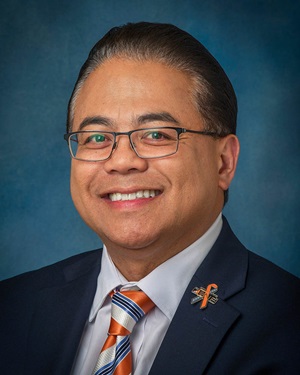 Dennis T. Agar was in October appointed to become the District 10 director. Dennis brings more than 30 years of diverse and valuable Caltrans knowledge that encompasses district and headquarters experience that combines a variety of leadership, managerial, supervisory and technical experience.
Dennis resumes his leadership role of District 10, which he previously served for four and a half years and most recently for three months as the interim District 10 director. Between those assignments, Dennis was the Headquarters division chief of Maintenance. In that position, he oversaw the statewide Maintenance Program. with an overall budget of $2.2 billion, approximately 450 positions in Headquarters and more than 7,000 positions statewide.
Over the course of his career, Dennis has also served as the division chief of Traffic Operations, the District 10 deputy district director of Program and Project Management, and acting assistant division design chief in Headquarters.
Dennis graduated from California State University, Sacramento, with a bachelor's degree in civil engineering. He is a Licensed Professional Engineer and a Certified Project Management Professional through the Project Management Institute.
Dennis enjoys fishing and playing basketball. He and his wife, Galilee, reside in Elk Grove with their three daughters, Gabby, Giannah and Gilianne.
---
Amar Azucena Cid, leadership role in Office on Race and Equity
Amar Azucena Cid was tapped to become the program manager, supervising transportation planner to lead the newly created Caltrans Office on Race and Equity (CORE).
Amar has more than 15 years of progressive planning experience, at all levels of government, from affordable housing with the city of West Sacramento; community health and wellness at the Community Services Planning Council; community surveying, monitoring and evaluation of a US DOJ planning program bridging community crime reduction and prevention, intervention and neighborhood revitalization strategies in Massachusetts; economic policy development for the California State Assembly; and supporting inclusive transit funding and transportation planning at Caltrans within the Division of Rail and Mass Transportation (DRMT).
For the past six years, Amar has established and developed the CA Climate Investments Low Carbon Transit Operations Program within DRMT. To date, her team awarded over 850 projects totaling $524 million to reduce greenhouse gas emissions and provide direct and meaningful benefit to priority populations throughout California.
More recently, Amar completed the inaugural Women Changing Transit leadership cohort with TransitCenter as one of 34 "reform-minded women in the industry developing ways to tackle the challenges facing women and addressing issues of equity and justice in concrete ways." She is also serving as a panel member for Transit Cooperative Research Program Special Project's Coordination of Public Transit Services and Investments with Affordable Housing Policies.
Amar received her B.S. in community regional planning from UC Davis and her M.A. in community development and planning from Clark University, Worcester, MA, with an emphasis on the built environment, transportation, and community finance. She is deeply invested in reducing harms that are disproportionately impacting historically left out and traditionally marginalized communities brought on by the built environment and transportation systems.
Outside of work, Amar is a community artist and has served as a board member for creative community-based organizations. She engages and leads community workshops and creates in different mediums that are representative of her Indigenous (Yaqui) and Chicana identity. She and her partner were raised by strong community civil rights activists' families—and they strive to raise their two young children with similar commitments to social justice and liberation.
---
Tony Taveras, District 7 director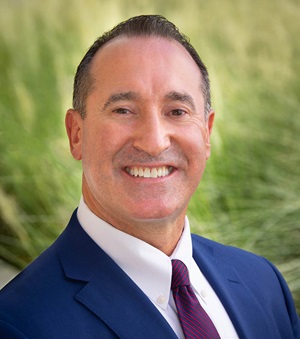 Tony Tavares was appointed in late October to become District 7's director. Taveras had served as the District 4 director since 2018, where he managed a $2 billion budget, and led nearly 3,500 employees in the oversight of all modes of transportation on the State Highway System, across all nine Bay Area counties.
Tony's strategic visionary abilities, along with his commitment to safety, modality, strong local partnerships and stakeholder engagement, have created an environment where equity, creative thinking, and innovation are key to making transportation decisions for all Californians.
Tony brings a diverse background and wealth of knowledge to District 7, with more than 30 years of leadership experience in various district and headquarters executive leadership roles, such as the division chief for Maintenance, the division chief for Right of Way and Land Surveys, the interim District 10 director, and the deputy division chief for Construction.
Tony is a graduate of the University of California, Davis, and he is a professional engineer (PE) and a project management professional (PMP).
Obituaries
Eleanor M. Darby, Caltrans retiree
Note: The following obituary appeared Dec. 8 in the Sierra Sentinel.
Caltrans retiree Eleanor M. Darby passed away on Nov. 29 at English Oaks Convalescent and Rehabitation Hospital in Modesto, where she spent the last nine months of her life.`
She was 83.
Eleanor was born January 28, 1937, in Angels Camp to Guisto and Katie Schena. She was the second of four siblings; Elda (Darby), Cleilia (Petithomme) and Frank Schena (deceased).
Eleanor was married to Daniel B. Darby from June 29, 1957, until Dan's passing Nov. 9, 2013.
She leaves behind her four children, Brian (Jeannae), Denise (Dave) Volpetti, Michael (Linda) and Rob (Veronica); and grandchildren Sean Darby (Alexandria), Fawn Willis, Michelle Bergeron, Billy Roraback. Kyle Robinson, Evan Robinson (Tiffany), Andrew Volpetti, Josiah Darby, Joseph Darby, Rasmus Darby and Lucas Darby.
Eleanor also is survived by 17 great-grandchildren, eight great-great-grandchildren, sisters-in-law Claudia Schena and Kathleen (Darby) Crespi, and brother-in-law Bob Petithomme, many cousins, nephews, nieces and friends.
Eleanor retired from Caltrans. She was a member of the Model "A" Club, the Italian Catholic Federation (ICF) and the Italian Club of Sonora.
She loved to play cards/games, traveling, visiting with anyone and always making new friends.
---
Clyde D. Trammell, 34-year Caltrans employee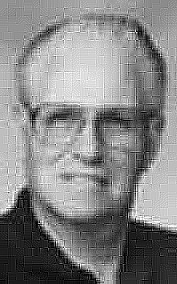 Note: The following obituary appeared in the Fairfield Daily Republic on Dec. 13.
Retired Caltrans worker Clyde D. Trammell died Dec. 5 in Fairfield. He was 88.
Clyde was born in Colcord, Okla., on June 13, 1932, and moved out west to California in the 1940s to Modesto. He met his wife, Virgie Ford, in 1953 and they married in 1956.
He worked for Western Well Drilling for a number of years until he started his career with Caltrans for 34 years and retired in 1993.
He was a very loving, caring and giving person.
Clyde was a born again Christian. He was a care minister and ordained as a Deacon at First Baptist Church in Fairfield.
He enjoyed traveling, RV clubs, bocce club, bowling, weightlifting and jogging (he was featured as jogger of the week). He enjoyed coaching Little League.
Clyde had five children, Dennis, Jerry (deceased), Gary, Patty and Sandy; he also had 13 grandchildren and 14 great-grandchildren.
---
Richard Lee Tuman Sr., retired engineer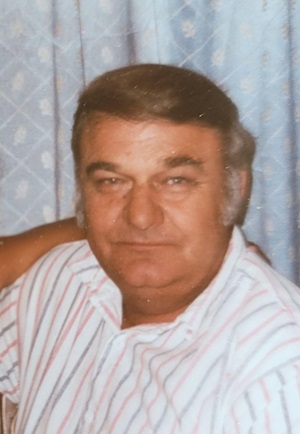 Note: The following obituary appeared Dec. 3 in The Sentinel (Hanford).
Retired Caltrans engineer Richard Lee Tuman Sr. of Lemoore passed away in Visalia on Nov. 25 at the age of 84.
Richard was born in Liberal, Kansas, to Richard and Mabel Tuman. He joined the Army after high school. When he got out of the Army, he attended Brigham Young University. Prior to moving to California, he had lived in both Utah and Colorado.
Richard was an inspection engineer for both DWP and Caltrans. He and his wife. Billie, coached Little League in Lemoore.
Richard taught his kids valuable life skills as they were growing up so that way they would be able to do the same for themselves. Richard enabled his family to do anything they wanted to.
Richard is survived by his three sons, Rich Tuman, Jr, Ron Tuman and Russ Tuman Sr., all of Lemoore; 11 grandchildren; 14 great-grandchildren; and four siblings, Mary Casey, Donna Belle Harris both of Kansas, Anna Marie McKee of Oklahoma, and Kenneth Dean Tuman of Kansas.
---
Tony Zuniga, longtime Caltrans employee
Note: The following obituary appeared on FresnoBee.com on May 17 and 18.
Longtime Caltrans employee Tony Zuniga, age 73, passed away on May 11, 2020.
Born to Santos and Angelita Zuniga in Donna, Texas, in 1946, Tony and his family moved to Fowler in 1952, where he happily resided for more than 60 years.
After graduating from Fowler High School, Tony attended Reedley College before transferring to Fresno State, where he majored in ornamental horticulture. Tony left college to serve his country in the U.S. Army.
Honorably discharged as a sergeant, Tony returned home and began a career as a civil servant working for Caltrans until he retired 36 years later.
Inspired by a love for nature, he was also a Sun-Maid farmer for more than 40 years.
During his free time he remained active in his community, donating time, materials and equipment as a parent volunteer for his children's activities, a church leader in the Knights of Columbus and a member of St Lucy's Catholic Church.
Both creative and artistic, Tony developed a childhood penchant for photography that continued with him throughout adulthood. His favorite photographs were of nature, his family and friends.
Throughout his diverse experiences, Tony maintained many long-lasting friendships. Known for his big smile, he possessed an innate ability to bring joy to those around him. Because of his open-mindedness, extraordinary generosity, profound empathy, endearing personality and keen sense of humor, Tony touched the hearts of those who knew him.
A principled and intellectual man, Tony eagerly discussed his beliefs. He spoke of justice, equality, compassion and peace and lived his life accordingly. Above all else, he valued people and readily extended a helping hand when an opportunity arose.
He strove hard to live the life his parents' exemplified and instilled those same values in his children. Most recently, he whole-heartedly relished his role of grandfather.
Tony was preceded in death by his parents, brothers Eloy and Pete, and sisters Becky and Lydia. He is survived by Gail, his wife of more than 50 years; daughter Denise and her husband, Harveen; son Stephen and his wife, Carey; granddaughter Cameron; and brother Santos.