Director's Corner
Director's Corner
With 2020 behind us, let's thrive in 2021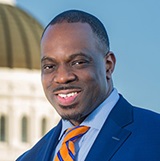 Greetings, Team Caltrans. First off, major congratulations are in order. Together, we made it through one of the most challenging years imaginable. The COVID-19 pandemic has had a profound impact on our department, but we adapted quickly with teleworking, accelerated construction and maintenance projects, flexible and creative thinking, and in countless other ways. Thank you, and bravo!
We also set things in motion that will help make the new year a tremendous success. I want to share with you a few examples.
Soon, we will release our California Transportation Plan 2050. In it, we are taking the lead to acknowledge that the impacts of climate change are very real and very concerning, not just for our transportation system but for all of California's communities as well. We will be addressing the climate crisis through all transportation decisions.
Late last year we released our first-ever Equity Statement. Through department-wide education and training, we will advance equity in our work and address the history of impacts from highway development on underserved communities in California. Our new Caltrans Office of Race & Equity (CORE) will lead our engagement with Native American communities and with other historically underserved communities statewide in our planning and project development efforts.
Our evolving Strategic Management Plan focuses, among other things, on equitable pricing strategies that would simultaneously incentivize Californians to embrace public transportation and/or reduce what we call VMT – vehicle miles traveled. We also are researching the merits of innovative revenue-generating strategies such as road charge and all-road tolling.
Of course, Caltrans' top priority is safety. As we continue to work toward our ultimate goal of zero deaths, we are developing a new culture of safety based on the Safe System principles in which we focus on reducing fatal and serious injuries for all users and leverages multiple strategies concurrently. We're focusing on these four pillars in our new Safety Program: Leading the traffic safety culture change statewide, integrating equity into safety, doubling down on what works by using nationally recognized countermeasures proactively, and accelerating the use of technologies. We're aligning the commitments stemming from the Strategic Highway Safety Plan partnership with our state efforts, focusing in the top risks associated with fatal and serious injuries, and setting up new techniques such as reducing speed-related crashes via engineering design, speed limit management, and accommodating bicyclists and pedestrians more proactively.
As we enter 2021, we at Caltrans have a lot to look back on with pride, and a lot to look forward to with excitement and determination. Let us make the new year one of our best years ever.
Happy New Year, everyone!