By Erin Gallup von Tersch
Caltrans Public Information Officer
The State Capitol's west lawn was covered in a sea of orange as nearly 1,000 Caltrans workers and their families, media, public officials and the community gathered April 27 at the Caltrans Fallen Highway Workers Memorial to honor the 187 Caltrans employees killed in the line of duty since 1921.
This year's event honored Caltrans Electrician I Jorge Lopez, who was struck by a big rig on State Route 14 near Palmdale on Sept. 1, 2016.
On October 9, 2016, Escondido Yard Electrician Randy Whisenhunt died as a result of injuries suffered on the job. Lopez and Whisenhunt are each survived by a wife and three children.
And three days before the workers memorial this year, Structural Steel Painter Supervisor Annette Brooks was shot and killed at a Caltrans facility in Rio Dell.
"Whatever the circumstances, violence never belongs in the workplace," Caltrans Director Malcolm Dougherty said at the memorial at the State Capitol. "Whether it's alongside the highway or in the workplace, the pain is still the same. We must continually rethink safety and improve our efforts for all of our employees and for their families. We owe that to each of the individuals represented by a cone in front of us."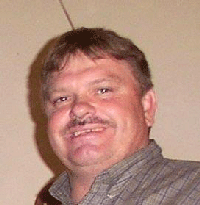 Displays at the ceremony featured Caltrans' new Remote Operated Safety Attendant (ROSA), which has been piloted successfully on flagging operations in Topanga Canyon and Mt. Shasta. There are plans to deploy ROSA again this summer. The ceremony also featured the new Caltrans safety van, used in each district to provide much-needed safety supplies and amenities like water and towels for highway workers. There was also a smashed attenuator at the ceremony so the crowd could see how the attenuator works as a giant cushion to protect the public and highway workers by absorbing the impact of the crash caused by inattentive drivers.
Director Dougherty reminded motorists that taking their eyes off the road for just a few seconds can have tragic consequences and change countless lives forever. The Lopez family is just one example.

"My family was a family of five," said Daniela Lopez to the crowd at the State Capitol April 27. "Now I have this sea of orange and every time we see you we think of Daddy."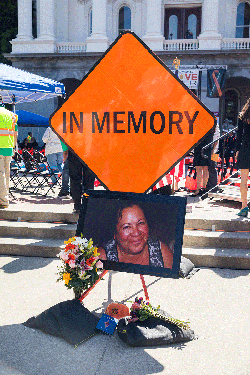 She said her dad, a Caltrans electrician, always talked about work. He would show her, her sister and brother every light and sign that Caltrans put up, and explain how important it is to maintain all the parts of the roads. And she said he also taught her to be grateful. When she was really missing him last New Year's Eve, she said she made a resolution to be grateful and she pulled out the letters her dad's coworkers sent to her and her family.
"And that's what got us through," Lopez said. "I am extremely grateful to have such a big family."
The California Transportation Foundation and Director Dougherty awarded Daniela Lopez' younger sister, Adriana, the "Children of Fallen Workers" scholarship to help her pursue her education at California State University, Northridge.
Jorge Lopez's children thanked the crowd of Caltrans workers for dedicating their lives to keep California's highway safe. Daniela Lopez said, "Every time we see you, we think of the love and the commitment that you make every day to make this state safer -- the selflessness that you take to help all of us."
Caltrans is gearing up to fix more highways this summer with the aid of increased funds from Senate Bill 1, the Road Repair and Accountability Act of 2017. Dougherty said it is more important than ever that the public Be Work Zone Alert to help each highway worker go home to their family safely each night.