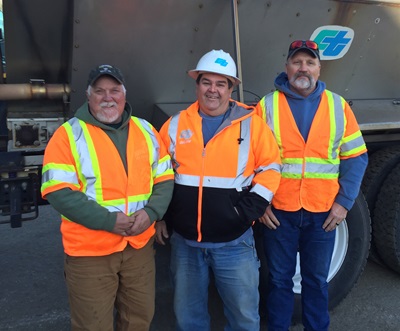 By Erin Gallup von Tersch
Caltrans Public Information Officer
Caltrans highway workers maintain and operate the transportation system – from the Sierra to Death Valley, to steep coastlines – despite slides, sinkholes, inclement weather and fast-driving motorists. This is where life-and-death situations arise.
On May 23, Caltrans Alturas Maintenance Shop Leadworker Dean Rouse and Whitmore Maintenance Equipment Operator II James Anderson each received the Governor's State Employee Gold Medal of Valor Award for risking their lives to save drowning victims in two different scenarios in Northern California this past year. Anderson's co-worker Maintenance Equipment Operator II Kenneth Myers, and Maintenance Supervisor Rodney Walker earned the Governor's Silver Medal of Valor Award for aiding a rescue.
Whitmore Maintenance Shop Heroes
It was raining hard on Interstate 80 at an elevation of 5,000 feet in the Sierra on Jan. 29, 2016, when Anderson heard the dispatch call for help. A pickup truck had rolled down an embankment and landed upside down in a creek filled with fast-flowing rain run-off.
Anderson immediately went to the scene and waded through the icy chest-deep water with California Highway Patrol (CHP) officers Andy Murrill and Kevin Maniord. They found a visibly injured, bleeding and nearly unresponsive woman. Anderson cut her from her seat belt and pulled her out of the vehicle. With the CHP officers' assistance, Anderson carried her across the swiftly moving water. At one point Anderson lost his footing and started to slip downstream, but Myers had arrived, waded into the water and grabbed Anderson's belt – keeping Anderson and the others from being swept downstream into a long culvert pipe under Interstate 80.
Since the rescuers had been in the freezing water for more than 15 minutes and the creek's underwater bank was just as steep as the embankment, it was difficult to get the injured woman out of the water. Fortunately, Walker had just arrived and helped lift her out of the water. Walker also carried her up the steep embankment to safety. She was transported to Sutter Memorial Hospital, where she recovered from hypothermia, lacerations and a fractured rib.
Alturas Maintenance Shop Hero
On Dec. 20, 2015, Maintenance Leadworker Dean Rouse responded to a dispatch call for help for a vehicle that slid and rolled off a Highway 395 embankment and landed upside down in the Pit River.
Several people were helping the driver when he arrived, and one person was trying to keep the female passenger's head out of the fast-rising water. Risking his own life, Rouse jumped into the swift-moving river to help get the female passenger out of her car door, which was blocked by large boulders in the water.
"To this point, the brave, wet and cold rescuers were unable to open the passenger door in order to extricate Daphne Wysham," said Modoc County Sherriff Mike Poindexter. "Now in a group effort, [four travelers that stopped to help], Dean Rouse and [Modoc County Sheriff Deputy] Erik VonRader were able to somehow get the door open."
Rouse and VonRader carried Wysham up the steep embankment to paramedics. She had a heart attack in the water and was airlifted to a hospital in Reno, but she and the driver recovered from the incident. She later wrote that she, "had been taken up on angels' wings" thanks to her "guardian angels who made God's love visible."
After getting Wysham to safety, a soaking wet Rouse directed traffic while the vehicle was pulled from the water. Then he finished the last three hours of his shift. "I was just doing my job," he said.
But Poindexter said Rouse and the others were doing so much more. "Without question on that day, these citizens risked their own life and limb to save complete strangers," Poindexter said.