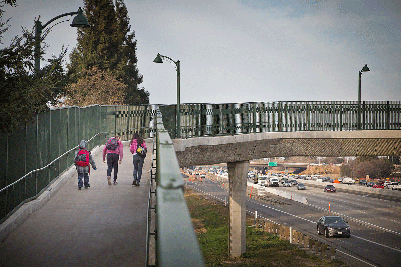 By Scott Forsythe
Division of Transportation Planning


In the near future, Californians around the state can expect it to be easier and safer to walk and bike.
This May, Caltrans released its first statewide bicycle and pedestrian plan Toward an Active California, which identifies how Caltrans will meet its ambitious goal to double walking and triple bicycling in the state between 2010 and 2020.
Including such a high-priority active transportation goal in the plan is significant. It emphasizes the importance of walking and bicycling to meet multiple statewide objectives and sets an expectation that walking and bicycling be considered Department-wide in performance management, sustainability and innovation. The plan identifies policies and actions that Caltrans and its partners will take to achieve this goal and improve the safety and comfort of pedestrians and bicyclists throughout the state, making walking and biking an appealing option for many everyday trips.
Toward an Active California is the culmination of a 16-month process led by the Office of Multimodal System Planning. This statewide policy plan was guided by an advisory group of 50 subject matter experts from Caltrans headquarters divisions and districts, state and federal agencies, regional and local agency partners, active transportation advocacy groups, and included an extensive statewide public engagement effort.
At the core of the plan are four objectives: safety, mobility, preservation and social equity. These objectives are supported by a corresponding set of 60 actions that identify the appropriate Caltrans function or partner state agency to lead with its implementation. Also identified in the plan are performance measures and examples of active transportation best practices being used in California and nationally.
Toward an Active California complements local and regional active transportation plans being developed across the state, supporting agencies as they undertake their own efforts to improve the walking and bicycling environment in California. While Caltrans has the greatest control over state transportation facilities, it exerts considerable influence on bicycling and walking facilities on local roads through funding programs, design, and design guidance. Only through partnerships, coordination, and funding can the state achieve the goals set in the California Transportation Plan 2040 and the Caltrans Strategic Management Plan.
You can read the plan at www.cabikepedplan.org.