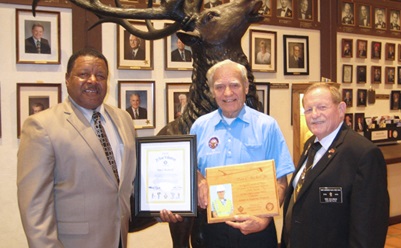 By Jim Shivers
Caltrans District 5 Public Information Officer
A special ceremony was recently held at the Elks Lodge in Santa Barbara to recognize Don C. Becker for his retirement after 25 years as an Adopt-A-Highway volunteer. Caltrans District 5 Maintenance Supervisor Alfred Lang presented Becker a plaque from Caltrans Director Malcolm Dougherty to honor Becker's long commitment. Becker told the gathering that he was thankful for the honor and always enjoyed keeping the highways free from litter.
The Adopt-A-Highway program, which began in 1989, has been a successful government-public partnership. More than 120,000 Californians have cleaned and enhanced over 15,000 shoulder-miles of roadside.