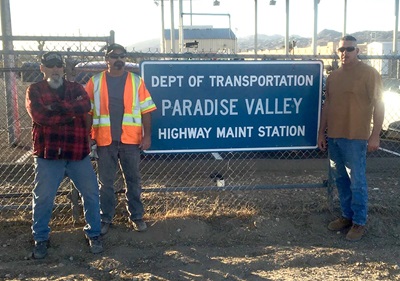 By Shelli Lombardo
District 8 Public Information Officer
The morning of Dec. 8, began the same as any other morning. Caltrans Equipment Operators R.J. Hickman, Robert Giles, and Chuck Wilcox from the Paradise Valley Maintenance Yard in District 8 set out in a moving sweeping train to cleanup a remote segment of State Route 62 in Riverside County.
Around 9 a.m. the crew noticed a sedan on SR-62 acting erratically. The vehicle pulled to the side when Hickman, who was driving the advance-warning vehicle, noticed an elderly gentleman attempting to flag down a passing vehicle. Hickman pulled up to the car and asked the man if he needed assistance. The man told Hickman that he thought he was having a stroke. Hickman contacted 9-1-1 dispatch at the Indio California Highway Patrol and emergency response. Hickman engaged the man in conversation and monitored his breathing until help arrived. It was during this time that the man shared he was a U.S. Army veteran on his way to the Veterans Administration Hospital in Loma Linda to be examined because he didn't feel well. Loma Linda is over an hour away from where the man was found.
Wilcox and Giles conducted traffic control around the area and, upon arrival, assisted emergency response in backing their rigs. Paramedics confirmed that the man had indeed suffered a stroke.
The Paradise Valley Crew went the extra mile by taking notice and assisting a member of the public that we so proudly serve.