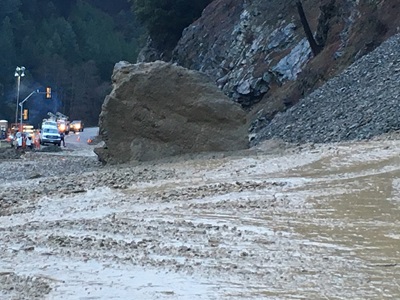 Contributions by Caltrans Public Information Officers Jim Shivers, Liza Whitmore, Rick Estrada, Warren Alford, Shelli Lombardo, Trisha Coder, Christian Lukens and Erin Gallup von Tersch
After five years of drought, rain came in abundance to California starting in December and continuing through the New Year. Governor Edmund G. Brown Jr. issued two emergency proclamations to help 50 California counties recover from severe winter storms that caused flooding, mudslides, erosion, and damage to roads and highways.
Caltrans engineers, maintenance personnel, stormwater specialists and more worked tirelessly to clear roads of water, mud, rocks, and snow during and after an onslaught of winter storms.
California hasn't experienced anything like this in years. Average January precipitation in Eureka is 6.5 inches, but this year, they got nearly 10 inches before the month was over. The National Weather Service stated that this was San Francisco's seventh-wettest January on record, while Southern California's city of Long Beach set a new record of one-day rainfall with 3.87 inches on Jan. 22. Yosemite has received a record 45 inches of rain this winter, and even Death Valley got more rain than normal with nearly half an inch, which is half of its yearly average.
Caltrans crews in Northern California and along the coastline have been dealing with repeat slides since November, when State Route 299 slid out at Big French Creek Road in Trinity County. Caltrans and its contractor, Steve Manning, Inc., have been working double shifts to open a temporary detour, but right after they reopened the highway, a round of slides came in December. This January, boulders the size of small houses landed on the roadway, along with a river of mud. Crews excavated from the hill top down and will use that material to build a temporary detour next to the Trinity River. They expect to open that to one-way traffic in mid-February.
Highway 49 had several slides in Nevada and Sierra counties. In San Luis Obispo County, Caltrans had to use a spider excavator to remove more than 20,000 cubic yards of dirt and rock to clear SR-41 between Morro Bay and Atascadero.
The Sierra Nevada got rain and snow. One week in January sent the Sierra more moisture than they'd had in any recent year. State Route 89 had nearly 20 major slides and numerous smaller slides between Nevada City and Sierraville this January. Near Lake Tahoe, Caltrans had to close SR-89 due to avalanches, but each time there was a break in the storm, Caltrans returned to snow removal so the highway could re-open as soon as possible. It was a constant battle to keep this mountain highway passable.
The Tahoe Daily Snow Report stated that the New Year broke the 1973 snow record of 159 inches with about 300 inches of snow this January. Caltrans snow blowers worked around the clock to clear mountain highways, such as Interstate 80, while chain control crews made sure motorists were prepared for the weather.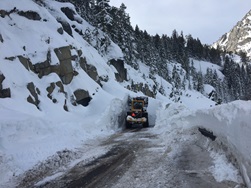 The San Bernardino Mountains received a significant amount of snow on Jan. 18. The next storm was warmer, melting the snow and adding more moisture, causing flooding on the SR-18 "Narrows" section, north of the city of San Bernardino. Rocks and boulders filled the steel mesh Caltrans had installed on the slopes to catch debris and keep it off the highway and District 8's North Region crews had to repair it and clear the road.
Caltrans public information offices up and down the state monitored floods, slides, road closures and other weather-induced events, including dozens of major collisions on highways. Using Twitter and Facebook to communicate with motorists, as well as government agencies and the news media, Caltrans districts instantaneously distributed life-saving information throughout the state during the worst storm cycle in years.
In Merced County, Caltrans maintenance crews had to make three different detours for SR-59 at Mariposa Creek, due to repeated flooding. State Route 26 washed out in Calaveras County and SR-132 in Stanislaus County had to be closed due to giant boulders on the roadway.
On Jan. 22, southern California freeways leading into Mexico at the San Ysidro Port of Entry were closed due to flooding, as well as U.S. Highway 110 in Carson, I-710 in Long Beach, and SR-138 at the I-15 interchange.
Caltrans also responded to multiple mud/rock slides on SR-1 in Monterey County and SR- 9 and SR-35 in Santa Cruz County. State Route 1 was closed between Ragged Point in northern San Luis Obispo County and Big Sur in Monterey County.
For the latest information on road closures, visit http://quickmap.dot.ca.gov/.