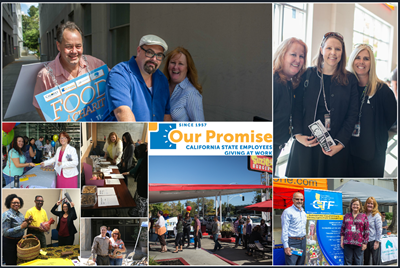 By Rick Estrada, "Our Promise" Campaign Vice Chair
Caltrans District 10 Public Information Officer
The state payroll-deduction charity campaign is closed, but "Our Promise" to help those less fortunate continues.
"Our Promise: California State Employees Giving at Work" is the single largest effort among California's 300,000-plus state employees to support charitable programs. In 2015, Caltrans employees and retirees contributed more than $549,000 to "Our Promise." This year's campaign goal was $600,000, and final 2016 contribution numbers will be announced in early 2017.
The two-month "Our Promise" campaign, which included fundraisers and non-profit fairs, wouldn't have been possible without help from Caltrans employees across the state. Team leaders and key connectors spread the word throughout district offices and coordinated non-profit visits to educate Caltrans employees, and gave them an opportunity to donate to a non-profit through payroll deduction.
Caltrans' Information Technology unit, particularly Web Designer Alison Mostert and Senior Information System Analyst Supervisor Jigme Chhimi, built the first "Our Promise" campaign intranet page for Caltrans. This allowed information to be distributed from a central site, accessible to more than 18,000 employees across the state. It also served as a platform to recognize fundraising efforts, provide "Our Promise" campaign and non-profit information and publish photo galleries of the statewide fundraising events
Headquarters' Division of Public Affairs played a critical role in publicizing the campaign. Public Information Officer Patrick Olsen focused on Twitter and Facebook posts – playing a significant role in the Suzie Burger event that raised funds for the California Transportation Foundation – while CT News Editor Erin Von Tersch oversaw the placement of "Our Promise" related stories in the statewide newsletter.
The Reprographics unit at Headquarters helped publicize events with colorful posters for the kickoff event at the Capitol and the O Street Fair, which featured non-profit agencies and food trucks. Dietra Walker, Ron Thornsberry, George Holden and Allen Esquivel in Reprographics were among those ready to dive in and lend a hand when needed … while Caltrans Photographer Scott Lorenzo and Videographer Tony Arias documented the campaign.
A big tip of the hat also goes to Directorate Support Tina McMichael, who was the lynchpin that kept all of these different pieces moving in unison. Of course, none of this would have been possible without the legion of team leaders and key connectors who formed the backbone of the campaign – assuring Caltrans fulfilled its mandate that every employee be asked if they would like to donate.
State employees can always begin a new deduction, or make changes to their current deduction by calling the Donor Hotline at (888) 863-6466.