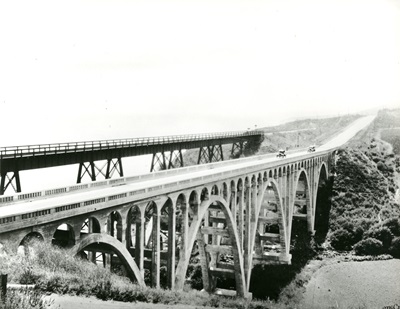 By Jillian Courter, Structure Design Associate Government
Program Analyst
Caltrans is tasked to provide a safe, sustainable, and efficient transportation system to meet current and future needs, but it must also maintain, rehabilitate, and preserve its past. Rehabilitating, reusing, and preserving historically significant bridges in California is an important part of transportation planning. While not realistic or reasonable to save every historic bridge or roadway, there are many examples where preservation has been successful through innovation, collaboration, and prudent planning.
Historic bridges invoke a sense of pride and nostalgia, so it is no surprise that preservation efforts are scattered throughout California's past. A deliberate and systematic process became widespread in the 1970s with the passage of the National Historic Preservation Act of 1966. A statewide survey conducted by Caltrans, the State Office of Historic Preservation, and the Federal Highway Administration in the 1980s identified the state's most significant bridges and established criteria for evaluating and preserving California bridges.
As design and construction techniques increase the life expectancy of bridges and roadways, regular maintenance has become the most successful and efficient preservation technique by preventing costly deterioration and allowing a bridge to remain in use. When maintenance is no longer feasible, and historic bridges no longer serve the transportation needs of the public, they can be relocated to a new site to serve non-vehicular traffic. Haupt Creek Bridge, a rare example of a Phoenix Bridge Company metal truss bridge, was relocated to Sonoma County in 1937. Relocation is generally only feasible for metal bridges, and most bridges constructed in California after 1920 are concrete or stone bridges.
Many historic bridges are bypassed with new roads or structures, and are preserved to serve a different purpose. This requires collaboration with local agencies that take responsibility for maintaining the bridge after it is bypassed. Donner Summit Bridge, also known as Rainbow Bridge, was built in 1924. The first concrete bridge to have both a curve and gradual grade, it was bypassed in 1964 with the completion of Interstate 80 and given to Placer and Nevada counties. Decades of use in the harsh, snowy climate led to deterioration, and in the 1990s Nevada County offered four choices for the decaying bridge, three of which involved demolition. The community rallied to save the bridge, and in 1993, Rainbow Bridge was fully restored using new concrete matching the original color and style. Old Fair Oaks Bridge in Sacramento County, the Arroyo Hondo Bridge in Santa Barbara County and the Harlan D. Miller Memorial Bridge are other examples of bypassed, but saved bridges.
Many of these historic bridges are no longer in Caltrans' inventory and other government agencies are maintaining them. However, like the Cabrillo Bridge restoration, these agencies will often ask Caltrans to help with the restoration.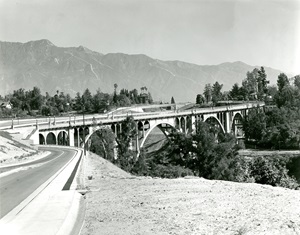 The most expensive restoration efforts require major overhaul and are reserved for the most historically distinct bridges because of the high costs. Guidelines dictate restoration efforts should not exceed the amount it would take to demolish a bridge, but in some circumstances, the historic value outweighs restoration costs
Colorado Street Bridge, proclaimed the highest concrete bridge in the world when it was completed in 1913, is located in Pasadena, California, and was a major part of Route 66 until 1940. Falling into a state of disrepair, the bridge was closed for precautionary reasons after the Loma Prieta earthquake in 1989 and underwent a $27 million renovation before reopening in 1993.
Felton Covered Bridge in Santa Cruz and the Knights Ferry Bridge in Stanislaus County, both historic covered bridges, also required extensive rehabilitation efforts to repair structural problems and restore them to their original designed state.
Effective bridge preservation programs use a broad spectrum of techniques ranging from general maintenance to full rehabilitation. It is only when all alternatives have been exhausted that demolition becomes viable. Preservation efforts are ongoing and remain a part of prudent transportation planning. To document its bridge preservation efforts, Caltrans has produced, Historic Preservation and Caltrans: Buildings and Bridges, and Historic Highway Bridges of California, available here. These publications highlight successful preservation efforts of bridges deemed historically significant in California.