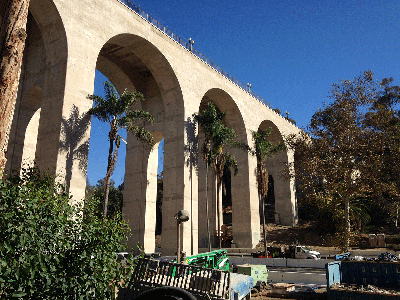 By Caltrans Senior Bridge Engineer Nancy Nickerson, Structure Representative Brian Martin, and Professional Engineer Laura Luce
It recently underwent a $38 million restoration and retrofit. The construction crew rehabilitated the existing concrete, added a vertical shear wall, reconstructed the expansion and intermediate crown joints, added horizontal and vertical pre-stressing, resurfaced the bridge deck, replaced the deck drainage, and upgraded electrical components.
The Cabrillo Bridge is listed on the National Register of Historic Places, the California Register of Historic Resources and is a city of San Diego designated landmark. Franklin D. Roosevelt, then assistant secretary of the Navy, dedicated the bridge on April 12, 1914. It was designed by Thomas B. Hunter and Frank P. Allen supervised construction.
A 2004 fire in the interior of the structure necessitated the bridge's rehabilitation. Historic place and property standards require the restoration of exterior historic elements to match the properties of the historic (but not necessarily original) elements. The approach matched the existing texture and color of the deck to when the bridge opened. Historic standards do not apply to the interior of the bridge. This is why the design limited retrofit work to the bridge's interior.
T.Y. Lin International Group, out of San Francisco, designed the restoration with oversight from Caltrans' Division of Engineering Services. Disney Construction was the prime contractor.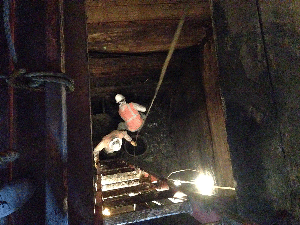 Crews closed the bridge deck to all but pedestrians for 105 days during the park's off-season between January and April 2014. Sequencing and the small window for the deck closure required an enormous amount of work to be completed in a relatively short time. Crews had to complete deck work by April 30, 2014, to prepare for the 1915 Panama-California Exposition's 100th Anniversary Celebration. Exterior bridgework did not conclude until July 2014.
To build the shear walls in the interior, the concrete was placed from the deck level down. Placing concrete through the pour windows, down the pier legs, though a hose, and into forms required extensive labor. A 30-yard concrete pour, typically a 30-minute job, took over 12 hours due to the confined working environment. The confined space also required all staff to have two-way radios. For safety, office staff monitored and tracked field staff positioning and movement in real time.
Civil Transportation Engineer and Cabrillo Bridge structure representative Brian Martin said working on a historic bridge is different than a typical bridge.
"A typical retrofit would not include the historic constraints, or the extent of rehabilitation required on something built 100 years ago," Martin said.
The Cabrillo Bridge's rehabilitation and seismic retrofit project received the 2015 Outstanding Centennial Historic Engineering Project Award from the San Diego Chapter of the American Society of Civil Engineers and, the 2015 Project of the Year Award from the American Public Works Association Chapter for San Diego and Imperial counties.