South Fresno State Route 99 Corridor project
South Fresno State Route 99 Corridor project

Project Description
Caltrans constructed the State Route 99 alignment in 1965 with partial interchanges (half interchanges) where local roads intersect the highway in the project area. This project proposes to reconstruct two of the existing half interchanges to create full interchanges at American Avenue and North Avenue, with closure of the ramps at Cedar Avenue, which effectively moves the existing southbound on-ramp and northbound off-ramp to North Avenue.
Two alternatives are proposed at American Avenue, and two alternatives are proposed at North Avenue. The alternatives differ in the interchange configuration type proposed at the locations. Each build alternative proposes to construct a full interchange with different modifications of typical interchange types to fit within the existing topography and infrastructure in the area. The proposed build alternatives are either typical interchange type configurations or they are modifications of typical types. Two interchange types are being considered for American Avenue: Alternative 1 Spread Diamond (Type L-2) and Alternative 2 Partial Cloverleaf (Type L-9). Two interchange types are being considered at North Avenue: Alternative 2 Modified Partial Cloverleaf (Type L-9) and Alternative 4 Diverging Diamond Interchange (DDI).
All build alternatives would reconstruct the existing overcrossings and construct on- and off-ramps to form complete full interchanges, with sidewalks, curb and gutter, lighting and signalization, and a stormwater system. The existing half interchange ramps at Cedar Avenue would be closed.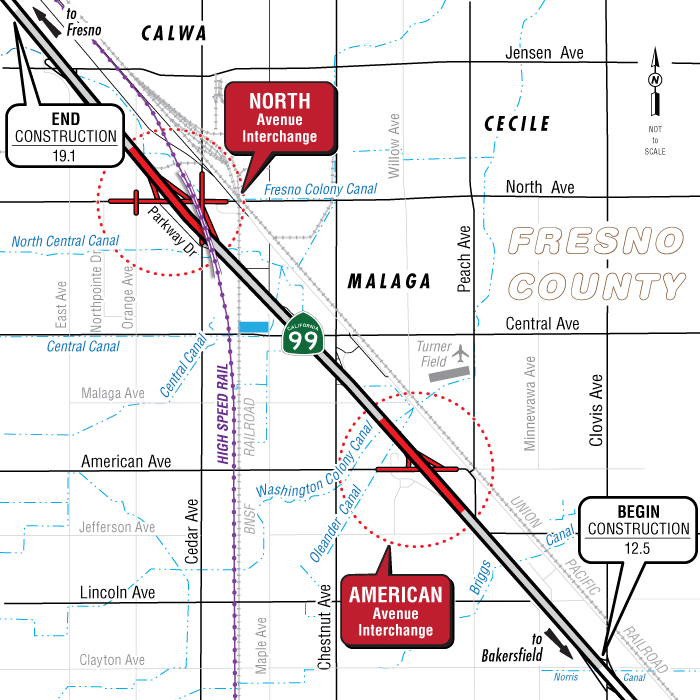 Project Benefits
The project would improve traffic operations at the interchanges and on the intersecting and nearby local streets and intersections in the project area through updates to transportation facilities involving roadway dimensions, signals, stormwater, sidewalks and bicycles, and lighting. The improved facilities would meet current Americans with Disabilities Act (ADA) standards. The project would result in lower air emissions on the local road system and improved access for businesses in the project area and to destinations in the surrounding area.
Purpose
The purpose of the South Fresno State Route 99 Corridor project is to improve traffic operations of the existing interchanges at American and North avenues and to bring the interchanges up to current standards.
Need
The interchanges do not meet current Caltrans design standards. The interchanges were built in 1965, and the pavement is now old and highly deteriorated. Only two traffic lanes cross the existing structures over the highway: one lane for each direction of travel. The existing interchange configurations are non-standard and are "partial" or "split" to form half interchanges at American Avenue, Cedar Avenue and North Avenue.
The existing half interchanges are not full interchanges with all the options for getting on and off the highway. Half interchanges mean on- and off-ramps are separated from each other, making it difficult for motorists to find corresponding on- or off-ramps and forcing vehicles to wander the local streets to reach their destinations. The on- and off-ramps have restrictive dimensions, making it difficult for traffic, especially large trucks, to navigate them.
Traffic is expected to increase in the project area due to the implementation of planned development on both sides of the highway. Caltrans traffic studies show the operation and performance of the interchanges need updating now because traffic conditions will continue to worsen if no improvements are made.
Estimated Funding Breakdown
| Funding Source | Funding Amount |
| --- | --- |
| Local | $97,100,000 |
| State | $8,000,000 |
| Federal | $37,300,000 |
| Construction Cost | $105,000,000 |
The total cost for the project is estimated to range from $119 million to $146 million using 2021 dollars.
Partnerships
Fresno Council of Governments
Fresno County Transportation Authority
Fresno County Department of Public Works and Planning
City of Fresno Public Works Department
Proposed Project Schedule
| Process | North Avenue | American Avenue |
| --- | --- | --- |
| Project Study Report | December 2016 (Complete) | December 2016 (Complete) |
| Begin Environmental Studies | December 2018 (Complete) | December 2018 (Complete) |
| Circulate Draft Environmental Document | October 14, 2021 – December 3, 2021 (Complete) | October 14, 2021 – December 3, 2021 (Complete) |
| Project Approval & Final Environmental Document | January 2023 | January 2023 |
| Right of Way Certification | May 2025 | June 2024 |
| Design to be completed | March 2025 | May 2024 |
| Ready to List | June 2025 | June 2024 |
| Construction to begin | January 2026 | January 2025 |
| Construction to be completed | December 2028 | May 2027 |
Project Contact
Eric Karlson, Project Manager
Phone: (559) 246-7337
Email: eric.karlson@dot.ca.gov
John Thomas, Senior Environmental Planner
Phone: (559) 408-4496
Email: john.q.thomas@dot.ca.gov
District 6 Public Information Office
Phone: (559) 488-4067
Email: d6.public.info@dot.ca.gov
Documents
Accessibility Assistance: Caltrans makes every attempt to ensure our documents are accessible. Due to variances between assistive technologies, there may be portions of this document which are not accessible. Where documents cannot be made accessible, we are committed to providing alternative access to the content. Should you need additional assistance, please contact us at (916) 654-2852 or visit https://dot.ca.gov/request-ada-compliant-documents.
Title VI Information
The California Department of Transportation (Caltrans) assures that no person shall, on the basis of race, color, or national origin, be excluded from participation in, be denied the benefits of, or be otherwise subjected to discrimination under any program or activity receiving Federal financial assistance, as required by Title VI of the Civil Rights Act of 1964, as amended, the Civil Rights Restoration Act of 1987, and Federal Executive Order 12898 (Federal Actions to Address Environmental Justice in Minority Populations and Low-Income Populations).
Caltrans will make every effort to ensure nondiscrimination in all of its programs and activities, whether they are federally funded or not, and that services and benefits are fairly distributed to all people, regardless of race, color, or national origin. In addition, Caltrans will facilitate meaningful participation in the transportation planning process in a nondiscriminatory manner.
Please take the Title VI survey: