Project Spotlight: Echo Summit Bridge
Project Spotlight: Echo Summit
Caltrans Successfully Walked the Proverbial Tightrope on Scenic Tahoe Span Replacement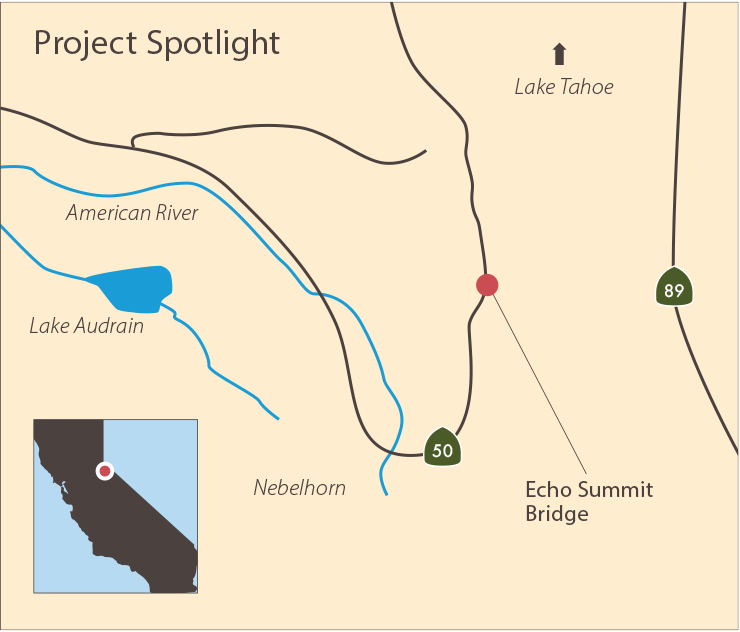 The U.S. 50 Echo Summit bridge replacement project provided unique and cliffhanging obstacles.
Technically, it's referred to as the $14.1 million U.S. Highway 50 Echo Summit Sidehill Viaduct Replacement Project. The original bridge was completed in 1939 at a cost of about $25,000. It is less than 100 feet long and you may not know you're driving over it as you descend into the Tahoe Basin and view Lake Tahoe. The replacement project was necessary to meet current safety and seismic standards. The existing bridge had significantly deteriorated after more than 80 years of service.
However, replacing it presented several challenges. The largest challenge involved getting the seven 96-foot precast bridge girders installed on the side of a mountain with very limited shoulder room. Ultimately, Caltrans selected a 14-day full closure of U.S. 50 as the best option to get the work done.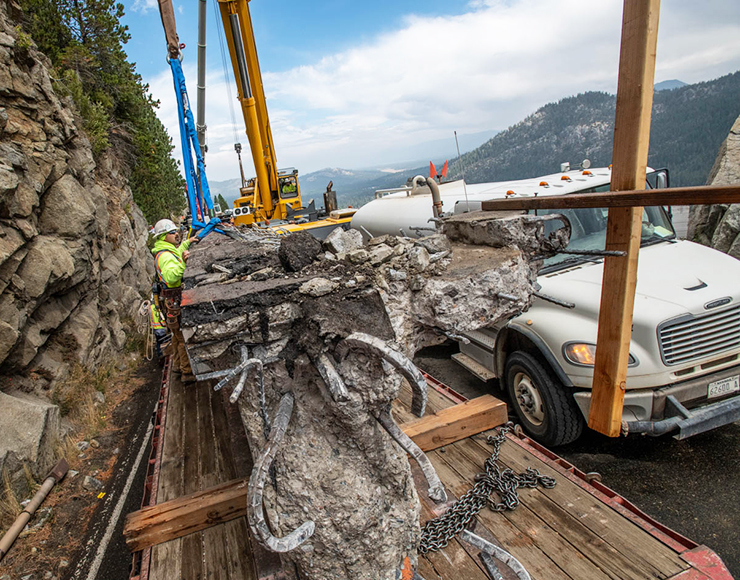 Closing Highway 50 — the only direct route into South Lake Tahoe — affects those who travel to, live and work in work in the popular vacation destination. The district remained in frequent contact with the city of South Lake Tahoe, Lake Tahoe Visitors Authority, El Dorado County and Lake Tahoe Chamber of Commerce on full closure dates, and held weekly meetings to inform key stakeholders.
The district also held public meetings leading up to construction where local residents and businesses were informed that Johnson Pass Road would be available for them as a detour. Outreach leading up to and through the closure included an extensive media campaign that included print ads, radio and TV spots, daily social media updates and e-mail blasts.
The district issued more than 2,000 local passes from the Caltrans maintenance yard in Meyers near the job site for five days leading up to the closure. Staff in Placerville also issued passes. The passes allowed local residents and regular commuters to and from South Lake Tahoe to use Johnson Pass Road as a detour route to avoid the closure, saving them up to 90 minutes of additional travel time.
Contractor Q&D Construction based in Sparks, Nev., finished the work ahead of schedule in nine days.
South Lake Tahoe is one of the premier tourist destinations in the world, with millions of visitors every year and thousands of commercial truckers who travel Highway 50 to service area businesses. Replacing the bridge provides a safe structure and one that is expected to last another 80 years.
Source: Steve Nelson, Caltrans District 3 Public Information Officer
Project Spotlight: Echo Summit Bridge