Coastal Program
Coastal Program
Caltrans' Division of Environmental Analysis has established a Coastal Program to assist District staff in understanding the requirements and complexities of the Coastal Act and coastal permitting process. The Coastal Program trains, educates, and coordinates with Caltrans staff working on projects in the coastal zone—as well as supports coordination on transportation planning as it relates to coastal resources.
The Caltrans Coastal Program was established in 2012 to provide Caltrans District staff with guidance, training, and information for working on projects in the California coastal zone that must comply with the California Coastal Act. Coastal Program staff coordinate closely with staff from the California Coastal Commission on project development, permit applications, and key focus areas, such as Sea Level Rise and the California Coastal Trail. This coordination is aimed at ensuring Caltrans projects in the coastal zone are protective of coastal resources, and meet both agencies' common goals of natural resource protection, sustainable development, multi-modal access, sensitive design to enhance public access and recreation, and adhering to avoidance and minimization strategies.
In June 2022, Caltrans and the Coastal Commission signed a renewed Caltrans & Coastal Commission 2022 Partnership Agreement (PDF) which reestablishes commitment for interagency collaboration in carrying out the respective missions of each agency in meeting the needs of the citizens of California. Building on the 2016 Caltrans & Coastal Commission Plan for Improved Agency Partnering (PDF), the renewed Partnership Agreement is organized around five key focus areas including Early Plan and Project Coordination, Programmatic Approaches, Sea Level Rise and Climate Change, California Coastal Trail and Multi-Modal Transportation, and AB 1282/STEPPE—which reflects interagency commitment to planning and investment for long-term sustainability, including transportation system resiliency in the face of climate change impacts along California's coast.
Visit the Coastal Act Policy Resource Information page for information related to specific California Coastal Act policy information resources like wetlands, public access, or coastal hazards, and key considerations for developing projects and preparing coastal development permit applications.
View these fact sheets for more information about developing projects in the coastal zone:
Participate in online training courses to learn more about developing transportation projects in the Coastal Zone.
California Coastal Commission
The California Coastal Commission's website contains important information for planners working on transportation projects in the coastal zone, such as links to the Coastal Act, Local Coastal Programs (LCPs), guidance on federal consistency, climate change and sea level rise, and links to staff reports for Caltrans coastal development permits.
The Commission oversees development along the coast through six District offices located throughout coastal California, and the headquarters office located in San Francisco. The Commission's Districts are shown here in relation to the Caltrans districts. You will notice that while the Districts align in some areas, several Caltrans Districts encompass more than one Commission District.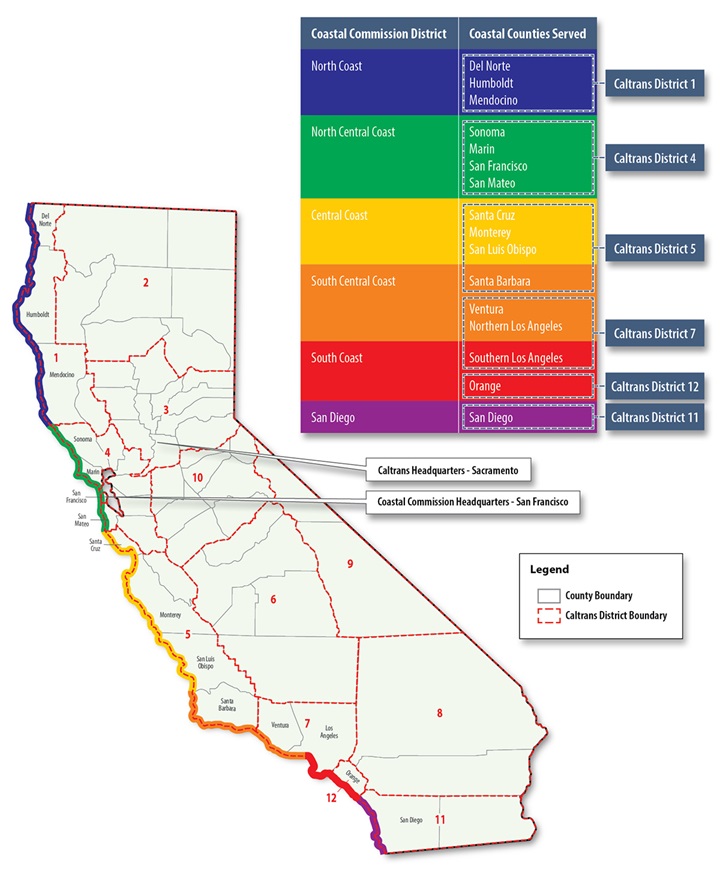 General Resources
Resources related to environmental planning, case studies, and example plans and programs for projects and resources in the coastal zone can be found at the following links: