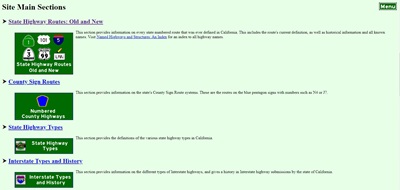 Have you ever assembled a photo album or scrapbook, or through research and letters compiled a family history? Perhaps you have written short stories, or maybe even a book. If you've done any of those things or something similarly extensive and focused, you surely felt proud of your accomplishment.
To keep that self-glow going, however, you probably should not compare your project with what Daniel Faigin has done with his website, California Highways (www.cahighways.org).
How to describe the site? "Everything You Ever Wanted To Know About Numbered Highways in California, But Were Afraid To Ask" is how the masthead puts it. That's accurate. Spend a few minutes clicking around California Highways and your jaw is bound to keep dropping as you encounter all the information it contains.
Faigin, who turns 61 in January, has been actively developing and updating the website since he created it 25 years ago. He also has a full-time job, blogs ("Observations Along the Road"), maintains a California Highways Facebook page, and (in non-pandemic times) writes theater reviews.
A friend of Caltrans if ever there was one, Faigin recently had a virtual chat with CT News.
CT News: On your site you describe yourself as a "roadgeek." Were family car trips a part of your growing up? (And where did you grow up?)
Daniel Faigin: I don't recall a lot of road trips. My site grew more out of a love of maps, and love of history.
I still remember collecting maps from the Union 76 around the corner and from other gas stations. You combine that with an interest in Los Angeles and California history, and you get my site.
That's also why my site is different than most other sites: they focus on pictures and images from travels on the roads, whereas I focus on routing, the history, and plans for the future.
I'm a Southern California native. I grew up near the Los Angeles airport and in the West Los Angeles / Brentwood area, and now live in the San Fernando Valley. I did both my B.S. and M.S. degrees at UCLA.
CTN: Your website is remarkably detailed and thorough. How much time do you spend on it, and what do you see as its main purpose?
DF: I work on the site in bursts every two to three months. Monthly, I collect headlines related to California Highways from a variety of sources, and post them to my blog, Facebook, and Twitter.
Every two to three months, I go through those headlines, as well as the actions of the California State Legislature related to highway code changes and naming resolutions and the minutes of the California Transportation Commission, to update the pages I have on each individual highway. I focus on the long-term changes: additional of lanes, curve widening and straightening, replacement of bridges, and of course, historical information, as opposed to smaller (but still significant) actions such as resurfacing or landscaping.
I view my site as a resource: a resource on history, a resource on routing, a resource on statistics. I also try to preserve information about the people about whom highways are named, building upon the naming resolutions.
I'm looking for pictures of many of the individuals or of the naming signs – look at my site, and if I'm missing something, send them along. If we take the trouble to name a segment of a road after someone, it should be more than just a name on a sign.
CTN: How often do you go for drives along California's highways? Do you have travel companions? Did you take any/some/most of the contemporary photos that appear on your site?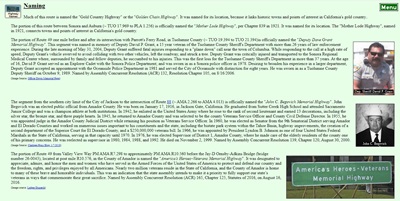 DF: I don't drive as much as I would like to do, for various reasons including a full-time job. When I travel, normally my wife travels with me. I'm not a big photographer.
CTN: What are your favorite California highways?
That's hard. Back in the days when I was actually commuting to the office, I was driving the 405 daily between the San Fernando Valley and LAX. I'm not sure I could call that a favorite. But I think more of memorable highways. The beauty of routes like Route 27, or U.S. 395 along Eastern Mono County, or Route 154 through Santa Barbara County, or Route 150 between Santa Paula and Ojai are remarkable.
But let's not forget some of the great county routes, such as Los Angeles County N2 (approximate Route 138 proposed), or N9 (Kanan-Dume).
CTN: Are there any Caltrans workers in particular who have helped you gather information and who you would like to mention for department's e-newsletter?
DF: Most of the folks I worked with have retired. Certainly, Shirleigh Brannon (retired Caltrans librarian), and her successors, including folks like Karen Kasuba. Also Joe Rouse, who has supported the site for years. Mel Aros helped a lot with the county route sign program. Of course, I'm open for more information from any current employee.
CTN: Anything else to add?
DF: If folks wonder what I do for a living and whether it is related to roads, the answer is no. Professionally, I've been working in the field of cybersecurity for over 35 years, working in the area of security criteria and product evaluations. You'll find me listed as part of the Joint Task Force that helped develop NIST Special Publications 800-53 and 800-37.
But the two interconnect. I love to tell the story of a Caltrans safety seminar when SAFETEA came out about the Towards Zero Deaths program. There was a presentation on a program from MN-DOT about "The Four E"s, where they realized they can't just engineer away deaths. The Four Es are: Enforcement (of laws and policies), Education (of people on how to be safe), Engineering (building safer roads), and Emergency Response (so people don't die, when the accidents happen)
That happens to work perfectly for Cybersecurity: not only do you have to build secure systems, but you have to educate users, enforce your policies, and make your systems resilient. If there's one takeaway, it's that your work can influence your hobbies, and your hobbies can teach you for your work.