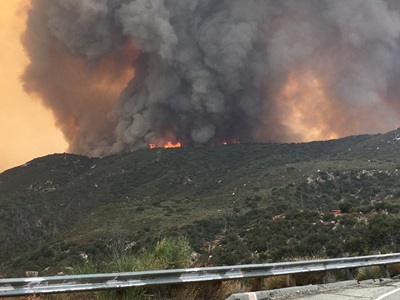 Note: The following story was submitted to CT News on Sept. 24 by Steve Wells, maintenance area superintendent for District 7's North Region. At that time, the Bobcat Fire had consumed almost 114,000 acres and was approximately 50 percent contained.
The Bobcat fire began for us on Monday, Sept. 7, which was Labor Day. We were notified at 6 a.m. that the Chilao Maintenance Station was being evacuated.
We immediately went into action evacuating our resident employees and their families. When they were safe we set about moving essential equipment out of harm's way.
The Chilao Mountain Crew, with assistance from other North Region Area 2 crews, has been working around the clock to keep Angeles Crest Highway safe and passable for fire crews, emergency vehicles and as an escape route. Utilizing loaders and plow trucks we have been removing rocks, debris, fallen trees and burning vegetation from the roadway.
Our employees have been working tirelessly, providing water to fire engines using water tenders so they can stay on the fire line and not drive around in search of a place to replenish. Our forces have also set, relocated and manned closures to protect the general public and deny entry to looky-loos and possible arsonists.
The Chilao Maintenance Station is located high up in the Angeles National Forest. It is a fully functioning yard with four state-owned rental cottages for employees and their families. This yard is integral for winter operations as we can receive 120 inches of winter snow and several inches of rain, causing rock and debris slides throughout.
Having operators and equipment available right in the thick of it ensures the roadway is kept open and safe for travel. The Bobcat Fire threatened this facility a few times, but having lost houses and a sand shed in the 2009 Station Fire we were not going to let it go without a fight.
Chilao crew members removed brush by hand and cut a dozer line around the facility to protect it. When the fire approached we welcomed several firefighters into the yard and they were diligent in protecting our assets with a huge assist from air support dropping water and Foscheck.
When the fire approached we welcomed several firefighters into the yard and they were diligent in protecting our assets with a huge assist from air support.
Our facility is running on generator power due to an Edison shutdown but we are in good shape, no damage. The residents have not been allowed back home, though, and the forest remains closed to the public.
The most important facility accessed via our roadway is by far the Mount Wilson Towers and Observatory. The antennae located on this mountain top feed all of the television, radio and cellphone signals to the entire Los Angeles area. There are also radio towers and repeaters serving the military and law enforcement which is essential to public safety and national security. The observatory itself houses many large telescopes important for astronomical studies.
When the fire is out and the engines have moved on, Caltrans work will continue for several months removing trees in danger of falling, repairing damaged guardrail and protecting bare slopes. The real work will come throughout the rainy season when these slopes will give way blocking the roadway, filling debris basins and clogging culverts. The Chilao Mountain Crew is capable, experienced and will handle these challenges as they come.
Caltrans employees Involved to date are Alfonso Casarez, George Guererro, Anthony Massi, James Penny, Leonard Rivera, Carla Rodriguez, Miguel Rosas, Manuel Saldivar, Adonay Siguenza, Robert Torres, Quan Tran, Antonio Valencia and Scott Wadsworth.