By Bart Ney
Public Affairs Chief, District 4
Wildfires have been growing in size and becoming more frequent. They are getting more media attention as well.
The cover story for the November 2020 issue of "Wired" magazine titled "The Fires Next Time," quotes CalFire Chief Brian Estes who commands firefighting operations in three California counties as saying, "We're running 400 to 500 fires a year. In the heat of summer, five or six per day – and most you will never see."
That is a lot of firefighting, and Caltrans is getting better at supporting Cal Fire and first responders as they work to save lives and property.
In the most recent Glass Fire that burned in Napa and Sonoma counties, more than 67,000 acres were consumed with 1,555 structures destroyed and 282 damaged. That fire burned for 23 days from Sept. 27 through to Oct. 20. It forced the evacuation of 70,000 people while destroying 31 local wineries and one of California's oldest resorts, the White Sulphur Springs Resort.
The Caltrans Bay Area Emergency Operations Center opened remotely and an engineer was assigned as a liaison on site at Cal Fire's Incident Command Center located at the Sonoma County Fairgrounds. The liaison coordinated with District 4 and representatives from agencies in Napa and Sonoma Counties as well as many different local and state agencies.
With coordination addressed, representatives from Caltrans' Public Affairs and Construction divisions assessed and implemented strategies that could improve safety and get displaced residents home faster.
The Caltrans Bay Area team got innovative. The district's public information officers (PIOs) coordinated directly with Cal Fire's PIOs to craft a seamless social media and external communication plan. This helped locals know what was going on as Caltrans construction teams went to work making repairs.
Caltrans engineers got into the fire zone early to do a preliminary estimate of damage. A ballpark estimate was made on damage to barriers, trees and other road hardware ahead of the more detailed damage estimate that would have to take place days later as the fire moved on. The early estimating allowed District 4 Director Tony Tavares to authorize a preemptive director's order to get work going immediately.
With direction and funding given, coordination with utility service providers such as AT&T and PG&E began much earlier. Caltrans and their contractors were able to work around the other companies performing repairs, making roadways safe faster than would have been possible without the early access. Doing this also helped Cal Fire and the other agencies let residents back into their homes in certain areas where there was no longer fire danger.
Safety improved as well. Early and frequent communication in the field reduced potential chaos. Traffic control for the work teams was established with cones and flaggers keeping workers and first responders traveling through the area safe.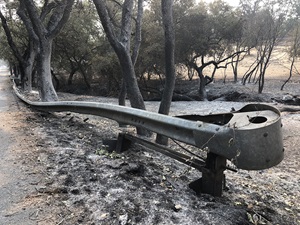 One of the biggest challenges to the safe reopening of roads safely was repairing more than 5,800 feet of fire-damaged barrier rail. Caltrans worked swiftly to get contractors on board that were able to place the barrier quickly. A portion of State Route 12 between Mountain Hawk and Los Alamos road was opened in Sonoma by Oct. 2, just five days after it was closed because of the fire. By Oct. 4, the rest of SR 12 in Sonoma reopened, as well as SR 128 in Napa and SR 29 south of Tubbs Lane. By Oct. 9, all of SR 29 was open.
A total of 56 trees in Sonoma on SR 12, and 133 trees in Napa on SR 29 had to be removed for safety due to fire damage.
More than 10 culverts were damaged and needed to be replaced, as well as 750 linear feet of fencing.
This work got a head start because Caltrans team members made crucial connections with other agencies and utility service providers in the field, and the director's order issued earlier. A Caltrans liaison, construction personnel and PIOs were also in the field helping to communicate and coordinate effectively.
Ultimately, conditions were safer for workers and evacuees got home faster because Caltrans was able to engage early and work closely with the other teams responsible for public safety. While the Glass Fire wasn't officially contained until Oct. 20, getting people safely back home via SRs 12, 29 and 133 just days after the fire started helped reduce impacts on the community.