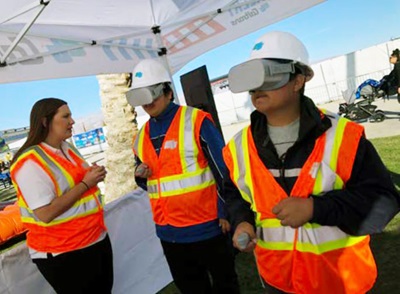 On Aug. 25, the American Association of State Highway Transportation Officials (AASHTO) awarded Caltrans with a gold medal – first place –for its virtual-reality project "A Day in the Life of a Caltrans Worker."
The following story, from the Headquarters Public Affairs office, describes in detail the winning project.
As we all know, highway work is inherently dangerous.
In 2019, there were over 7,000 work zone collisions in California alone. The traveling public's seeming lack of awareness of how to drive safely through a highway work zone contributes to the dangers workers face every day, especially from the speeding and distracted drivers who read the newspaper, apply makeup, send and receive texts and even brush their teeth while driving past highway workers.
The California Department of Transportation (Caltrans) is responsible for maintaining more than 50,000 lane miles – that's more than 2 times around the world. Combine that with the thousands of maintenance and construction zones, and the fact that California is home to nearly 12 percent of the nation's drivers, it creates an even higher degree of danger for our highway workers.
The injuries and loss of life are preventable, which is why public education and engagement is key. But how do we inspire real change. We all have public outreach campaigns. We tell people to be work zone alert, slow for the cone zone, and move over. They know it's important, but still have not changed their behavior.
How do we change that? It's one thing to see a billboard, hear a radio spot, or read a social media post, but it's another to experience it firsthand. It wasn't enough just to tell them of the dangers, it was important to make them understand it, to feel it. But, how do you do that without actually placing someone on the highway.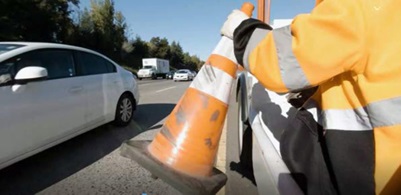 Virtual Reality (VR), that's how. VR is a powerful tool to engage your audience. It immerses the user into an environment that simulates reality.
Caltrans wanted to capture the sensation of working on the highway, so we took a filmmaker to record highway workers performing maintenance on bridge joints and fixing a concrete median damage by a big rig crash, all the while traffic was speeding by just inches away. The result was a VR video that was credible, authentic and transported the user into a 360° experience.
On the video, cars and semi-trucks pass at high rates of speed literally mere inches away from the workers. By letting individuals experience it for themselves, we expose drivers to how it feels to put your life on the line just by going to work each day.
Grass-roots outreach is key. The VR experience is offered at major outreach events throughout the state, targeting the English and Spanish communities. These events include community events, concerts, festivals and fairs, including the California State Fair. In addition, the VR experience is requested by partners, schools and presenters for inclusion in their events and meetings.
Just watching someone experiencing the VR attracts attention. No coercing needed to get people to come to your booth. When someone wears a VR headset people will stop and pay attention. They want to participate as well.
The VR experience is an excellent addition to Caltrans' highway safety campaign "Be Work Zone Alert."
The target audience is all California drivers, new and experienced, and passengers. Social Science research consistently proves the best way to inspire behavior change is by reaching people with memorable and impactful messages.
The most visible part of the Be Work Zone Alert campaign features the kids of Caltrans highway workers to inspire connection and concern for their family member's safety. The featured kids were from all across the state of California, from various communities, demographics, and backgrounds. This creates a greater feeling of connection with the drivers and passengers in the specific region and district. The kids of Caltrans are featured in TV spots, social media, display ads, and outreach events, all with the goal of spreading the Be Work Zone Alert message.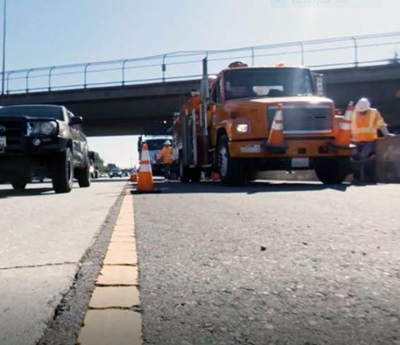 Public outreach is a key factor of the campaign to help drivers understand and relate to the danger highway workers face. Caltrans is targeting all the individuals who attend the many events we participate in.
Another important audience the campaign aims to reach is young drivers, high-school and college-aged. To engage with the young drivers, the Work Zone School Challenge (Challenge) was created. It is a statewide high-school and college competition that encourages individuals to create their own work zone awareness messaging and share with their peers for a chance to win money. With peer-to-peer messaging and the opportunity to win prizes, the challenge empowers student leaders to create original, on-campus traffic safety campaigns, which would incorporate the VR experience. Unfortunately, with Covid-19, schools we were not able to complete the Challenge this spring. Once school resumes, the schools that applied to participate will automatically be included in the next Challenge.
To help reach our target audience throughout the state and with individuals we may not initially reach, partnerships were developed with organizations dedicated to changing driver behavior and helped to extend the reach of the campaign messages. Several campaign partners include: California Department of Education, California Friday Night Live Partnership, California Teen Safe Driving Coalition, Caltrux, Driving School Association of California, Impact Teen Drivers, Mothers Against Drunk Driving, California State PTA, Homeschool Association of California, the Strategic Highway Safety Plan Committee and minor league baseball teams: Sacramento River Cats, Modesto Nuts, and Lake Elsinore Storm.
The VR experience has been a huge hit. Just seeing the VR goggles in action peeks curiosity. When someone wears a VR headset people stop and pay attention. They come to your booth to see what is going on. They want to be part of it too. At each event, without fail, long lines formed. This made it the perfect opportunity to reach more people during these outreach events. While individuals, families and groups are waiting their turn to experience the "Day in the Life of a Highway Worker," it gives us the opportunity to talk about the campaign discuss the dangers these workers face every day and how they can do their part to reduce the risk. They know the dangers, but this allowed them to experience it firsthand.
We have participated in many events, including concerts, baseball games, the California State Fair, meetings, conferences, and many other outreach events throughout the state. Over 261,300 people have been reached through these general market outreach events and partnership activities.
Caltrans is consistently being invited to present its Be Work Zone Alert campaign and reminded not to forget the goggles. Due to the overwhelming response, additional VR goggles were purchased for each district.
Advertising and social media help with getting the message out there, but the VR experience brings the campaign to a whole other level. The VR experience has proven to be a valuable tool to in our efforts to continue to raise awareness and inspire behavior change to prevent traffic collisions, injuries and fatalities associated with California work zones.