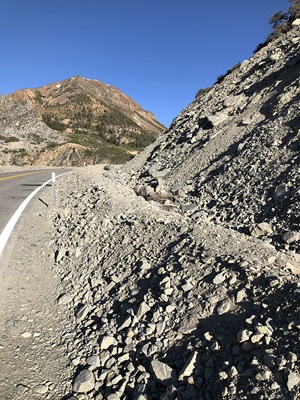 By District 9 Public Affairs
Caltrans District 9 is renowned throughout the state for its natural beauty comprised of magnificent forests, breathtaking mountains that stretch from the northern tip of Mono County south to the Tehachapi Mountains, and stunning desert landscapes in the district's southern-most boundary in Eastern Kern County.
With natural beauty comes risk. Fallen trees, wildlife crossings, flash floods, avalanches and mudslides are some of the perils found throughout the district. To combat these challenges, the maintenance crews of District 9 take preventative measures to mitigate risks for those traveling our highways.
One common concern in District 9 due to the state highway system navigating through many rocky hillsides and mountains is rock slides. Throughout the district, Caltrans crews perform daily patrols when conditions are optimal for these slides. It's not unusual for district 9's Lee Vining Maintenance crew to respond to traveler's calls of rocks in the road, from smaller boulders to those the side of pickup trucks on State Route 120 (Tioga Pass).
Tioga Pass is a vital mountain pass for the Eastern Sierra, cutting an important east-to-west path through Yosemite National Park from Mono County to the Central Valley and a popular destination for tourists seeking outdoor adventures. In the summer, it's common to see packs of bicyclists making their way up the pass, as well as motorists on their way to hike the many trails of the surrounding forests or camp overnight. In the winter, skiers, snowboarders, and snowmobilers head off road to carve paths across snowy slopes of the hillsides.
In 2014, Lee Vining Supervisor Randy Walker and his team came up with an innovative way to minimize the impacts of these rock slides for travelers. They constructed a rock berm at four locations where rock slides are common, including the infamous Blue Slide on Tioga Pass, where rocks as big as pickups are not uncommon. To minimize the impacts of these rock slides, the crew used locally sourced rocks to build the berm, creating a raised barrier between the steep, rocky hillside and the roadway.
Earlier this summer, Caltrans received word of just how effective this berm is from a couple traveling with a bicycling group up Tioga Pass.
In an email sent to District 9 in June 2020, Alan and Janis Kunz of Yosemite described how they became separated from their group while struggling to reach the apex of Lee Vining Canyon. As they approached Blue Slide, they heard an ominous rumbling nearby. Alan was able to stop his bike and watch as "several mini-fridge size chunks" rolled down the hill toward his wife, who was struggling to free her pedal shoes. According to Alan and Janis, the berm stopped the massive rock chunks from reaching the road and Janis. The couple were relieved and thankful to safely complete their bike ride.
Safety is Caltrans' top priority, and in District 9, we are continually looking at ways to improve the state highway system for all travelers, no matter the form of transportation used. In this case, vital safety improvements were made from grit and ingenuity, two characteristics of Walker and his Lee Vining Maintenance crew when they envisioned and executed these life-saving rock berms.