By Gilbert Mohtes-Chan
District 3 Public Information Officer
Peering out of the Clear Creek Crossing storefront window, Mike Carlin marveled at a parade of dump trucks maneuvering through a temporary roundabout.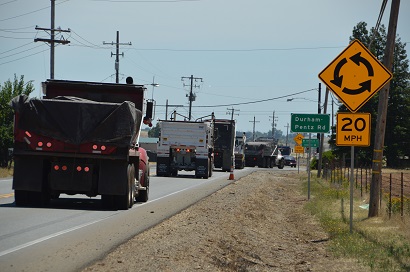 "It's never-ending. I don't think I can come up with a number of trucks," the convenience store employee told a visitor about the volume of debris haulers traveling daily through the traffic circle on State Route 191 and Durham-Pentz Road in rural Butte County.
Built in just five days this past February, the temporary roundabout is part of Caltrans' long list of emergency work in the wake of the Camp Fire, the most destructive and deadliest wildfire in state history. The blaze charred more than 153,000 acres, destroyed nearly 19,000 structures and killed 85 people, wiping out most of the rural foothills town of Paradise.
Caltrans' Butte County recovery efforts started soon after the Camp Fire erupted on Nov. 8, 2018, with contractor Knife River and its crews fanning out to the foothills and the valley to start repairs. State Route 191 south of Paradise and State Route 70 around the picturesque Feather River Canyon – ground zero for the blaze – took the brunt of the fire damage to the transportation infrastructure.
"The contractor started working while the fire was still burning," said District 3 Resident Engineer Ryan Johnson, who is overseeing the Camp Fire emergency construction activity.
Crews have repaired or replaced damaged guardrails, signs, fences, culverts and drainage systems; shored up bridge footings to prevent scouring; and repaved and restriped sections of roadway.
Numerous burned trees bordering SR 191 and SR 70 have been cut down to keep them from falling onto the roadway. Logs were hauled away or ground into sawdust at roadside chipping operations. Burn scar areas were hydroseeded for erosion control.
Over the months, the list of emergency work kept growing as more issues emerged – some unexpectedly. Winter and spring storms, for example, triggered flash floods that washed out roadway shoulders, damaged retaining walls and clogged drainage systems, prompting additional work. Construction activity stretched from the Butte-Tehama county line to State Route 99 in Gridley.
The emergency project is "five times bigger than others than I have worked on. The scope is just bigger," Johnson said. "We had to deal with a large area. There are a lot more follow-up issues."
On SR 70 alone, crews worked on 45 culverts on an eight-mile stretch in the Feather River Canyon area due to increased debris flows. In the same area, crews took on the emergency project's largest job, placing large swaths of wire mesh netting over mountain slopes scarred by the wildfire.
A helicopter from Minden, Nev., towed 12-foot-wide wire mesh panels as long as 120 feet to assist crews in their rock slope protection operation. In all, 450,000 square feet of wire mesh material was used to cover the slopes to prevent rocks from falling onto Highway 70.
Geotechnical engineers estimated that four steep hillsides charred badly by the wildfire were likely to spill rocks onto the roadway. Crews spent weeks drilling and installing anchors to hold the wire mesh panels draped over the slopes. The panels were airlifted to crews standing atop the steep slopes in the Feather River Canyon area.
"That was a really large operation with all the helicopter work. We had to deal with a large area," Johnson said. The operation required intermittent closure of Highway 70 from March to June.
In addition to the work by the construction office, the District 3 Division of Planning, Local Assistance and Sustainability guided the town of Paradise through the process to obtain state and federal emergency relief funding to repair local transportation infrastructure.
District 3 traffic operations and safety engineers are dealing with the state's largest debris removal operation since the 1906 San Francisco earthquake. CalRecycle estimates 5 million tons of debris needs to be hauled away and that removal effort could require more than 1 million round trips by dump trucks, significantly increasing traffic and wear and tear on state highways across the region.
State Route 191 is absorbing much of the truck traffic coming from Paradise. That prompted Caltrans to build the temporary roundabout to improve traffic flow and slow trucks traveling through an intersection used extensively during the school year by students attending nearby Butte College.
"We've never dealt with this kind of truck traffic before," Johnson said.
To remind debris haulers to slow down, Caltrans placed roadside message boards warning about steep grades down SR 191 and radar speed feedback signs on SR 70 in Butte and Yuba counties. Other safety measures are in the works in the region.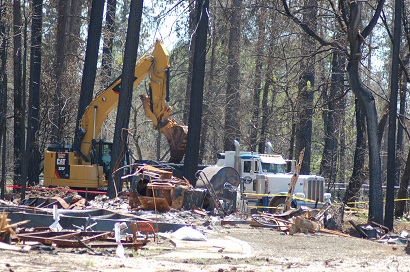 Traffic engineers report about 700 truck trips a day are occurring on SR 70 and 20 through Marysville and Yuba City. In fact, traffic is up 13 percent from a year ago on a 20-mile stretch of SR 70 between Oroville and Marysville, an unusual one-year spurt.
Adding to the traffic increase is the additional 19,000 people displaced by the Camp Fire who have settled in the Chico area. City officials said overall traffic had increased 25 percent one month after the wildfire broke out.
Caltrans and the city are exploring measures, including freeway ramp metering, to ease congestion on SR 99 – the main state thoroughfare in the college town.
In the southern Butte County city of Gridley, Caltrans installed a temporary stoplight at the intersection of SR 99 and West Liberty Road to handle additional traffic anticipated from a new Gridley Camp Fire Community under construction at the city's industrial park near West Liberty. The 73-acre site expects to house 1,200 residents in FEMA-supplied trailers and serve about 15 percent of the housing needs for families displaced by the Camp Fire.
Today, some eight months after the emergency work started, signs of recovery are clearly evident across the landscape. The reseeded areas are taking root with grasses and wildflowers emerging from the blackened soil. New pavement, drainage systems other improvements are in place to keep the roadways safe for motorists.
"The hydroseeding came out well. I'm all for any preservation measures," Jarbo Gap resident Tula Cope said about the work on SR 70.
"There was a lot of work to do," said Emmetta Bowmer, a volunteer at a Camp Fire donation center inside the Pines Yankee Hill Hardware Store warehouse on SR 70 north of the West Branch Feather River.
As wildfire victims stopped the center, picking up cases of bottled water, a loaf of bread and other donated supplies, Bowmer talked about watching the progress of the emergency repairs since the fall. She watched crews remove swaths of fire-damaged trees, clear debris-filled drainage ditches, remove rockslides and replace guardrails.
She could hear the whirling sounds of the helicopter operation echoing through the canyon.
Bowmer paused to reflect about the emergency work. "They're doing an awesome job."