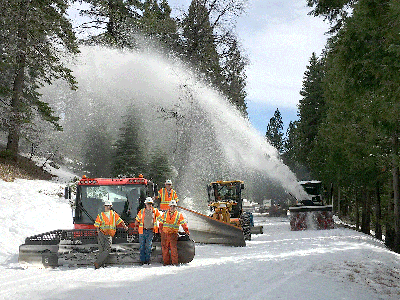 By Chris Baker
Caltrans Long Barn Area Maintenance Supervisor


Caltrans District 10 manages three trans-Sierra passes in the central Sierra that are closed during winter and generally open in spring: Ebbetts Pass on State Route 4 (SR-4) in Alpine County, Sonora Pass on SR-108 in Tuolumne County and Monitor Pass on SR-89 in Alpine County.
Each spring, Caltrans crews work hard to clear these routes for mountain pass travelers. In researching how long we have been opening the passes each spring, I learned some interesting bits about the history of the Sonora Pass. Coincidentally, I share the last name of Greenbury Columbus Baker, after whom Sonora Pass' Baker Station was named. So, when I first got here as supervisor, my crew thought it would be funny to hang the old Baker Station sign we had in the barn out on the gate.
The history of the route goes back to before the pioneer settlement. In 1861, the U.S. Congress authorized construction of a road to run from the foot of what is now Twain Harte Grade near Sonora to Bridgeport via Sonora Pass. By 1864, the route had been scouted and construction was underway. Four years later, the road was completed.
During the early years, the road was well used due to the gold boom in Bodie. As the boom went bust, the road fell into disrepair. By 1901, the state engineer stated that the road was "simply a rutted gully, great stretches of boulders…bridges rotted out."
A new boom—the water boom—came to the area next. By 1906, the road between Sonora and Kennedy Meadows had to be rebuilt to allow heavy equipment to access, and bring supplies, to the construction site of the Relief Reservoir on the Stanislaus River's Middle Fork.
Today, the Sonora-Mono Road has been replaced by State Highway 108; however, traces of the old road are still visible from the highway, which winds through some of the most scenic spots in California.
Records state that the Department has been clearing the Sierra passes as far back as the 1940-41 winter. Given that earlier crews would work to get the road open and passable as soon as possible, 2018 marked the 78th opening of the Sonora Pass.
Caltrans crews look forward to the pass opening ritual. This year, the pass clearing started on April 2. The crew got a new PistenBully snow cat this year, which helped in the deep snow on the top of the pass. The crew successfully opened all three Sierra routes to the public by Memorial Day Weekend.