Scenic Route 68 Corridor Improvements Project
Scenic Route 68 Corridor Improvements Project

Project Description
The California Department of Transportation (Caltrans) in partnership with the Transportation Agency for Monterey County is proposing to improve intersection operations along State Route 68 between Josselyn Canyon Road and San Benancio Road (post miles 4.8 -13.7) in order to reduce travel delays and vehicle collisions; and enhance wildlife connectivity to further reduce collisions between wildlife and vehicles. Caltrans will be the lead agency and will prepare an environmental impact report for the project.
The proposed project provides two build alternatives which would either covert intersections into roundabouts (Alternative 1) OR make modifications to the existing signalized intersection configuration (Alternative 2) at the following nine intersections:
State Route 68/Josselyn Canyon Road (post mile 5.2)
State Route 68/Olmsted Road (post mile 5.6)
State Route 68/SR218 Canyon del Rey Boulevard (post mile 6.8)
State Route 68/Ragsdale Drive (post mile 7.0)
State Route 68/York Road (post mile 8.2)
State Route 68/Pasadera Drive (post mile 9.8)
State Route 68/Laureles Grade (post mile 11.2)
State Route 68/Corral de Tierra Road (post mile 12.9)
State Route 68/San Benancio Road (post mile 13.3)
Each of the two proposed build alternatives also include wildlife crossing improvements to existing culverts at five locations to deter wildlife from entering SR 68. A No-Build alternative will also be evaluated.

Please click on the link below to view the project location map with an aerial background:
Estimated Project Timeline
Public Scoping - October – November 2019
Draft Environmental Document (DED) release – Spring 2023
DED Public Hearing – Spring/Early Summer 2023
Approve Final Environmental Document –Spring 2024
Design and Permitting – 2024-2026
Right of way acquisitions and utilities initiated Spring 2025
Begin Construction – Summer 2027
A Public Scoping Meeting was held on October 3, 2019 and public comments were accepted until November 8, 2019. Caltrans and the Transportation Agency for Monterey County have reviewed all submitted comments and continue to develop each of the two project alternatives while taking comments into consideration. Technical studies for environmental review are underway.
Project Considerations
Project design is to be compatible with existing community character while addressing intersection congestion, safety, and wildlife connectivity.
Visual resources are to be preserved to the greatest extent feasible.
Adverse impacts to historical and cultural resources are to be avoided to the greatest extent feasible.
Acquisition of private property is to be minimized to the greatest extent feasible.
Opportunities for stakeholder and public input and involvement will be provided throughout the project development process.
Project cost-benefit is a key consideration. Alternatives under consideration should be feasible within the anticipated funding stream for the project.
Traffic Operations Analysis
A Traffic Operations Analysis Report was completed by Caltrans in September 2020.
The Traffic Operations Analysis Report analyzed project alternatives and the No-Build alternative for traffic operations at each intersection and the corridor in 2025, 2035, and 2045 for AM And PM peak hours.
The following figures from the Traffic Operations Analysis Report show a comparison of corridor delays for each alternative and the no-build alternative.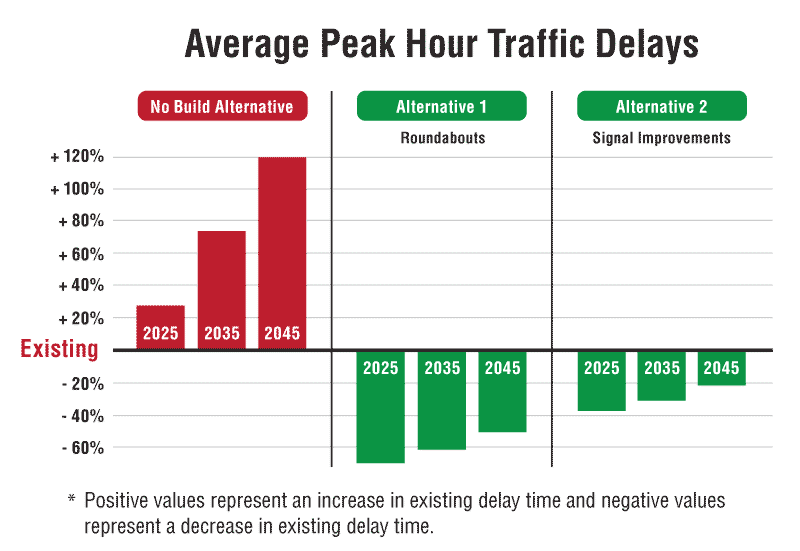 Visual Simulations
The Transportation Agency for Monterey County is in the process of creating automated visual simulations of Alternative 1 (roundabouts) for each intersection.
As of January 2021, visual simulations have been prepared for two intersections. Click on the links below to view each visual simulation in a separate window:
Funding
$50 million in Measure X funding (local transportation sales tax) is allocated for project construction. Remaining funding is anticipated to come from a mix of state and federal transportation funding sources.
Background
The SR 68 Scenic Highway Plan (Plan) was completed by TAMC in August 2017. In response to congestion, safety, and travel time reliability issues along the SR 68 corridor, the Plan evaluated current and future travel patterns between Salinas and the Monterey Peninsula, the feasibility of affordable mid-term operational and capacity improvements in the SR 68 corridor, and the potential for wildlife connectivity enhancements. To download a full copy of the Plan and Wildlife Connectivity Study, visit TAMC's project website: https://www.tamcmonterey.org/
Contact
Carla Yu, PE, Project Manager
Email: carla.yu@dot.ca.gov
Phone: (805) 549-3749
Jason Wilkinson, Senior Environmental Planner
E-mail: jason.wilkinson@dot.ca.gov
Phone: (805) 540-9165
Public Affairs Office
California Department of Transportation
50 Higuera Street
San Luis Obispo, CA 93401
Email: info-d5@dot.ca.gov
Phone: (805) 549-3318