Project Planning
Project Planning
Develop Vision, Goals and Objectives
Developing a vision and goals is an important step for any project. In addition to being required for numerous types of funding, a clear vision, goals, and objectives will provide a framework for stakeholders and partner agencies to rally around.
The vision for the Connected Corridors program is to network with a consortium of partners to utilize new paradigms in cooperative traffic management to more effectively move vehicles, people, and goods.
As the project progresses, the goals and objectives may change or become more refined. It is important to involve stakeholders in those changes to ensure consensus is maintained. The project's vision, goals, and objectives should be included in the project management plan, Concept of Operations, any stakeholder agreements including project charters and MOUs, grant applications, and also stakeholder and media material on an occasional basis.
For the I-210 Pilot Concept of Operations document, the general goals were defined as:
Improve operational situational awareness
Promote collaboration among corridor stakeholders
Improve incident response
Improve travel reliability
Improve overall corridor mobility
Empower travelers to make informed travel decisions
Facilitate multi-modal movements across the region
Promote transportation sustainability by reducing impacts on the environment
Improve corridor safety
As of December 2016, the goals of the Pilot have been refined and clarified to the following:
Reduce congestion and improve mobility, travel-time reliability, safety, and system efficiency in the I-210 corridor
Make better use of existing capacities across all transportation modes (car, bus, train, bicycle, pedestrian, etc.) to increase the throughput of vehicles, people, and goods with minimal or no new infrastructure
Bring together corridor stakeholders to create an environment for mutual cooperation, including sharing knowledge, developing working pilots, and researching and resolving key issues
Improve the availability and quality of data on travel conditions in the corridor to better understand corridor behavior and improve performance
Provide corridor users with timely, accurate information so they can make informed choices about when, how, and by what route to travel
Equip traffic managers and first responders with the information and tools to make real-time decisions and quickly improve traffic flow along the corridor
Foster positive, collaborative, ongoing corridor management practices
Evaluate program effectiveness to help future ICM implementations in the state and across the country
The vision and goals are regularly referenced and posted on the homepage of the Connected Corridors website for staff, stakeholders and the general public to easily view.
Systems Engineering Process
Follow the Systems Engineering Framework and Documentation
Systems engineering is a structured, interdisciplinary development process for planning, designing, implementing, managing, operating, and retiring a system. This approach, as outlined in the Federal Highway Administration's Systems Engineering Guidebook for ITS, emphasizes defining customer needs and required functionality early in the development cycle, before moving on to design, build, and deploy the system. The purpose is to plan for the entire life cycle of a project up-front, to minimize the risk to budget, scope, and schedule.

As a comprehensive planning approach, systems engineering relies heavily on traceability and documentation, as well as on the use of "decision gates" to determine when to pass from one step in the process to the next. Its overall trajectory is often represented by the "V" diagram: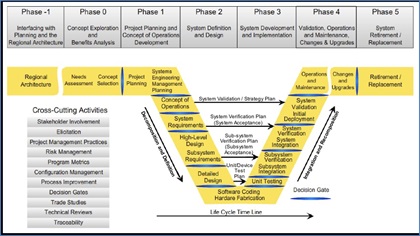 The left side of the diagram focuses on the definition and decomposition of the system to be built, the base on the building of the system components, and the right side on the integration and testing of system components, as well as acceptance and operation of the system. There are significant interactions between the two sides of the diagram: verification and validation plans developed during the decomposition of the system on the left side of the process are used on the right side to make sure the resulting components and integrated system meet the needs and requirements of the stakeholders. Throughout the process, "decision gates" are used as decision points to determine if a particular step has been completed to the satisfaction of the initially established criteria.
Systems Engineering Documentation
To articulate and guide the I-210 Pilot, the team created (or is working on) the following systems engineering documents:
| Document | Purpose |
| --- | --- |
| Project Management Plan (PMP) | Primary planning document for the project, covering all phases from initiation through planning, execution, and closure. Describes what the project is to achieve; how and by whom; and how it will be reported, measured, and communicated. |
| Project Timeline | Overview of project schedule and milestones. |
| Corridor Description and System Inventory | Description of the corridor's transportation systems, management assets, and current operational status. |
| Systems Engineering Management Plan (SEMP) | Defines the framework for carrying out the technical tasks of the project and the systems engineering processes to be used, including plans to manage system and software development, integration, testing, validation, and deployment. Meant to be a living document, updated as the project progresses. |
| Concept of Operations (ConOps) | The vision and rationale for the proposed ICM system on I-210. Describes corridor operations, system stakeholders, user needs, system concept for improving corridor performance, operational scenarios illustrating what the system will do. |
| Analysis, Modeling, and Simulation (AMS) Phase 1 Report | Describes efforts to analyze, model, and simulate traffic conditions, incidents, and management interventions on a portion of the I-210 corridor to evaluate potential benefits and costs of an ICM system. |
| System Requirements | Describes what the system must do in terms of function and performance. Maps system requirements to user needs. Forms the basis for the design/build phases. |
| Design Documents | Contain design details for building specific components. |
| System Test/Acceptance Plan | Describes steps/information required for testing functional accuracy and robustness of sub-systems and overall system. Iteratively updated as development proceeds. |
Personnel Required
At the very initial stages of the project, key internal personnel at Caltrans need to be identified to lead the project. Since there has been a reorganization study for Caltrans D7, individuals were identified to fill the leadership roles. Initially, however, for the I-210 Pilot, staff were assigned without a specific role related to corridor management. For the I-210 Pilot, UC Berkeley/PATH was under contract to Caltrans Headquarters for the Connected Corridors effort and provided project management assistance and staffing. If Caltrans Headquarters is providing consultant assistance to districts undertaking corridor projects, Headquarters and the District will need to determine the leadership personnel and structure, and it will vary corridor by corridor.
Corridor Analysis & Inventory
Freeways & Arterials
The freeways and arterials in a corridor project need the following:

Freeways
Three to four travel lanes in each direction with one lane designated as a high-occupancy vehicle (HOV) lane during peak hours or 24 hours per day, or a high-occupancy toll (HOT) lane, with shoulders and metered ramps on all or a portion of the freeway. The freeway should be instrumented and have data available (such as PeMS or mobile probe data). The freeway will have recurrent, severe congestion and bottlenecks due to commute traffic as well as non-recurrent traffic due to incidents or events.

Arterials
One or two arterial networks on either side of the freeway, with timed signals approximately one-half mile apart, at least two travel lanes in each direction, and no on-street parking. It's best if the arterials are instrumented. One ICM strategy is to reroute traffic from the freeway to the arterial(s) or from an arterial to a freeway in case of an event or incident.
Traffic Management Centers
From the US DOT, Federal Highway Administration, Freeway Management Program:

Transportation Management Centers
The Transportation Management Center (TMC) is the hub or nerve center of most freeway management systems. It is the data about the freeway system is collected and processed, fused with other operational and control data, synthesized to produce "information", and distributed to stakeholders such as the media, other agencies, and the traveling public. TMC staff uses the information to monitor the operation of the freeway and to initiate control strategies that affect changes in the operation of the freeway network. It is also where agencies can coordinate their responses to traffic situations and incidents.

The role of a TMC often goes beyond the freeway network and the particular responsible agency, functioning as the key technical and institutional hub to bring together the various jurisdictions, modal interests, and service providers to focus on the common goal of optimizing the performance of the entire surface transportation system. Because of its critical role in the successful operation of a freeway management system (and perhaps the broader surface transportation network), it is essential that the TMC be planned for, designed, commissioned and maintained to allow operators and other practitioners to control and manage the functional elements of the freeway management system, and possibly beyond.
Traffic Monitoring
Traffic monitoring systems are important to evaluate traffic conditions during all phases of the project including deployment. Traffic monitoring systems may include:

Freeway traffic detectors- mainline, on/off-ramp, HOV
Arterial traffic detectors
Closed-circuit television (CCTV) cameras
Traffic signal systems
Performance Measurement System (PeMS)
Good traffic monitoring infrastructure is fundamental to a CC project. If a section of the corridor lacks sufficient traffic monitoring systems, funding should be allocated as early as possible to support new or improved systems to ensure adequate coverage of all freeways and major arterials within the corridor. Probe data should also be considered to supplement existing systems.
The I-210 corridor has all of the traffic monitoring systems listed above. The team has invested a significant amount of time into improving sensor health for the entire corridor. The team has also worked with each individual city and the county within the corridor to evaluate existing traffic signal systems and has funded improvements as needed.
Data Collection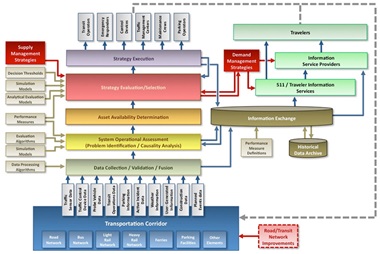 The figure above from the Concept of Operations document is an illustration of how a fully developed ICM system could work. The large blue box at the bottom of the diagram represents the transportation corridor being managed. Within the box, the seven smaller blue boxes show the various transportation system elements. System operations start with a need to collect comprehensive and reliable information about how individual elements are operating. This is illustrated by the gray boxes representing various data streams from the Transportation Corridor into the Data Collection/Validation/Fusion box. This need includes collecting information from traffic sensors, control devices, probe vehicles, transit monitoring systems, parking monitoring systems, and user-generated data through mobile applications and social networks on a 24-hour/7-day-a-week basis. Information about active incidents, weather, construction and maintenance schedules, and other planned events may also be collected. All collected data must further be validated prior to being used to ensure that no erroneous information is used in system evaluations. Data processing may also involve the application of data fusion algorithms designed to address potential discrepancies among data collected from various sources and gaps in collected data.
The following lists identify the types of data that have been identified as critical for supporting the operation of the I-210 Pilot ICM system:
Characterization of traffic conditions on I-210 and other considered freeways
Traffic volumes, speeds and density on mainline and HOV traffic lanes
Traffic volumes on both on-ramps and off-ramps
Actual travel times along freeway segments
Characterization of traffic conditions on corridor arterials
Traffic volumes from key intersection approach
Proportion of vehicles turning left, going through and turning right at key intersections
Queue length estimates for key intersection approaches
Average traffic speed between intersections along arterials of interest
Actual travel times between intersections along arterials of interest
Characterization of parking availability
Occupancy of park-and-ride facilities linked to the ICM system
Characterization of transit operations
Frequency of passage of transit vehicles along relevant transit routes
Average occupancy of transit vehicles operating along each relevant transit routes
Active service deviations
Status of devices used to monitor traffic
Health status of loop detectors, video detection systems, Bluetooth devices and any other types of monitoring devices used to collect traffic data
Status of traffic control devices
Active metering rate at each freeway on-ramp
Signal timing plan in operation at each intersection
Health status of traffic signal control equipment
Status of informational devices
Message currently displayed on freeway changeable message signs
Message currently displayed on arterial trailblazer signs or changeable message signs
Messages being pushed or recently provided to the regional
511 system and third-party information providers
Health status of freeway CMS
Health status of arterial CMS or trailblazer signs
ICM system status
Information indicating whether the ICM system is currently idle
Health status of various ICM system components
Information characterizing the status of devices used to support ICM operations further needs to be available on an on-demand basis. For instance, information indicating which signal timing plan is currently being run at given intersections or which ramp metering rate is active on given freeway on-ramps must be available when the ICM system needs the information to assess corridor operations or develop response plans. In many cases, information availability is facilitated by the use of systems monitoring devices on a real-time basis, such as traffic signal control systems monitoring signal indications every second or compiling signal operational statistics on a cycle-by-cycle basis. Where such monitoring capability does not exist, appropriate remedial actions will need to be considered.
Transit
Incorporating transit allows for an even greater number of technologies and resources to be considered and implemented within the corridor. Transit offers additional capacity within the corridor and can assist with managing demand. The Los Angeles County Metropolitan Transportation Authority (Metro) provides bus and rail service throughout LA county including the I-210 corridor. The gold line, with trains running from just past the East LA Civic Center through the city of Pasadena, was recently extended to continue service along the I-210 corridor from Pasadena to the city of Azusa. In addition to having both transit services available to I-210 corridor travelers, the political climate around the extension continues to be positive. Another extension of the Gold line is already planned and in 2016, LA county residents passed another successful sales tax measure to fund additional transit projects throughout the County.
The I-210 Pilot will incorporate rail and bus information within various traveler information systems and will also is expand transit signal priority systems along major arterials for buses. Additionally, one of the long-term goals of the Pilot is to encourage the use of transit and active transportation. The extension of the Gold Line and Metro's continued commitment to high-quality transit services was an important factor in the selection of the I-210 corridor as the Pilot location.
Other ICM transit strategies include:
Adjust transit capacity during special events and/or lengthy incidents or based on anticipated demand
Implement transit-only lanes along select arterials and/or at select intersections
Provide dynamic connection protection at key transit transfer points
Parking
Parking availability and information, from both publicly and privately operated facilities, should be incorporated into an ICM program whenever possible. Park and ride information can be provided to encourage drivers to park and take transit or possibly walk to their destination. A lack of parking may be an impediment to the promotion of transit alternatives or transit use in general.
In the I-210 corridor, the popularity of Metro's gold line (rail) has resulted in the more eastern lots filling up rapidly on weekday mornings. Because parking information is not currently available in real-time, multiple situations are probably occurring: a) drivers arrive at a station only to find no parking and then decide to drive (or park illegally and face a fine) b) driving further than necessary to a station they know does not regularly fill up and c) skipping transit altogether to avoid the hassle. All of these situations result in more vehicles on the road and could be substantially reduced by real-time parking information program.
For the I-210 Pilot, very few facilities have systems counting the number of vehicles present. However, parking information, especially at the Gold line stations is being incorporated as much as possible. More parking information will also be added in future phases.
Traveler Information
Traveler information systems are used to communicate current travel conditions, suggest alternate routes, and encourage mode shift. Traveler information systems include:
Changeable message signs
Highway advisory radios (HARs)
Bus/train tracking information systems
511 traveler information services
Personalized traveler information applications and services (I-210 area has Blue Commute a subscription based service developed by Iteris in partnership with LA County)
Offline navigation applications
Connected mobile navigation applications such as Waze and Apple Maps
The I-210 Pilot is using project funding to install additional changeable message signs to notify travelers of alternate routes during incidents. Other traveler information systems including 511 and HARs will also be used to notify travelers of incidents. In 2016, the team met with Waze to discuss if and how a partnership would work in the corridor. Those discussions are still on-going.
Enhancing information dissemination may enable travelers to make informed decisions that may lead to a more efficient distribution of trips across time and modes. While travelers often make decisions based on their experience, they do not always have comprehensive or accurate knowledge of the alternative travel options that are available to them. As a result, travelers often reject alternative travel options based on inaccurately perceived difficulties. In this case, better information would help alleviate these problems.
Integration With Other Systems
Enabling communication so the ICM system can receive data and send response plans is an essential component of ICM. This will most likely require integrating multiple systems used by project stakeholders.
Types of systems that should be considered for integration include:
Ramp Metering Systems
Traffic Signal Systems
Arterial and Freeway Sensor Data Systems
Changeable and Dynamic Message Sign Systems
CCTV Systems
Highway Advisory Radio Systems
Parking Information Systems
Transit Information Systems
Information Exchange Networks
Systems should be reviewed and evaluated early in the planning process as upgrades are likely to be required for proper integration.
Through LA Metro's Call for Projects funding, upgrades are being made to several stakeholder systems to enable center-to-center communications. Caltrans is also making upgrades to its own ramp metering and traffic signal systems. The following systems are being modified or upgraded as a part of the I-210 Pilot:
City of Pasadena – Transparity by McCain
LA County, Cities of Monrovia and Duarte – KITS by Kimley-Horn
City of Arcadia and Caltrans – TransSuite by TransCore
Caltrans – Advanced Transportation Management System (Parsons)
Corridor Criteria
Caltrans Criteria
Caltrans 2013 Strategic Plan Goals/Objectives/Strategies
Connected Corridor Program - Real-Time System Management

Core Considerations for Selection
Identify and select corridors where the Dept believes we can get the most benefits in terms of performance improvement per our new Strategic Plan Goals of System Performance (and Safety)
District Deputy needs to take full ownership of the performance improvements for corridor(s) selected for this focused effort, contributing to the statewide performance measures and goal.
More details on Caltrans Criteria (pending)
I-210 Corridor Selection
Selecting a Corridor for ICM
The Connected Corridors team used a number of processes to select an ICM corridor including:
Defining selection criteria including operational and institutional criteria
Identifying and contacting project stakeholders
Working with stakeholders to identify potential corridors
Conducting a detailed assessment of the candidate corridor
Narrowing the choices and making an initial selection
Evaluating the assessment results against selection criteria
Making a "go or no-go" decision
Considering alternatives, if necessary
Operational Criteria

The corridor operational criteria are the physical features and modes of transportation found along it. These criteria are important because certain operational characteristics are more likely to lead to positive ICM project results. Elements considered for the CC Pilot corridor include:
Corridor Length and Components

– An ideal corridor is ten to twenty miles in length and linear, consisting of a freeway, parallel arterials, and transit. Entertainment venues, businesses, residences, and educational uses located adjacent to the corridor should be identified.

Congestion

– Since reducing corridor congestion is a goal of ICM, it is key that the corridor has a high level of congestion.

Freeways

– The freeway should include three to four travel lanes in each direction with at least one high-occupancy vehicle (HOV) lane, with metered ramps. The freeway should have sensors, mobile probe data or some other data source to monitor traffic flow.

Arterials

– Arterial networks on either side of the freeway, with timed signals approximately one-half mile apart, at least two travel lanes in each direction, and no on-street parking, are best.

Bus/Rail Transit

– Regional or other transit-serving bus service on the freeway operating in the HOV lanes, local bus service on the arterials, and Bus Rapid Transit or express bus service are important. Light rail transit can also be useful as it provides additional re-routing options and opportunities for mode shift. The availability of parking and park-and-ride facilities should also be considered.
The operational characteristics of a corridor have implications on the social, economic, and environmental aspects of the communities and region in which it is located. For example, a congested urban corridor can affect the residents' and travelers' quality of life with long commutes, unpredictable travel times, and delays in freight delivery that can have economic impacts. Also important are the transit services and the ability for the elderly, disabled, or those who choose not to own an automobile to move through the corridor and access jobs, schools, and services.
The I-210 corridor met the operational criteria as identified by the team. This included:
A well-instrumented roadway (in-pavement sensors on the freeway mainline and ramps, with collected data automatically processed through the Performance Measurement System)
Directional traffic flow corresponding to morning and evening commute hours
A good network of parallel arterials linked to the congested freeway
Existing infrastructure investments that can be leveraged
Extensive transit service, a network of bicycle lanes, and parking/park-and-ride facilities
Engaging Corridor Stakeholders
In a project as multi-dimensional and collaborative as ICM, engaging stakeholders is a fundamental and ongoing activity. It is the context in which the system is planned, developed, deployed, and operated. As part of Connected Corridors' outreach and communications efforts, stakeholder engagement continues during the entire project and takes a variety of forms, including:
Contacting stakeholders
Enlisting participation
Keeping participants informed
Educating stakeholders about various aspects of the project
Listening to and addressing concerns
Coordinating activities among stakeholders, including reviewing and executing agreements
Building relationships with stakeholders and partners
Publicizing the project and communicating with the public
Developing a common understanding and consensus for moving the project forward
More details on Engaging Corridor Stakeholders (pending)
Media Legislative Partners
Media and legislative partners are important to the project. Each corridor will need to determine when to enlist the media and legislative partners.
The I-210 Pilot was in contact with Caltrans Headquarters and Caltrans District 7 Public Information Officers from inception, and the PIOs from the stakeholder agencies met during the development of the System Requirements. While an official launch will not take place until 2018, there have been several articles written about the project. Legislative partners have been engaged at the local level, particularly at the LA County Board of Supervisors and through LA Metro's Board and Committees.