Project Database Goes Virtual
Project Database Goes Virtual
$44.5 Billion's Worth of Planned Work Through 2028-29 Listed on Site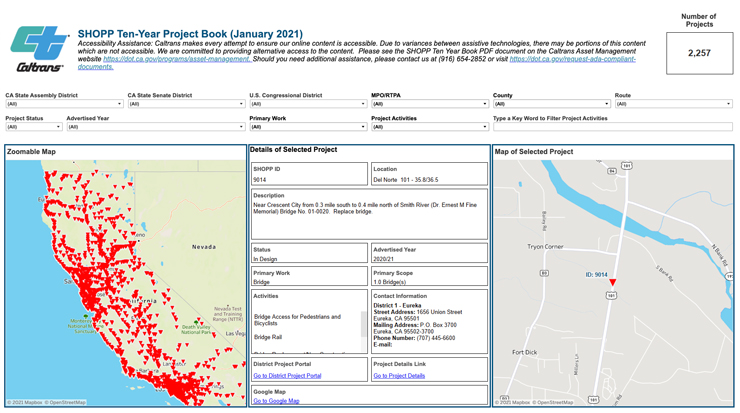 An online data dashboard created by Caltrans as part of its asset management implementation efforts has opened up unprecedented public access and details on planned capital projects to improve the state transportation network in the next decade.
The 10-Year Project Book has gone virtual, listing $44.5 billion's worth of transportation system projects that represent Caltrans' most ambitious effort to repair and rehabilitate the state-maintained travel system. The Project Book lists thousands of projects expected to be undertaken through 2028-29.
The massive scale of work is intended to improve the travel system to a condition that meets performance targets set by the Road Repair and Accountability Act of 2017, known as SB 1. To this point, Caltrans is achieving or exceeding most of those standards and is on track to meet the 2027 SB 1 goals.
While previous paper Project Books detailed individual projects planned in each of Caltrans' 12 regional districts, and costs, the Virtual Project Book takes the level of detail multiple steps further.
Using advanced mapping software, users can use the virtual version of the Project Book to search any one of the thousands of listed projects around the state. The GIS-enabled site gives various parameters that can be searched, including location, attributes such as postmile location and project identification number, particular category of asset to be improved, further project details including timelines and stages, along with a zoomable map and vicinity map.
Project pages also includes a Google Map link and districts' project portals.
The projects listed in the database are all part of Caltrans' fix-it-first program, known as the SHOPP (State Highway Operation and Protection Program). The virtual project book is intended to improve transparency and provide greater opportunity for public engagement on SHOPP projects.
Source: Caltrans Asset Management
Project Database Goes Virtual