Mile Markers
Mile Markers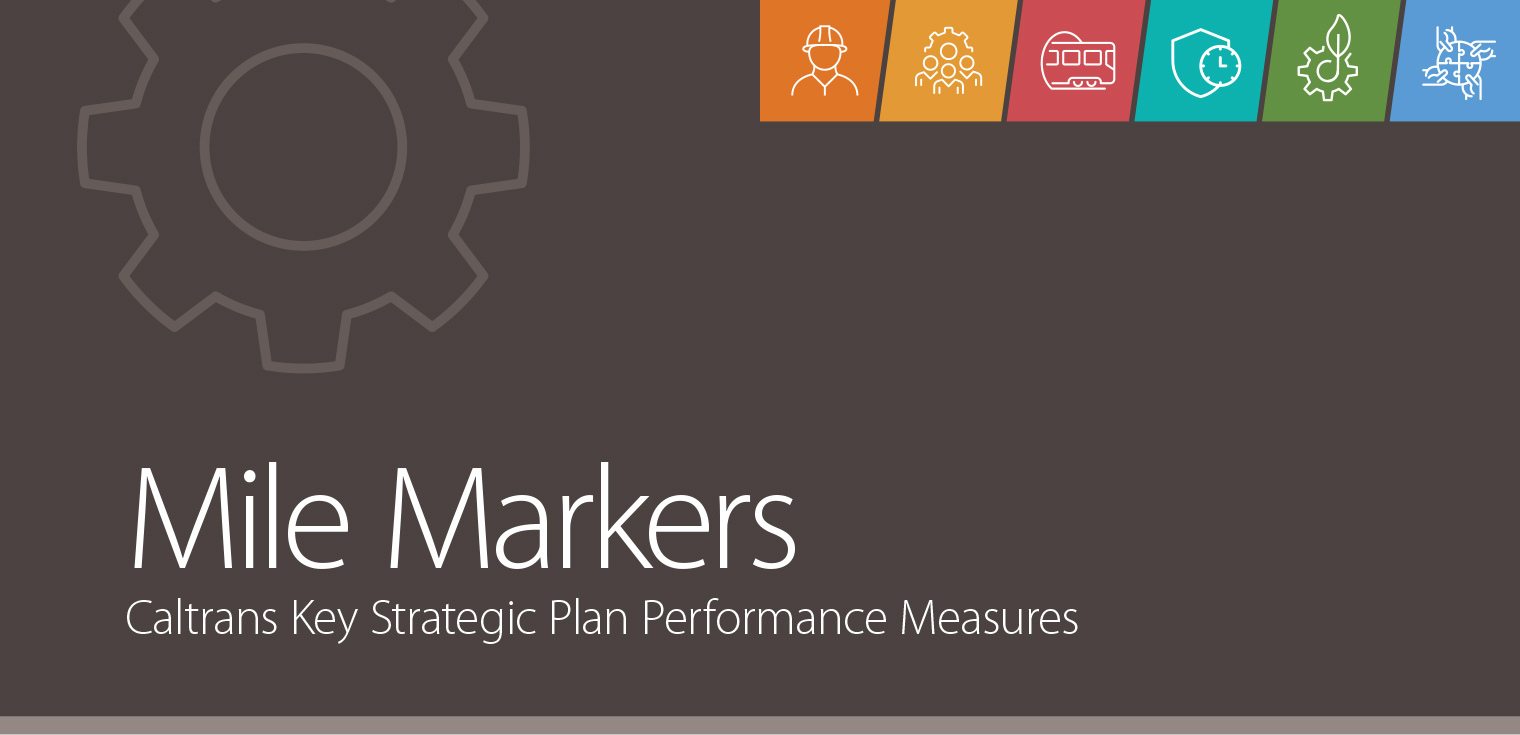 Caltrans Strategic Plan Performance Objectives
With the launch of the new Caltrans 2020-24 Strategic Plan, development of performance objectives is well underway. Performance objectives are intended to gauge success at affecting the intended outcomes for each of the six Goals. This dashboard represents those performance objectives in which we have begun to track and report. Additional performance objectives will be shared in coming Mile Marker issues, once data tracking and targets have been fully developed for them.
---

Goal: Safety First
Maintain the number of on-the-job serious injuries for the fiscal year at zero, through June 30, 2021.

>
---

Goal: Cultivate Excellence
Increase the percentage of employees who take strategic training for the fiscal year to 90% or higher, by June 30, 2021.
---

Goal: Enhance and Connect the Multimodal Transportation Network
Demonstrate the California Integrated Travel Program (Cal-ITP) in three regions, by 12/31/2021.
---

Goal: Strengthen Stewardship and Drive Efficiency
Meet the goals of the State Highway System Management Plan for asset condition by 2027.
Increase the percentage of Disadvantaged Business Enterprise (DBE) contracting that achieves parity with presumptive groups, by 20% by June 30, 2021.

---

Goal: Lead Climate Action
Increase the percentage of Caltrans fleet that are zero-emission vehilcles (ZEVs) to 5%, by June 30, 2022.

---

Goal: Advance Equity and Livability in all Communities
Create an Accessibility Score by March 2022.