Director's Message
Director's Message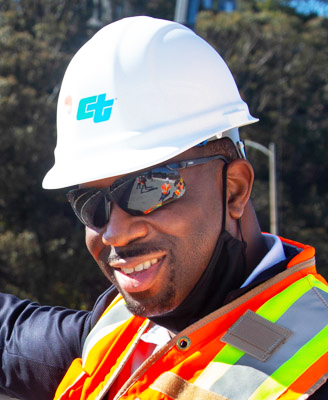 Recently, on multiple occasions, I moved my workspace outdoors and, with several Caltrans teammates, had the privilege to participate in collaborative restoration efforts for our beautiful state. The three-year, $1 billion-plus Clean California initiative is part of Gov. Gavin Newsom's California Comeback Plan. This plan is providing Caltrans with the resources to carry out impactful measures that will make a bona fide difference through hands-on trash clean-up efforts. These actions will result in a healthier and more beautiful environment every Californian deserves.
On July 7, California's Day of Action, the enthusiasm was palpable as I joined Gov. Newsom, our maintenance crews, local officials, partners and stakeholders in this meaningful endeavor. Bag by bag, load by load, we began the process of removing unsightly, unhealthy and unsafe trash carelessly strewn up and down California's landscape. The results were spectacular.
When not properly disposed of, one person's trash — in an instant — belongs to us all. Each of us becomes a reluctant recipient of the hazards and risks that accompany litter. It increases the threat of fire, pollutes our waterways, endangers wildlife and is expensive to remove. The current conditions are simply unacceptable, and the Clean California initiative aspires to reverse this substandard status quo.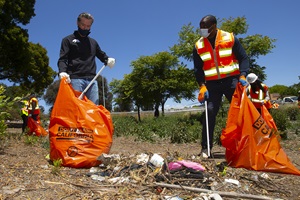 I am excited to be a part of such a massive undertaking; not just as Caltrans Director, but as a resident of California. An initiative that aims to deliver so many beneficial outgrowths is an initiative worth embracing. There are no downsides to Clean California; in fact, this sweeping initiative benefits Californians on multiple levels. Following our organized, widespread increase of litter pickup and free dump days, I look forward to watching the transformation in real time: from dirty and trash-riddled spaces to an attractive and appealing environment. In addition to improving our state aesthetically, the related health and sustainability components will pay dividends toward improving quality of life.
And I'm extremely pleased Clean California will generate approximately 11,000 new jobs over three years. These jobs include state employment and opportunities for at-risk youth, people experiencing homelessness and formerly incarcerated people. Clean California also has great potential to bring communities together, educate and foster pride in our state.
The camaraderie that existed among those picking up trash on that pivotal day — California's Day of Action — was not just a one-off. Rain or shine, Caltrans' ongoing efforts to upgrade public spaces throughout the state are underway. Pride is contagious, and when we all respect our surroundings — even just picking up a single piece of trash once a day — the results will be astonishing. A cleaner, healthier environment does not have to be a daydream. Sitting right in our sights is a valuable gift to ourselves, our loved ones and future generations: A Clean California.
---
Not only are we addressing immediate problems besetting our transportation system, such as trash-strewn roadsides, the Department is setting a course for future travel in California with the Caltrans 2020-2024 Strategic Plan and the California Transportation Plan (CTP) 2050, both unveiled earlier this year.
The CTP 2050 details the state's long-range transportation vision. It explains how we can improve mobility and accessibility while drastically reducing greenhouse gas (GHG) emissions related to transportation. The CTP 2050 strives to reduce the miles traveled by vehicles, advance equity in transportation planning and decisions, and improve the quality of life for all those who use the travel network.
A story in this issue of Mile Marker offers a more detailed look at the plan.
The 2020-2024 Strategic Plan, meanwhile, focuses on the shorter term but complements the broader transportation-system vision outlined in the CTP 2050. As explained in another Mile Marker article, strategic planning is a process that Caltrans uses to set a compelling course for the future, identify the necessary actions, and track performance measures.
We are committing to six goals through 2024 in support of these responsibilities. At the top of our list is, as always, is making the travel system safer. We also outline our coordinated strategies to achieve success in the critical areas of equity and livability, climate action, expanding the multimodal transportation network, stewardship and efficiency, and cultivating excellence.
We are a forward-looking department that has charted a course for a more sustainable and equitable future. This is a journey we are very much prepared for and excited to embark upon.
Thank you for supporting our short- and long-term vision, and enjoy this issue of Mile Marker.