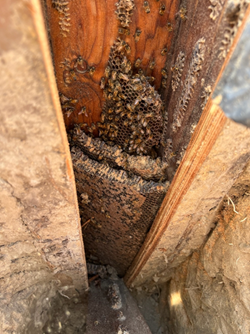 By: Alexa Bertola
District 5 public information officer
An un-bee-lievable 10,000 honeybees were rescued from a signpost in Lompoc on Sept. 16.
The massive swarm was discovered inside a wooden pole with signage warning of a stop sign ahead along eastbound State Route 246, west of V Street.
Super Bee Rescue of Santa Barbara removed the winged insects, wax and honey.
The company's owner, Beevangelist Nick Wigle, said the 12-foot hive had some honey but not much, a possible indication that bees are getting stung by California's severe drought.
He believes the bees entered the signpost through some holes at the bottom and that they have been living there on and off for years.
The signpost was removed to prevent any future issues.
Wigle relocated the bees to his yard where he will care for them and nurse them back to health. This is the second time this year Caltrans District 5 staff have discovered bees in a signpost, and later contributing to their safety.