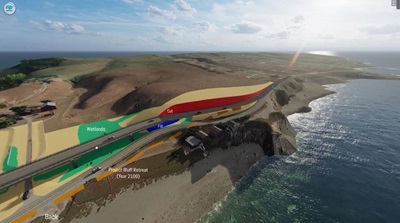 By Pauline Valenzuela
Statewide Innovation Coordinator
Division of Research, Innovation and System Information
Caltrans is taking action to move the needle on our culture of innovation to support and empower our workforce to be innovative and take intelligent risks. Significant efforts are being made by the Division of Research, Innovation and System Information (DRISI) Innovation Team (iTeam) to create an innovation hub for tracking, sharingand promoting innovations throughout Caltrans.  
Innovation is a critical component that allows us to keep up with the needs of our customers, present and future, and enables us to do more with less. Caltrans has built a culture of innovation that gives every employee the opportunity to make thoughtful changes that improve our processes and services to the public. Our goal is to break information silos and encourage the sharing and implementation of proven technologies, improvements, and practices.   
As a part of our efforts to support Caltrans' innovative culture, the iTeam manages an incentive program that utilizes Western Association of State Highway Transportation Officials (WASHTO) funding to award innovative projects and leaders. For 2021, Caltrans selected three projects to receive the WASHTO Awards.  We received 32 submissions overall. 
The Western Association of State Highway Transportation Officials (WASHTO) provides each member state $3,000 annually to incentivize staff who are involved in quality or innovation improvements. Caltrans developed a program to utilize the annual WASHTO funding and recognize staff through a call for innovation and quality improvement submissions.
Submission criteria required that each effort must address at least one of Caltrans Strategic Goals and the effort must be current (underway or completed) during the 2020-2021 fiscal year.
DRISI's iTeam performed initial screening of the submissions and the Innovation Technical Advisory Committee (ITAC), which is a diverse team comprised from programs, districts and functional areas from across the state, scored the top ten submissions. Below is a list this year's award recipients along with a description of the innovative projects.
First Place - $1,500 (team submission)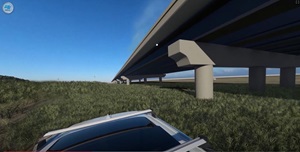 District 4 – Project Development East Team lead: Joaquin Pedrin
Team members: Wesley Bexton, Jeanne Gorham, and Adrienne St. John.
"360 TOURS: Interactive Project Simulations"
District 4 – Project Development East has created an interactive, web-based interface, so stakeholders can explore the existing corridor in 360 degrees. Simulations can be turned on, illustrating such impacts as sea-level rise and see the inundation of the existing roadway, as well as fly through design alternatives that illustrate the design proposal.
This innovation can inform stakeholders of a project's potential impacts early in the design process. Being web-based, it is more accessible to a larger audience and increases stakeholder participation. This innovation gathers meaningful input in the development of our design alternatives mitigating costly redesign in later stages.
Second Place - $1,250.00 (team submission)
District 6 – Asset Management
Team lead: Yinleng Vang
Team members: Robert E. Polyack (D6 - Program Project Management), Affer Mays (D6 - Maintenance), Linda Garcia-Bianchi (D6 - Construction), Anthony Ng (D7 - Design), Kenneth Sutterfield (D3 - NR Construction)  Austin Serpa (D6 – Project Development), and Joesetth Gallegos.
D6 Asset Management is currently developing an ADA mobile data collector, review dashboard and an inventory GIS webmap. This is being done in-order-to address several challenges surrounding the ADA inspection, inventory accuracy and inventory mapping.
Asset Management has designed and is continuing to improve on a scalable solution utilizing a suite of ArcGIS Enterprise applications to satisfy the business needs of construction, design, and the ADA Transition Plan. The solution has four primarily components and objectives: (1) convert inspection from being paper-centric to a digital-centric workflow; (2) digitize the ADA review and certification workflow in real-time; (3) reconcile ADA data into a single relational database addressing the needs of all divisions; and lastly (4), allow ADA data to be spatially available, accessible, and transparent.
Based upon current evaluation of ADA inventory, Asset Management estimates a one-time cost savings of $1.6 million in District 6 alone. The costs savings are anticipated to be approximately 50-75% per element compliance inspection in perpetuity.
Third Place - $250.00 (single recipient)
District 3 – Construction (Submitter: Mrudang Shah)
"Trimble SiteVision – A high accuracy augmented reality system"
Trimble SiteVision is a high accuracy augmented reality system that provides real-world context to designs helping users to comprehend complicated plans and drawings in the field. Trimble's hardware allows the user to use 3D BIM models to visualize a roadway, structure or underground utility in augmented reality to the correct scale in the field.
The previous state would have been to install survey stakes to see the alignment and use two-dimensional plans to try to visualize what the new roadway or structure would look like.
Now, one can visualize and measure position using Global navigation satellite system (GNSS), Electronic Distance measurement and augmented reality technology as one explores the project site.
The augmented reality tool can be used to identify potential conflicts in the field with existing facilities/structures, to show stakeholders how the project will look in the field, show field fit issues that often do not show on 2D drawings, and it can be used for quality control to compare a 3D model of the plans to what is actually built.