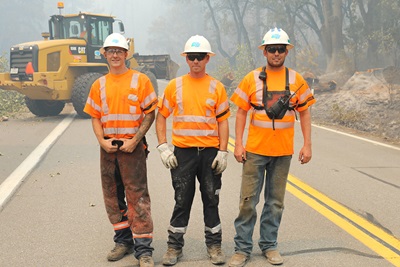 By Haleigh Pike
District 2 information officer
When it comes to wildfires and repairing the damage caused by them, many steps are taken by Caltrans to ensure the safety of the traveling public. One of those steps is evaluating the damage to trees along our roadways.
The Caltrans District 2 tree crew does not take the decision to cut down a tree lightly. But in evaluating trees following a fire, it is clear which trees have become a danger. From trees that have been extensively burned to trees that have been damaged in other ways, our tree crew evaluates each tree to make sure it's not still viable and is considered dangerous to the travelling public and our crews.
When not working on fires during the summer, the tree works to remove dead trees and damaged limbs to eliminate as many threats as possible before winter weather arrives. The crew also works to keep roadways and sidewalks clear of overgrown trees or bushes to ensure drivers and pedestrians have a clear path.
Thank you to the tree crew and all our Maintenance forces for working to recover the roadways after these fires!