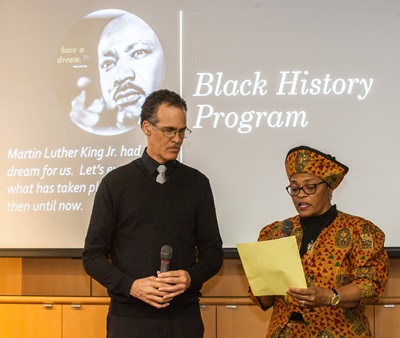 An audience that eventually attained standing-room-only status attended the 2019 Black History Celebration at Caltrans headquarters in downtown Sacramento on Feb. 26. It was titled "Bridging Black Culture Across Generations."
The event, hosted by the Caltrans African American Leadership Council, included food, displays, music, speakers and even a game of "Black History Jeopardy."
"I was so pleased to see so many people came out," said organizer Diane Falls, an associate government analyst in the Transportation Division who also publicized the 90-minute celebration.
"This event hasn't been held in quite some time and we were pleased to come together and share the historical, good music and food with everyone. We also enjoyed all of the wonderful comments we received each time we sent them out."
The festivities began with a welcome by master of ceremonies Mitchell Baker, a supervising transportation planner in the Transportation Division and, like Falls and most of the event's other presenters, a member of the Black History Program Committee.
Michael Parks, a transportation engineering tech in District 3, was among the musical performers. He "sang his heart out," Falls said. "That deep voice belted out 'Summertime' and 'A Motherless Child,' as well as leading the Negro National Anthem."
Gilberto Chambers, an associate transportation planner in the Transportation Division, spoke about "The African Diaspora in Latin America." Antonio Leaks, an associate government programming analyst in the Division of Procurements and Contracts, shared "A Voice Unheard: Life Told from the Words of a Former Slave." Falls led the way for "Who's Your Role Model" and "Black History Jeopardy."
Rena Francis, Anthony "Tony" Dunns, Jelani Young and Iddris Sadu also made or participated in presentations.
The celebration included table displays, too.
"We showcased some local talent including DGS' Jayson Lewis," Falls said. "He wrote and published a children's book, 'The Adventures of String Bean, Pork Chop, and Lil Mighty,' and my mother, Jacqueline Brooks, a legally blind mother of five, who never let her disabilities get in her way – she quilts, sings and has written and had published, 'Three White Mice,' a book for her grandchildren."
Food samples included fried chicken, baked chicken, macaroni and cheese, mashed potatoes, greens, pineapple upside-down cake and sweet-potato pies.