Trophy Case
Trophy Case
Each year, Caltrans holds its annual Highway Safety poster contest. The contest is open to children, grandchildren, nieces and nephews of Caltrans employees, and it gives the children an opportunity to express the importance of driving safely in or near highway work zones. It also allows them to be part of Caltrans' educational outreach and life-saving public service message.
The contest is open to children 17 years old or younger, and judges select posters based on creativity, how well the poster conveys the highway safety theme, and the use of color.
This year's winning posters appeared in the 2018 Caltrans Fallen Workers Memorial program and were on display at the ceremony. Although the posters differ greatly in appearance, they all convey one of these important messages, "Be Work Zone Alert" or "Move Over."
To view the 2018 winning entries, visit: http://www.dot.ca.gov/bwza/poster-winners-2018.html
---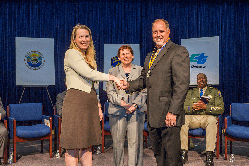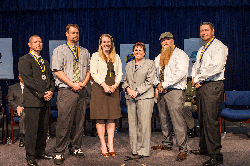 Five heroic Caltrans employees received the Governor's State Employee Medal of Valor Award in May. Caltrans employees Theodore "Tad" Sampson, Shawn Morgan, Steven Rhine, Matthew McCarter and Jason Heinz went above and beyond the call of duty to save others' lives.
Sampson earned his silver Medal of Valor on Feb. 13, 2017, when he and three construction contractors joined forces to free an excavator operator who was trapped in a moving mass of debris on Interstate 80 near Baxter.
Morgan, Rhine, McCarter and Heinz received silver medals of honor for their roles in rescuing victims of a vehicle that landed upside down in the freezing American River on Dec. 28, 2016.
The State Employee Medal of Valor award is the highest honor California bestows on its public servants. Governor Edmund G. Brown Sr. presented the first awards in 1959. Since then, more than 600 state employees have earned that honor for their courage and selflessness in the face of danger. View the Medal of Valor ceremony in a Caltrans News Flash here: https://youtu.be/TPxypV6Cpok
The heroes also made an appearance in the national Travel Channel's recent Pony Express-themed "Bizarre Foods" episode. Host Andrew Zimmern showed the work Caltrans does, and took the heroes to the historic Sportsman's Hall, which is along the old Pony Express Trail in Pollock Pines. A four-minute cut of the video clip, featuring the Caltrans workers, is available to watch here.
---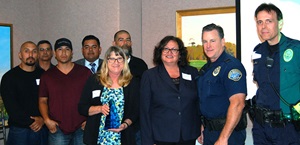 Caltrans' District 5 Landscape Crew recently earned a Looking Good Santa Barbara's "Spirit of Service Award" for their commitment to reduce, reuse, recycle and compost. They specifically earned the Clean Community Award, which honors individuals and groups who have consistently worked to decrease litter and graffiti in the city.
---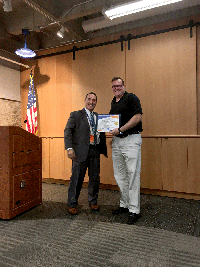 The 2017 Maintenance Recognition Program's inaugural awards cycle is complete, with 14 teams or employees earning cash prizes and certificates signed by the Director of Caltrans.
Here's a roundup of the winners who earned cash prizes ranging from $250-500. These employees were recognized in ceremonies across the state.
Excellence Award
Gold Award to District 12 Maintenance Engineering Design Team
Silver Award to Dave Harper from District 1
Silver Award to District 10 Dispatchers
Silver Award to Leroy Orsetti from District 10
Silver Award to Lionel Madarang from District 4
Innovation Award
Gold Award to John Spithorst from District 10
Silver Award to Russ T. Lake from District 10
Silver Award to Gonzalo Gomez from Headquarters
Teamwork Award
Gold Award to Headquarters Load Rating Branch and 36 branch staff
Silver Award to the District 8 Corona Maintenance Crew
Silver Award to Derrick Santens and Allison Simmons from Headquarters
Partnering Award
Gold Award to Headquarters Customer Service Officer Patrick Olsen
Silver Award to Headquarters Senior Transportation Engineer Benhur Batoon
Sustainability Award
Gold Award to the Benicia Electrical Crew
The Recognition Program is designed to recognize Maintenance employees and those who work with them, with awards based on work performed during the previous two fiscal years. You can read the full details of the winners and their achievements here.
Maintenance is now accepting 2018 award nominations to recognize co-workers for outstanding work. A diverse panel of Caltrans employees judge each competitive category. To download a nomination form, click here (DOCX).
---
The 2018 Outstanding Management and Engineering in Transportation Awards recognizes contributions to the field of transportation by Caltrans registered engineers, and engineering and nonengineering managers.
District 4 Operations Senior Transportation Engineer Rodney Oto, won the Karl Moskowitz Award. Oto pioneered the implementation of the Bay Area's ramp metering in the 1980s when public acceptance of ramp metering strategies was low. He worked to overcome that resistance and showed that freeway operations could be substantially improved through proper control of ramp volumes. He is one of a few elite traffic engineers in the nation with experience and knowledge in designing and operating toll bridge approaches, and designing and operating FasTrak lanes. Oto authored the original District 4 Ramp Metering Design Guidelines, which were the basis for Caltrans' Statewide Ramp Metering Design Guidelines and Caltrans' ramp metering policy and procedure.

The Karl Moskowitz Award recognizes outstanding Caltrans engineers. Moskowitz served as a Caltrans traffic engineer for 27 years. Much of his work in freeway design and traffic flow was done at the start of the Interstate Highway Program and used extensively by planners and engineers nationwide.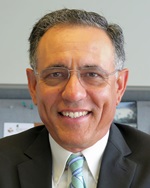 District 8 Design Project Director Jesus Paez won the Charles H. Purcell Award. Paez pioneered a new way of doing business by managing multidisciplinary teams using innovative delivery methods to demonstrate project benefits, and ultimately add more tools to Caltrans' toolbox. Paez's approach to project delivery is the true innovation. He works diligently with stakeholders in a collaborative way that values their contributions and diverse views. Proof of the value of Paez's approach is the successful completion of the I-15/215 Devore Interchange design-build project on time, within budget, with no claims, and with enthusiastic support from a community that was previously skeptical of the project.

The Charles H. Purcell Award recognizes Caltrans' engineering managers. Mr. Purcell served as California's State Highway Engineer from 1928 to 1943 and as Director of Public Works until 1951. He established California's extraordinary record of leadership and integrity in transportation engineering, and guided the construction of the original San Francisco-Oakland Bay Bridge and the State Highway System.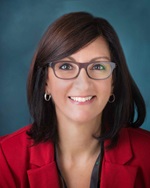 Planning and Modal Programs Deputy Director Coco Briseño won the Emerson Rhyner Award. Briseño has tirelessly championed Enterprise Data Governance within Caltrans. Her leadership led to creation of the Caltrans Geospatial Data Office, the newly formed Data Governance Council and Data Governance Board. Her contributions also include several transportation plans, and she was instrumental in negotiating the multi-state procurement of clean-burning diesel locomotives and rail cars for Caltrans. Briseño oversaw development of program guidelines and delivery of SB 1 programs under Planning and Modal Programs, and the development and implementation of the Research Prioritization Methodology tool to prioritize research projects based on their strategic alignment with Caltrans' goals.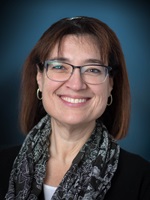 Administration Deputy Director Cris Rojas also won the Emerson Rhyner Award. Rojas' significant contribution to Caltrans' workforce and organizational health includes restoring and reinvigorating components of Caltrans' Workforce Planning program and Caltrans' Diversity and Disability Awareness Day. In 2017, Rojas received the Women in Transportation Society's Rosa Parks Award for Diversity and Inclusion. Her idea to provide a workplace where all employees can grow resulted in the Caltrans Scholar Program, a plan to provide employer-funded associate degrees to Caltrans employees. Rojas supported the launch of Caltrans' Division of Safety and Management Services' new mobile safety vans and Caltrans Career fairs across the state, which were attended by over 1,500 job seekers.
The Emerson Rhyner Award recognizes non-engineering Caltrans managers for their contributions to transportation. Emerson Rhyner was Deputy Chief of the Division of Right of Way and the Legal Division for California's Division of Highways in the early 1960s. His efforts as a Caltrans legislative liaison helped define the relationship between state and national interests and established the roles of state and local governments in the early days of freeway system development.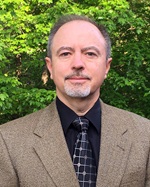 Structure Policy & Innovation Senior Bridge Engineer Ron Bromenschenkel, from theDivision of Engineering Services, won the James E. Roberts Award. Bromenschenkel has demonstrated 30 years of sustained excellence in bridge design and earthquake engineering, and has delivered more than 30 high-profile projects. Bromenschenkel is nationally recognized as a subject matter expert in the design and development of seismically resilient bridge components and connections. Working with universities across the nation, Bromenschenkel led multiple projects to develop seismically resistant connection details that allow Caltrans to use accelerated bridge construction methods. In 2014, he was asked to lead a seismic assessment of the Coronado San Diego Bay (Coronado) Bridge because of his expertise in designing and retrofitting complex long-span bridges.

The James E. Roberts Award recognizes Caltrans' registered engineers' outstanding contributions in transportation structures. Mr. Roberts was a structural engineer and manager for more than half a century, including 15 years as California's State Bridge Engineer. He spearheaded Caltrans' $4.5 billion seismic retrofit program, oversaw nearly $50 million in seismic research projects and was the only state-employed engineer to be named to the National Academy of Engineering. He retired in 2001 as Chief Deputy Director.