Trophy Case
Trophy Case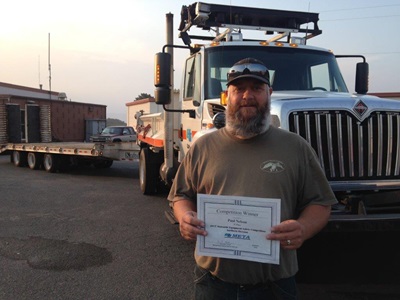 Caltrans District 1 Equipment Operator II Paul Nelson, District 2 Highway Maintenance Leadworker Ken (KC) Harris, District 7 Electrician II Mike Mercado and District 7 Equipment Operator II David Zapata won the 2017 Equipment Safety Competition. This qualified them to compete in the American Public Works Association's Western Snow and Ice Conference in Loveland, Colorado as the top Caltrans equipment operators.
Nelson, Harris, Mercado and Zapata proved themselves leaders in equipment safety at the Caltrans Equipment Safety competitions in August, which tested truck backing, trailer backing and loading. Each contestant had to participate in every event. Caltrans Maintenance Equipment Training Academy Statewide Training Coordinator Stephanie Costa and Caltrans Maintenance Area Superintendent Gerald Martinez spearheaded the statewide competition and led the northern event in Kingvale on Aug. 23. District 7 Staff Services Analyst and Training Coordinator Carrieann Roney and Maintenance Area Superintendent Marcoz Hernandez led the Southern Safety Equipment Competition on Aug. 16 at the Century Yard in District 7.
KC Harris, Mike Mercado and David Zapata competed in the loader course at the National Snow Roadeo in Colorado on Sept. 27-29, but did not win. Nelson did not attend due to a prior obligation. The national competition also tested operations of single-axle snow plow, tandem axle snow plow, grader and a skid steer.