U.S. 101 Business Plan
U.S. 101 Business Plan

Location
U.S. 101 within the Central Coast between Southern California and the San Francisco Bay Area.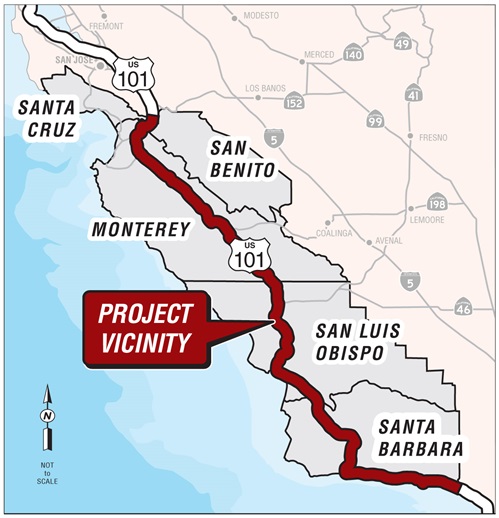 Study Purpose
The U.S. 101 Business Plan will provide the data, strategy, and community support needed to match corridor priorities with potential funding mechanisms for implementing improvements in the U.S. 101 corridor. Please review the following documents for additional information:
U.S. 101 Business Plan Presentation (English)
U.S. 101 Business Plan Presentation (Spanish)
Study Outcomes
Inform statewide priorities for investment.
State business case for making investments in the U.S. 101 corridor.
Identify needs, performance criteria, and priority improvements.
Explore trends (e.g. housing growth and jobs-housing balance issues).
Develop a financial plan that identifies total funding needs, funding gaps, and potential funding sources.
Partnerships
The U.S.101 Business Plan is being developed as a partnership between Caltrans District 5 and the Metropolitan Planning Organizations and Regional Transportation Planning Agencies within the Central Coast.
Contact Info
District 5 Public Information Office
Phone: (805) 549-3237
Email: info-d5@dot.ca.gov