Boulder Creek Bridge Scour Mitigation Project
Boulder Creek Bridge Scour Mitigation Project
Project Description
The project is in Santa Cruz County on State Route 236 at Boulder Creek Bridge (post mile 4.27) in the census-designated town of Boulder Creek. In this location, State Route 236 is a conventional two-lane, undivided highway. Boulder Creek Bridge was constructed in 1926 as a small, single-span reinforced concrete girder bridge on top of reinforced concrete abutments and wing walls with concrete bridge railing. Boulder Creek Bridge is a single-span bridge with no piers located in the creek. The existing bridge is about 22 feet long and 24 feet wide. Each travel lane is 11 feet wide with 1-foot shoulders.
Bridge scour is the erosion of sediment from around bridge abutments or piers. Scour, caused by swift-moving water, can scoop out scour holes, compromising the integrity of a structure. Water flowing in Boulder Creek has contributed to scour along Abutment 1, specifically on the northern end of the abutment upstream of Boulder Creek.
The proposed work would include the placement of a 1.5-foot-thick and 6-foot-high reinforced concrete curtain wall along the full length of the existing Abutment 1 spread footing, which is about 27 feet long. The top of the proposed curtain wall would match the current elevation of the existing top of the Abutment 1 footing. Rock slope protection would be placed at the northern end of the abutment upstream of Boulder Creek to protect the concrete from erosion. Additionally, cracks and defects in the existing concrete on the underside of the bridge at Abutment 1 would be patched.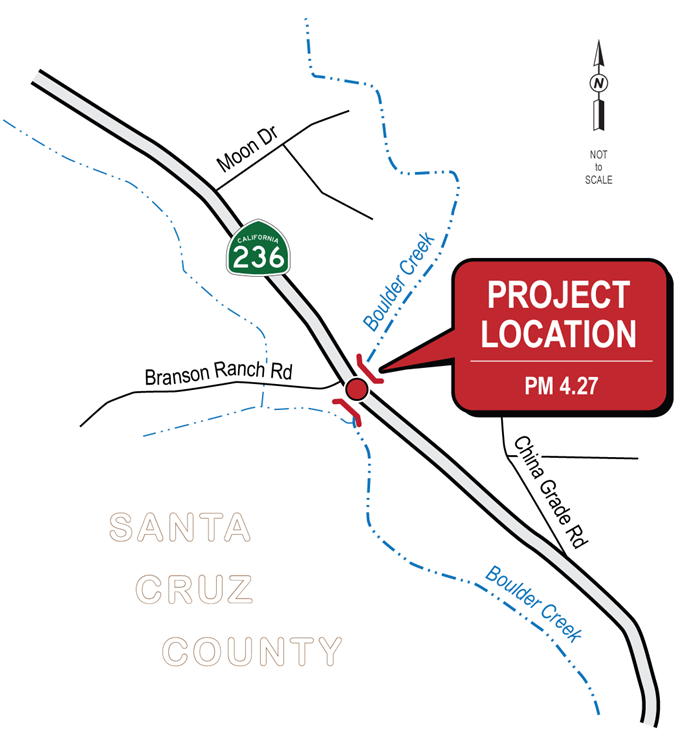 Project Benefits
Purpose
The purpose of this project is to:
Prevent further scour damage at the Abutment 1 spread footing.
Restore the bridge structure to a state of good repair to reduce required ongoing maintenance.
Protect Abutment 1 footing from severe scour caused by continued lateral bank erosion.
Need
This project is needed to address the following:
Scour at the Abutment 1 embankment has been identified as a critical issue requiring repair to protect the bridge structure and public safety.
Minimize future maintenance expenditures.
Protect the bridge asset by upgrading erosion control features.
Estimated Funding Breakdown
| Funding Source | Funding Amount |
| --- | --- |
| State | $2,050,000 funding allocated |
| Construction Cost | $1,250,000 |
Proposed Project Schedule
| Process | Date |
| --- | --- |
| Final environmental document to be completed | Summer 2024 |
| Right-of-way acquisition to be completed | Summer 2025 |
| Design to be completed | Summer 2025 |
| Advertise | Fall 2025 |
| Construction to begin | Summer 2026 |
| Construction to be completed | Summer 2026 |
Project Contact
Dianna Beck, Associate Environmental Planner
Phone: (805) 459-9406
Email: dianna.beck@dot.ca.gov
Terry Thompson, Project Manager
Phone: (805) 503-5013
Email: terry.thompson@dot.ca.gov
Public Information Office, Caltrans District 5
Phone: (805) 549-3318
Email: info-d5@dot.ca.gov