King City Capital Preventative Maintenance
King City Capital Preventative Maintenance
Caltrans proposes to preserve the pavement on an 8-mile section of U.S. 101 near King City, between Jolon Road and Lagomarsino Avenue, in Monterey County. The project would implement preventative maintenance strategies to maintain the roadbed and improve ride quality as part of the 2020 State Highway Operation and Protection Program (SHOPP).
The scope of work includes cold-planing the existing open grade friction course pavement and placing a 0.15-foot rubberized hot mix asphalt overlay, replacing or rehabilitating three drainage culverts, adding three new street lights at the Jolon Road interchange, and replacing a weigh-in-motion station (in Greenfield) and traffic census stations. Other improvements include upgrading guardrail and guardrail end treatments, vegetation control, and doing minor concrete, shoulder backing and pavement dig outs.
The existing pavement was constructed in 1956. Since then, pavement rehabilitation improvement projects have been limited to repair with thin, new wear courses, most recently in 2011. The pavement wear course, if not replaced, will degrade to a point where water intrusion would result in failure of the underlying layers, leading to more costly reconstruction.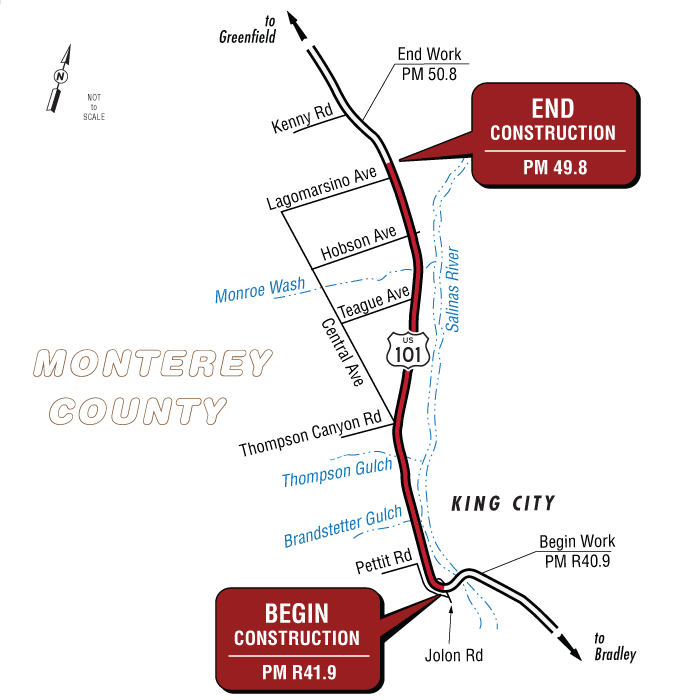 Project Benefits
Purpose
The purpose of the project is to address roadway deficiencies on U.S. 101 between post miles R41.9 and 49.8 near King City in Monterey County. The goals of the project are to restore the ride quality and extend the service life of the existing pavement, improve maintenance worker safety, restore damaged culverts to maintain the purpose of the pipes and protect the associated embankment areas from potential slope failure, improve interchange lighting, improve traffic census station data collection, and bring crash safety devices up to current design standards.
Need
The project is needed due to pavement within the project limits exhibiting distress and unacceptable ride quality. If left uncorrected, the pavement will continue to deteriorate, leading to more costly reconstruction.
Three culverts have been identified with varying degrees of damage: steel pipe corrosion with holes along the flowline, joint failure, steel bar reinforcement corrosion, and settlement cracks that are undermining supporting soils. If culvert deterioration is not corrected, future roadway failure is possible.
The traffic census stations are reaching the end of their service life and need to be replaced to collect reliable information.
The jointed concrete pavement at the weigh-in-motion station in Greenfield is cracked and settled. The ride quality into and out of the bearing plate is degraded. For the weigh-in-motion station to work properly, trucks must ride smoothly over the bearing plate. Reconstruction of the pavement is needed to restore the functional utility.
Funding
The project is a candidate for the 2020 State Highway Operation and Protection Program for delivery in the 2023/2024 fiscal year. The current construction cost estimate is $23,750,000. Construction is currently scheduled to begin in early 2025.
Proposed Project Schedule
| Process | Date |
| --- | --- |
| Final environmental document to be completed | Summer 2022 |
| Right-of-way acquisition to be completed | Summer 2023 |
| Design to be completed | Winter 2023 |
| Advertise | Summer 2024 |
| Construction to begin | Winter 2024 |
| Construction to be completed | Fall 2026 |
Project Contact
Jason Wilkinson, Environmental Branch Chief
Phone: 805-540-9165
Email: jason.wilkinson@dot.ca.gov
Aaron Henkel, Project Manager
Phone: (805) 835-6366
Email: aaron.henkel@dot.ca.gov
Public Information Office, Caltrans District 5
Phone: (805) 549-3318
Email:info-d5@dot.ca.gov
Documents
Accessibility Assistance: Caltrans makes every attempt to ensure our documents are accessible. Due to variances between assistive technologies, there may be portions of this document which are not accessible. Where documents cannot be made accessible, we are committed to providing alternative access to the content. Should you need additional assistance, please contact us at (916) 654-2852 or visit https://dot.ca.gov/request-ada-compliant-documents.