State Route 9 Post Miles 1.0 and 4.0 Permanent Restoration Project
State Route 9 Post Miles 1.0 and 4.0 Permanent Restoration Project
Project Description
Caltrans is planning to construct two sidehill viaducts along State Route 9 between the City of Santa Cruz and the community of Felton. The viaducts are proposed at post mile 1.0 just north of Santa Cruz and post mile 4.0 just south of the entrance to Henry Cowell Redwoods State Park. In these areas, landslides caused by heavy rainstorms have damaged the highway. The proposed project would restore the highway and stabilize the overly steep slopes.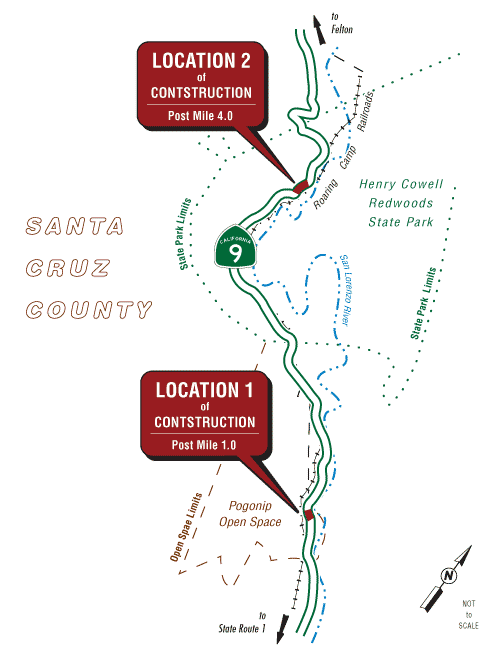 Project Benefits
Purpose: The purpose of this project is to stabilize the cut slopes and permanently restore State Route 9 to its previous function.
Need: The project is needed because heavy rainstorms in early 2017 caused landslides (slip outs and slope failures) on the slopes above the northbound lanes of State Route 9 at post miles 1.0 and 4.0. Stabilizing the slopes is needed to permanently restore the facility and eliminate impacts to the traveling public.
Estimated Funding Breakdown
The currently programmed construction cost for the project is $13,065,000. Funding would come primarily from the State Highway Operation and Protection Program (SHOPP) under the Major Damage, Permanent Restoration Program. The project is eligible for federal funding.
Proposed Project Schedule
Final environmental document to be completed: Spring 2021
Right-of-way acquisition to be completed: Fall 2021
Design to be completed: Fall 2021
Advertise: Summer 2022
Construction to begin: Fall 2022
Construction to be completed: Summer 2025
Project Contact
Doug Hessing, Project Manager
Phone: (805) 549-3386
Email: doug.hessing@dot.ca.gov
District 5 Public Information Office
Phone: (805) 549-3111
Email: info-d5@dot.ca.gov
Documents